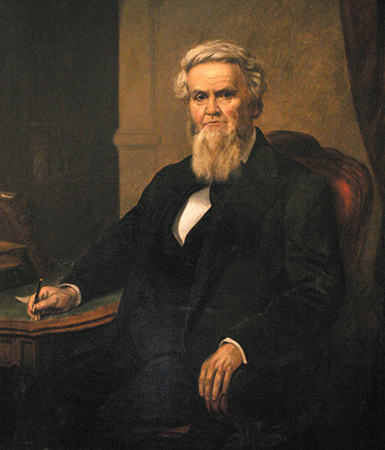 Ovid Butler was a major figure in the history of higher education in Indianapolis, who more than any other single person deserves credit for founding Butler University. Butler donated the land on which the university was founded, provided substantial financial support, and served for nearly two decades as the college's first president.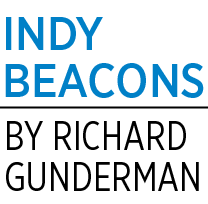 Of Irish descent, Butler was born in New York in 1801. His family moved to Indiana when he was 16, and in 1825 he moved to Shelbyville, where he became the first lawyer admitted to the bar and founded the Shelbyville Christian Church in his home. His strong anti-slavery views undermined his candidacy for the Legislature.
In 1827, he married Cordelia Cole, who died 11 years later, but three of their children survived to adulthood. In 1836, he moved his family to Indianapolis, where his father became pastor of Central Christian Church. Butler established a law practice, partnering with attorney Calvin Fletcher, and their practice thrived. In 1840, Butler married Elizabeth Elgin, and they had seven surviving children.
In 1846, Butler bought land on the city's northeast side, moving his family there in 1849, the same year he retired from law practice and founded an anti-slavery newspaper, "The Free Soil Banner." The associated Free Soil political party merged with the Republican Party, the party of Abraham Lincoln, in 1852. Butler remained active in the party the rest of his life.
In 1847, Indiana's Christian Church had approximately 20,000 members, but the nearest affiliated seminary was in Virginia. Moreover, Virginia was a slaveholding state, which lessened its appeal for abolitionists here. Thanks largely to Butler, Northwestern Christian University was approved in 1850, and the forerunner of Butler University opened to students of both sexes in 1855.
Butler wrote, "The institution originated in a desire for an institution of learning of the highest class upon free soil, in which the youth of the northwest might receive a liberal and Christian education, removed, as far as practicable, from the pernicious influences of slavery."
To site the university, Butler offered 20 acres of his own land at approximately 13th Street and College Avenue, which some opposed as being too far from the mile-square city. The college was only the second in the United States to admit women on an equal basis with men, and Butler's daughter Demia was the first female graduate. When she died in 1867, he endowed the first chair for a woman professor in her name.
At about this time, near the end of the Civil War, Butler penned an essay called "Women's Rights," in which he argued that the university should advocate for "the common rights of humanity without distinction on account of sex, race, or color." One of Butler's sons, Scot, who served on the Union side during the war, would later succeed his father as president.
In 1875, the campus moved to 25 acres of land in Irvington, on the city's east side. In 1877, over the strong objections of its founder, the institution changed its name to Butler University. Butler died at the age of 80 in 1881 and is buried in Crown Hill Cemetery. In 1926, construction began on buildings for the university's current campus, on the grounds of the old Fairview Park, opening for classes in 1928.
Spurred by the growth of the university in many areas beyond religion, Butler in 1958 spun off its seminary, creating Christian Theological Seminary, which moved just south of the Butler campus. Having experienced a decline in student enrollment, CTS in 2017 elected to sell most of its campus to the university, which now houses Butler's School of Education.
Today, Butler is a private university with about 5,500 students and an academic staff of about 330 offering over 60 fields of academic study. U.S. News and World Report ranks it the top Midwest regional university. Each year, the school observes Founder's Day on Feb. 7, Ovid Butler's birthday. It is a fitting testament to this remarkable attorney, publisher, educator and philanthropist.•
__________
Indy Beacons celebrates the history of Indianapolis in the year leading up to its May 2021 bicentennial by telling the stories of famous city residents. It appears the second and fourth issues of every month. Gunderman is chancellor's professor at Indiana University.
Please enable JavaScript to view this content.