The owners of a former Marsh Supermarkets store in Noblesville hope to turn the abandoned space into a self-storage facility as part of a larger redevelopment project that would add office and retail buildings to the property.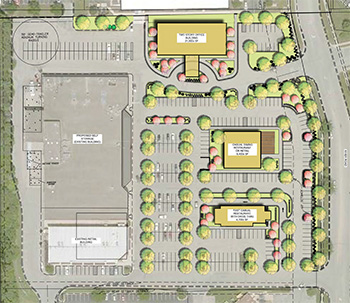 Andy Wert, a land use professional for Noblesville-based law firm Church Church Hittle & Antrim, introduced the owners' proposal for the property at 17901 River Road to the Noblesville Common Council on July 9. The project is being called the Riveredge Planned Development.
The Marsh store was developed in 1992 and 1993 and vacated in 2017 when Marsh went out of business. Marsh had leased the property and the owners haven't been able to find a replacement tenant.
Wert said the owners, Paul Cozell and Matt Bridges, think converting the space into a climate-controlled self-storage facility is the best way to utilize the property.
The overall development would include three new out-buildings— a 21,000-square-foot, two-story office building, 6,400-square-foot retail building and 4,700-square-foot building.
The retail buildings would likely target restaurant operators.
The project would be developed by John Doyle of Fort Lauderdale, Florida-based JL Capital Holldings. Bill Schmidt with Weihe Engineers is the landscape architect.
The owners are seeking some zoning changes to accommodate the redevelopment.
"We do not currently have any users for these buildings, but our market research indicates that there is a demand for these uses in this area," Wert said at the meeting.
Wert said loading or unloading items would take place in back of the self-storage facility. Battery-operated golf-cart-like vehicles would be used to transport things to the desired units. All storage units would be accessed indoors.
Doyle said self-storage requires very little parking, so there would be enough available parking for the three out-buildings.
Existing tenants in the property, such as Maria's Mexican Grill, Crown Liquors and Marathon, would not be affected by the project, Wert said.
The council made no immediate decisions on the proposal because it had just been introduced.
Please enable JavaScript to view this content.