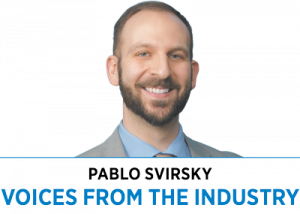 Supply chain problems are nothing new. As long as there have been widget manufacturers, widget sellers and widget buyers, there have been disruptions, delays and a host of logistical problems. And, of course, the past couple of years have been particularly disruptive.
We all remember scrounging for toilet paper in the early days of the pandemic and have been impacted by the chip shortage hitting supplies of products like televisions, dishwashers and cars (if anyone is looking to sell a 2020 Honda Accord, please let me know).
It should come as no surprise that pandemic-related supply chain challenges have also had a major impact on the life sciences industry. Even pre-pandemic, every drug and medical-device company had to focus significant effort on its supply chain and worry about how potential disruptions might affect business.
It starts early, as you partner with manufacturers for active pharmaceutical ingredients and medical-device components or third-party logistics companies for shipping, importing, labeling, etc.
Those relationships evolve as you progress from early clinical studies to commercialization and, over time, you might be able to bring some of it in-house or exert more negotiating leverage.
But no matter how much things change, ensuring that your products arrive on time is critical to your success. So, when you hear a statistic like 87% of life sciences companies are having their supply chain affected by the pandemic, you take notice.
The key issue these days is figuring out which impacts of the last two years are here to stay. We will (hopefully) reach a place sooner or later where some of these problems are resolved, but we will need to accept some long-term changes. For example, delivery lead times on life sciences ingredients, components and products have increased significantly and might never return to where they once stood.
In some cases, it's taking longer to make the product itself; in other cases, part of the process has changed (sterilization, for example). I have recently negotiated amendments to supply agreements for medical-device components where the lead times have doubled and tripled since the original agreement from just a few years ago.
One change that might or might not be long term is how manufacturers had to pivot for COVID-19 vaccines.
For example, some pharmaceutical companies' third-party manufacturers had trouble securing vials for syringes due to increased demand. As a result, manufacturers required companies to accept disclaimers of all liability from associated delays and could only commit to allocating a pro rata portion of vials, even if they had previously committed to fulfill a specific purchase order.
This would have been a wildly aggressive position to take in 2019. That said, I will be curious to see if these kinds of provisions will still come up down the road and whether manufacturers ease up on this over time.
Another area of concern that has evolved over the past two years is the overall reliance on suppliers and manufacturers in other countries.
To be clear, this is not a new concern. In 2019, the deputy commissioner of the FDA testified that we had more active pharmaceutical ingredients produced in China and India than we did domestically.
It can be difficult for domestic companies to compete with international manufacturers due to factors like looser environmental regulations and lower wages.
The situation has become more precarious since the pandemic began, as waves have hit countries at different times, leading to less predictability and more supply chain woes.
Similarly, countries like China have enforced much stricter lockdowns, further exacerbating existing problems in the supply chain. Whether these concerns abate to pre-pandemic levels as things (again, hopefully) get back to normal will be an important question as we try to find a new normal.
Of course, we are not helpless here. There are steps every life sciences company should consider adopting as they aim to alleviate supply chain concerns.
Some of these are straightforward, such as identifying alternative suppliers, building in flexibility, or even collaborating with competitors to mitigate risk. Other options might be more difficult but can make a major difference, including bringing more manufacturing in-house, reducing the number of manufacturing steps, or adopting emerging technologies such as 3D printing.
At a higher level, the government is also getting involved. The America Competes Act aims to have the United States work with European countries to diversify reliance on supply chains away from China.
The latest version, passed by the Senate just a few weeks ago, includes $45 billion for improving America's supply chains.
Overall, a lot of work remains to be done, but it is clear the life sciences industry recognizes the problem and is working hard to overcome it.•
__________
Svirsky is an Indianapolis-based corporate partner at Faegre Drinker and a member of the firm's health and life sciences team.
Please enable JavaScript to view this content.