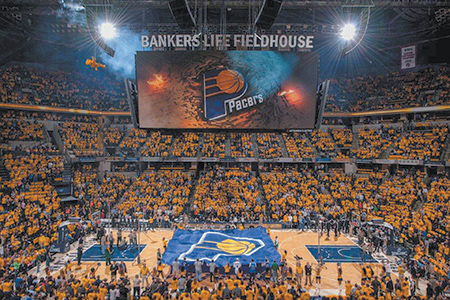 Pacers Sports & Entertainment on Friday terminated dozens of full-time staff, citing the need to cut costs because of the pandemic.
The entity, which owns and manages the Indiana Pacers and Indiana Fever, cut about 16% of its workforce, a spokesman told IBJ.
The company declined to specify the exact number of people who were terminated or provide the size of its full-time staff. On its web site, PS&E says it employs about 180 full-time workers, which would mean about 29 people lost their jobs. But the company also lists about 300 full-time employees on its staff list, which would mean about 48 people were terminated.
"[W]hile we have been able to avoid impacts to our full-time staff during the last four months, the continued uncertainty of a return to fully-attended events have regrettably made further steps unavoidable," Rick Fuson, president of PS&E, said in a written statement. "As a result, we have reduced our full-time workforce and have implemented other significant cost-cutting measures in response to the effects of these unprecedented and unforeseen circumstances."
Fuson said the affected employees will receive severance, a health care subsidy and "connections to resources and support services to help them transition to their next professional opportunities." He did not indicate whether some could be rehired in the future.
"These are certainly very difficult steps to have to take, and we are so very grateful to each of our staff members affected by these changes and thank them for their dedication and commitment to our company," he said.
Fuson and the Pacers organization declined to answer follow-up questions about whether specific departments were more adversely affected by the cuts, as well as how contract workers—like security personnel and event staff—have been affected by the loss of events and revenue over the past several months.
Bankers Life Fieldhouse, which is managed by PS&E, has not hosted an event since the pandemic began in March. The venue is in the middle of the first phase of a $360 million, mostly taxpayer-funded renovation that began in May.
The Pacers and the Fever franchises are both in Florida to compete in the NBA restart and the WNBA regular season, respectively, as part of isolated programming conducted by their leagues.
Please enable JavaScript to view this content.