Former Butler University basketball player Brent Rockwood is leaving his senior executive position at Pacers Sports & Entertainment to return to his alma mater.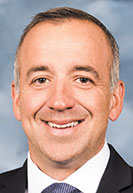 The Indianapolis university announced Wednesday that Rockwood would become vice president and chief of staff at Butler starting Nov. 4.
Rockwood will become a member of the Butler's President's Cabinet and be responsible for "leading a range of initiatives intended to advance the university with internal and external stakeholders." He will represent Butler in the community, serve as a liaison across campus, and work with the board of trustees, president's office and leadership team on a variety of significant university projects.
"I am extremely pleased to welcome Brent back to Butler as a key member of our leadership team," Butler President James Danko said in a written statement. "Brent's passion for Butler and his wealth of leadership experience will serve as a great benefit to our institution."
Rockwood has been senior vice president of corporate, community and public relations for Pacers Sports & Entertainment since April 2018, replacing well-known former sportswriter Bill Benner in that position.
Rockwood played basketball for the 1996-97 Butler team that went 23-10 and qualified for the NCAA tournament. He graduated with a bachelor's degree from Butler and went on to get a master's degree at Harvard Business School.
He previously worked in sales and marketing at Eli Lilly and Co., and as director of public & government affairs and manager of investor relations for Devon Energy in Oklahoma City.
Rockwood also will oversee the Butler's Marketing and Communications Division. Vice President for Strategy and Innovation Melissa Beckwith, who currently oversees marketing and communications, will shift her full attention to the implementation of the university's strategic direction.
"I am ecstatic about and thankful for the opportunity to serve my alma mater in this new role," Rockwood said in written remarks. "I look forward to working with many talented colleagues, faculty, students, and partners to advance the University's mission. Butler has a strong foundation with a bright future and I'm excited to help share it with the world."
Rockwood is on the board of directors for the Indianapolis Urban League, Greater Indianapolis Progress Committee and the Pacers Foundation.
Please enable JavaScript to view this content.