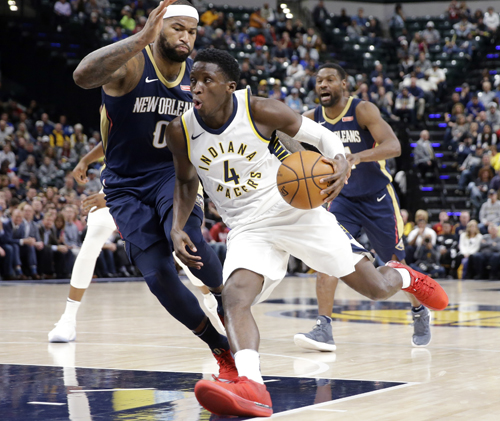 Update: The Pacers confirmed the deal on Jan. 16 as follows: "The Indiana Pacers announced Saturday they acquired Caris LeVert and cash considerations from the Brooklyn Nets as part of a four-team trade that sent Victor Oladipo to the Houston Rockets. As part of the deal, the Pacers also received a future second round draft pick from Houston and a future second round draft pick from Cleveland."
The Indiana Pacers have unloaded star guard Victor Oladipo as part of a complicated four-team mega-deal that will send Brooklyn Nets small forward Caris LeVert to Indianapolis in return, according to multiple media reports.
The Pacers also get a second-round draft pick in the deal.
In sending 28-year-old Oladipo to the Houston Rockets, the Pacers have jettisoned a high-priced former All-Star with a contract that expires at the end of the season. LeVert is under contract through the 2022-23 season.
Considered a budding star in the NBA, the 26-year-old LeVert is averaging 18.5 points, 4.3 rebounds and 6 assists so far this season. Oladipo, who has worked his way back to form after a debilitating knee injury in 2019, is averaging 20 points, 5.7 rebounds and 4.2 assists.
LeVert's size (6-foot-6), versatility and athleticism would seem to be a good fit for the new, more flexible system installed by first-year Pacers coach Nate Bjorkgren.
He also can provide scoring punch in the absence of injured small forward T.J. Warren. LeVert scored 43 points on Saturday in a Nets loss to the Grizzlies.
After months of trade speculation, the Nets have agreed to acquire James Harden from the Rockets in the blockbuster trade that put Oladipo and LeVert in play, as well as several other players, four first-round picks and four pick swaps.
In Brooklyn, Harden will reunite with former Oklahoma City Thunder teammate Kevin Durant as well as Kyrie Irving to lead one of the East's top contenders. The agreement ends a tumultuous few months for Harden and the Rockets, whose nine-year marriage produced eight playoff trips and two berths in the Western Conference finals.
The Nets will reportedly send Rodion Kurucs, first-round picks in 2022, 2024 and 2026 and swaps in 2021, 2023, 2025 and 2027 to Houston. Brooklyn will also reportedly send center Jarrett Allen and Taurean Prince to the Cleveland Cavaliers, who will send Dante Exum and a 2022 first-round pick to the Rockets.
This story will be updated.
Please enable JavaScript to view this content.