A 151-year-old business that helps Indiana's music students improve their craft is on the move to Fishers after spending the past 33 years headquartered in Indianapolis.
Paige's Music, established in 1871 in Terre Haute, plans to break ground in August on a 50,000-square-foot building at 8601 Sunlight Drive on the south side of Fishers. Company Director Mark Goff said employees will begin working at the new facility in spring 2023.
Paige's Music rents and sells band and orchestra instruments to students at about 500 schools in Indiana. The company's representatives travel to schools across the state to consult with teachers, deliver instruments and supplies, and pick up repairs.
"Our business is all about helping kids make music in school band and orchestra and supporting them on that journey," Goff said.
The company's new location will be about five miles from the current home of Paige's Music at 5282 E. 65th St. in Indianapolis, where it leases a 30,000-square-foot building and 8,000 additional square feet at Schmoll Industrial Park 65th Street.
Goff said the new location will offer convenient access to Interstate 69 from the East 106th Street interchange. Yorktown-based U.S. Architects and Fishers-based Mattingly Construction will be involved in the design and construction of the building.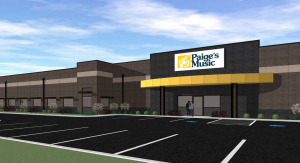 "We tried to find a space that was relatively close to our current space because we don't want to lose our employees," Goff said. The company employs about 60 people.
He said the new location will be "larger and better" and will help reset the company's workflow. The larger warehouse will have higher ceilings and give Paige's Music more capacity for growth, according to Goff.
Goff declined to disclose how much the company plans to spend on the new building.
Paige's Music passed through four generations of the Paige family before Goff purchased the business in 1999 from Warner H. Paige III. Goff joined the company in 1985 as a sales associate.
The company's founder, William H. Paige, was the first director of music for Terre Haute's public school system. He sold sheet music, music books, pianos, organs, guitars, violins and other musical merchandise at the store's original location, according to the company's website.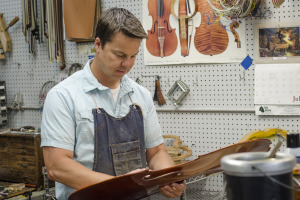 Paige's Music in 1973 opened a branch store in Terre Haute's Honey Creek Square, now known as Haute City Center. The company expanded to Indianapolis in 1976 and Fort Wayne in 1981. The branches served as service stores for school bands and orchestras.
In 1989, Warner Paige III sold the company's Terre Haute and Fort Wayne stores to competitors and consolidated all other business operations in Indianapolis where it focused on serving Indiana's schools. It later purchased three musical instrument retailers from around the state—Progressive Music in Kokomo, Kersey Music in Greencastle and Weast Music in Lafayette.
Paige's Music in 2006 opened two specialty businesses, Chops Percussion and Encore Orchestral Strings, and added Indy Flute Shop in 2008.
Please enable JavaScript to view this content.