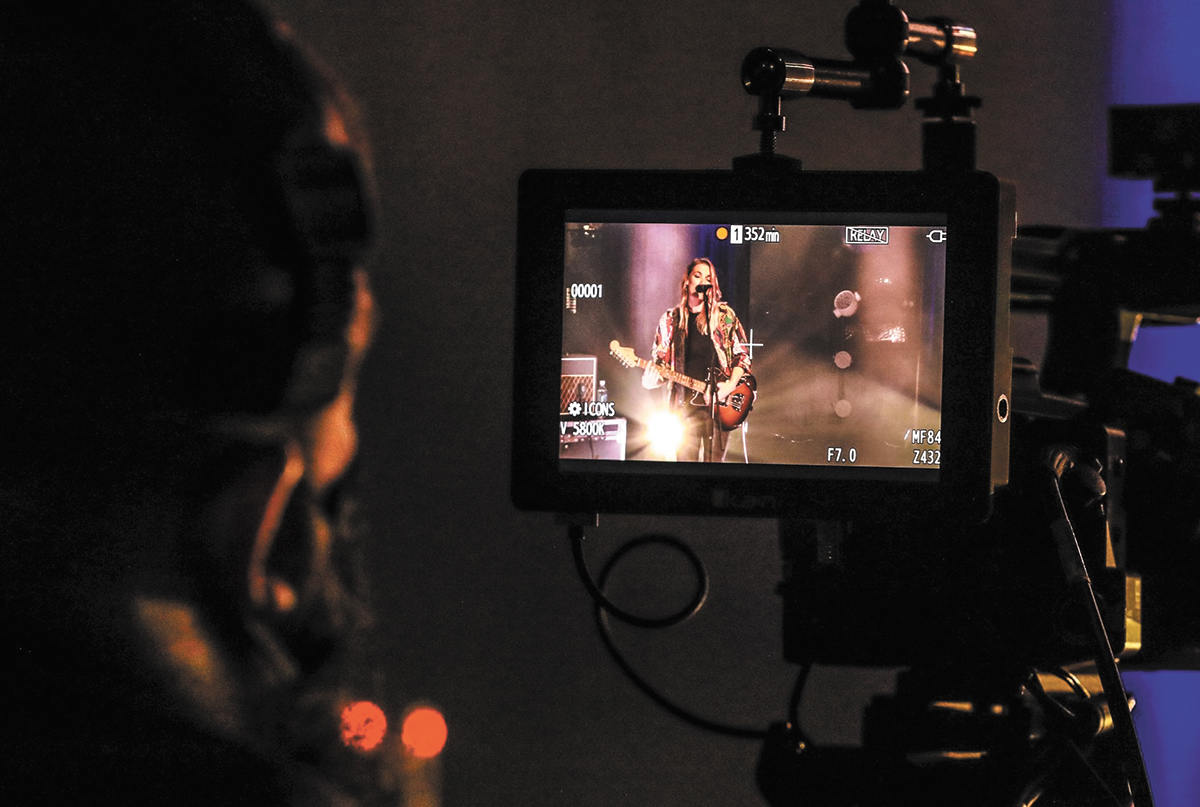 The Center for the Performing Arts in Carmel has ended its past two seasons in the black, despite the pandemic's stranglehold on its primary revenue stream.
In a normal year, the center earns more than half its revenue from ticket sales, ticket fees, rentals and other services. But when COVID-19 restrictions cut its 2019-2020 season short by more than three months, that revenue dropped from roughly $4 million to $3.3 million.
That dip was just the beginning, as the not-for-profit's next season included just one in-person performance and the center ended its fiscal year on June 30 having earned less than $650,000.
Still, the center has managed to keep its head above water through a greater reliance on government support, scheduled donations and new revenue streams. And it is bullish on its new season, which is scheduled to launch next month with live performances.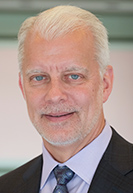 "The arts always take a hard hit during recessions," Jeff McDermott, the center's CEO, told IBJ. "Fortunately, the arts are also fast to bounce back."
The Center for the Performing Arts is operated by a not-for-profit that oversees three venues at 1 Center Green in Carmel's core: the 1,600-seat Palladium, the 500-seat Tarkington and the 200-seat Studio Theater.
In addition to managing the arts campus, the center rents space and provides ticketing, ushers, security and support services to six independent resident companies, including Actors Theatre of Indiana, Carmel Symphony Orchestra and Civic Theatre.
When the pandemic hit, McDermott called together a team to figure out ways to continue to advance the center's mission without audiences in its venues. The center began to livestream performances, educational classes and other programs, which helped it maintain a stream of donations as it worked to survive on government pandemic support.
"We never went away; we just performed differently," McDermott said. "We heard the music, but what we didn't hear was the applause. What I'm most looking forward to is hearing the applause again."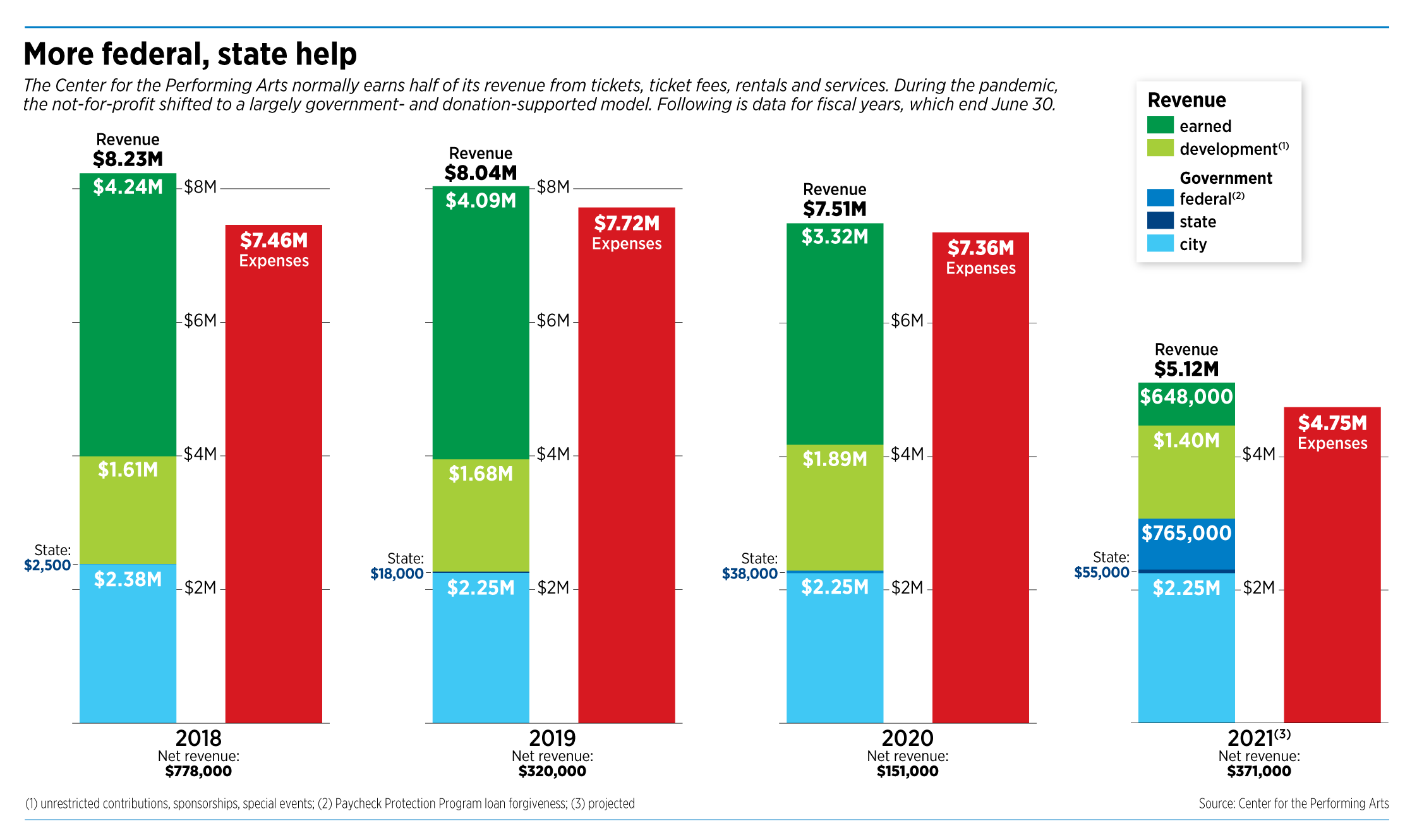 Significant subsidies
Estimates for the organization's first full season during the pandemic show more than $3 million—or nearly 60% of revenue—came from local, state and federal support. Beyond an annual $2.25 million allocation from the city of Carmel, the center also received a $765,000 federal Paycheck Protection Program loan, which was later forgiven. That money kept the center from laying off any full-time employees.
The center's communications director, Scott Hall, said in an email that four part-time employees were furloughed, but two have since been brought back, while one left the organization and the other position was eliminated.
There was also a "modest" one-year salary reduction for all staff, the amount of which Hall said varied depending by position, employment type and other factors. However, all employees' pay and scheduled annual merit increases have already returned to pre-pandemic levels for fiscal 2022.
Also, the center will receive more federal support. Hall said the center was recently notified that it will receive $1.28 million through the Small Business Administration's Shuttered Venue Operators Grant program.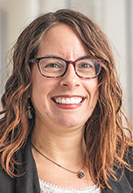 Moving toward greater reliance on government support was not the direction McDermott envisioned when he took over his role at the center in 2017. Jamie Levine Daniel is an assistant professor at IUPUI's Paul H. O'Neill School of Public and Environmental Affairs researching nonprofit management. She said it's common for arts and culture not-for-profits to rely on earned revenue instead of opening themselves up to undue influence from the government or donors.
"It makes sense for arts organizations to try to continue to monetize what they do, but that presumes they're able to continue to do what they're doing," Daniel said.
Livestreaming
McDermott and his team prioritized using the organization's on-site production budget for a revenue stream that could shift the not-for-profit's reliance back to earned revenue.
Chief among the center's pivots was the purchase of five high-definition cameras and the associated technology needed to host broadcast-quality livestreams.
Other than the initial equipment costs, the center didn't have to shoulder much of a financial blow from setting up the system. There was no need to hire or train a production team since many employees already had a wealth of production experience, McDermott said.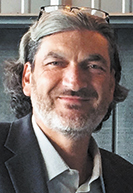 Dan Kemer joined The Center for the Performing Arts in June as vice president of programming. He worked as vice president of marketing for Cleveland, Ohio-based promotion company Belkin Productions before joining Live Nation Entertainment's Indiana division in 2007 to oversee The Lawn at White River State Park, Old National Center and several other venues.
He said it's a fairly new trend to see venues offer artists in-house livestreaming, rather than hiring a contracted third-party to provide the services.
"During our downtime, we went out and got some of the best production pieces— cameras, audio, video—to go ahead and really put that in place at the center," Kemer said. "We're coming out of the pandemic with many of these things in place where an artist might come here tomorrow, and we have the crew and the equipment to livestream a show."
That system led to the launch of "Live at the Center," a concert series featuring Indiana-based artists. Those 16 free, online events provided paid opportunities to local artists while attracting nearly 15,000 unique viewers across the nation. It was so successful that the livestream series will continue in the 2021-2022 season with the addition of paying on-site audiences.
In its first 16 months, the service recorded or streamed more than 60 events. But it didn't take that long to see a return. In just four months, the center earned back the money it spent on the livestream infrastructure.
"It was an investment we were able to recoup about as quickly as you could recoup it," McDermott said.
Those livestreamed events included musical performances and conferences that reached national and international viewers, including a two-day Klipsch national sales meeting and an international city-planning conference. McDermott said the socially distanced annual meetings, some with as many as 400 people, were broadcast to remote locations across the country with "pizzazz."
"It was a little bit like Steve Jobs announcing a new computer," he said. "I don't think we could've done it any better."
'Nothing compares'
The center's new and adapted online arts and education events have also garnered more than 45,000 unique global viewers through platforms like YouTube, Facebook, Zoom and Vimeo. McDermott directly credits that exposure for the center's ability to retain all its sponsors during the shutdown.
"Livestreams and other types of pivots, if they haven't been doing them before, can do a lot of good in terms of generating resources, goodwill and attention," Daniel said. "They offer something instead of nothing, but it doesn't make up for the absence of live concerts."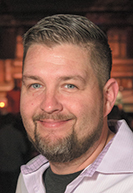 Josh Baker, executive director of the not-for-profit Indiana Independent Venue Alliance and owner of the Hi-Fi music venue in Indianapolis, said the pandemic's limits on live performances affect not-for-profit and for-profit venues differently. However, venues in both sectors have given livestreaming a try.
He said broadcasting the center's performances allows the organization to continue making impressions, drawing in donations and satisfying sponsors with larger audiences than normal—even if the free events don't translate to the type of revenue for-profit venues need to survive.
But, as helpful as it might be, he said it may not be enough.
"The market started to be flooded with livestreams after a while, and it's important to remember that nothing compares to a live show. After a while, it seemed to lose luster," Baker said.
As a not-for-profit, the cancellation of live performances isn't always a blow to the organization's revenue.
"Unlike a Bankers Life or a Ruoff, we'll do shows we know we'll lose money on because we know it's the right thing to do," McDermott said. "We had some shows that were expected to make some money, but it wasn't like every show was going to generate revenue for us. So the financial harm wasn't as great for us as you'd think."
Kemer said he doesn't aim for a certain number of revenue-driven versus mission-driven shows.
"At the end of the day, hopefully there's enough shows in the green that balance out the red so we're in a good situation," he said. "You can't really put a value on when we bring a show in and you see the kids coming out and speaking with a particular violinist. They take away something from that show that isn't dollars and cents."
A return to normal
As much of a benefit as those livestreaming capabilities might be for keeping audiences' attention, Kemer said he anticipates high demand for a return to in-person productions this season.
"First and foremost, live is always going to lead the charge. I look at the streaming as an additional benefit, in the same way you might look at a VIP experience with the artist or other amenities you can get from a show," he said.
The center saw about 60% of artists who were forced to postpone their performances last year schedule a return for the 2021-2022 season. In turn, close to 85% of those fans who had purchased tickets held on to them instead of asking for a refund.
"We're bullish on the season," Kemer said. "Everyone wants to get out and see live music. I think the demand is going to be bigger than ever."
Early trends in multi-show ticket sales seem to confirm that prediction. McDermott said the center has sold 85% to 87% of the number of subscriptions it sold in 2019. And he expects to top 2019 sales by season's end.
"I could go out on a stage and play a kazoo right now and we'd sell a lot of tickets," he said.
The center's forced intermission has also impacted more than just its performances. The not-for-profit launched its search for a naming-rights partner in October 2019. McDermott said the center had just started to work on that effort in earnest and was in the final hour of negotiations with a partner when things went south.
"We actually had a contract negotiated and it was literally ready to be signed when the pandemic hit," McDermott said. "Then, it suddenly wasn't the right time to be spending that amount of money on a naming partnership."
Now, McDermott said, the center is restarting its search for a partner and prepping for the 45 acts it has scheduled for the upcoming season.
But he said, if the COVID-19 delta variant does shut things down again, the center is ready to pivot.
"It certainly is good to have options should it happen again," Baker agreed. "If and when we can all survive from this, this is an ongoing situation, all of us will be stronger from it for our ability to find other revenue streams and do things more efficiently."
McDermott said he and all the center staff "feel a responsibility to be a part of the recovery."
"I think eyes are on all of the arts now," he said. "It impacts the psyche of people. It makes them start to feel better, more normal."•
Please enable JavaScript to view this content.