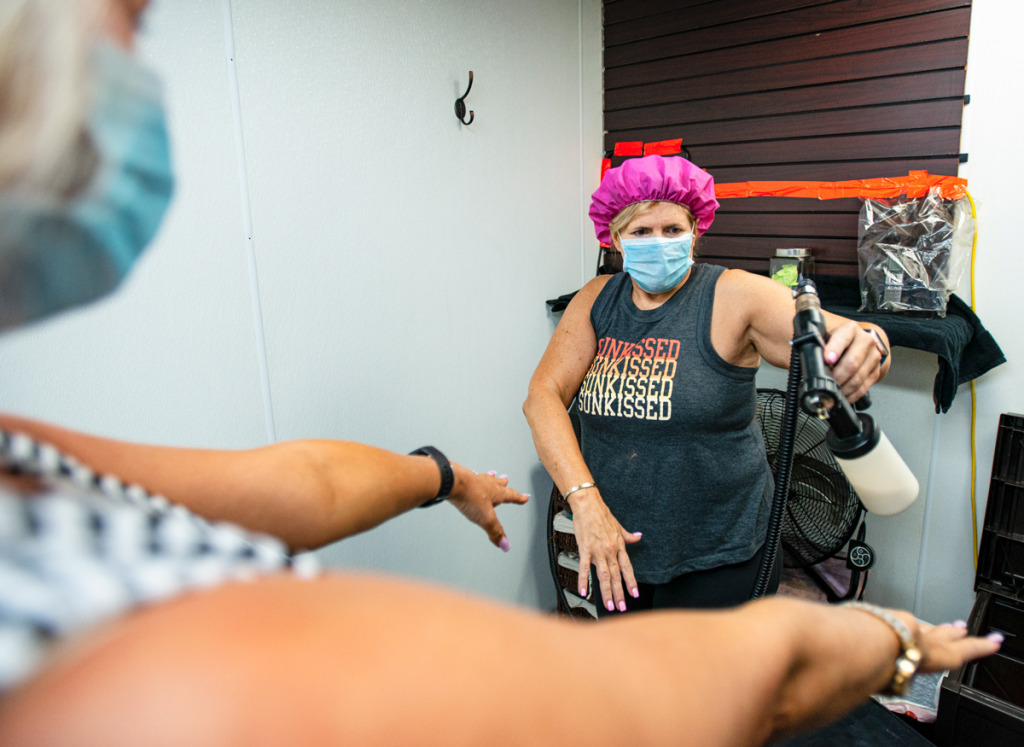 Last spring was supposed to be booming for Rhonda Sharp, owner of the Bloomington spray-tanning shop No Frye Zone. It's a stone's throw from the Indiana University campus and typically bustles in the school year's waning days, adjusting the skin tones of students preparing for everything from Little 500 to spring break.
But the pandemic had other plans. Instead of making a pile of cash that would carry her through the lean summer months, Sharp found herself virtually out of business.
And even now, with students back on campus, it's nothing like the good old days.
"I feel like we're living in the Twilight Zone," she said.
The worst part—for her and hundreds of other Hoosier small-business owners whose livelihood is linked to universities—is the uncertainty. She doesn't know whether in-person schooling will continue, and how rules about masks, social distancing, and how many customers are allowed indoors will change.
For instance, the waiting area inside Sharp's shop can accommodate only four socially distanced customers, and between each spray session she has to laboriously sanitize the booth. Even worse, the majority of IU's sorority houses (home to many of her best customers) are quarantined.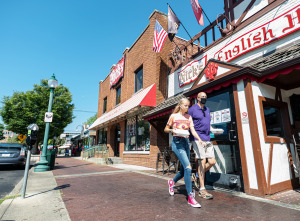 Nevertheless she—like other small-business owners in the college-reliant communities of Bloomington, Muncie and West Lafayette—continues to soldier on.
"I'm managing," Sharp said. "And a lot of other businesses are hanging on, same as me."
The challenges are especially daunting in Bloomington, according to a recent survey by the personal finance technology company SmartAsset. The survey of 95 college towns with populations over 50,000 found Bloomington was most vulnerable of all to pandemic-related economic disruption.
The reasons, according to the survey, are numerous. One in three Bloomington residents is an IU undergraduate student; almost one in four workers is university-affiliated; and the city and surrounding Monroe County have large contingents of restaurants, bars, bookstores and hotels—many of them serving the student market.
Many of the small businesses, including the iconic Bloomington watering hole Nick's English Hut, turned to federal Paycheck Protection Program loans last spring.
The loans are forgivable if recipients spend the money on payroll, rent or lease payments, or mortgage interest. But the money is intended to carry businesses only through 24 weeks. The pandemic is dragging on much longer, with no end in sight.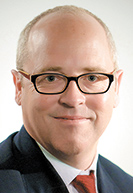 "PPP loans helped many, but they still need the money that students bring to our local economy to continue to survive," said John Talbott, director for the Center for Education and Research in Retail at Indiana University's Kelley School of Business.
"The worst-case scenario is that our country and, to a lesser degree, our state government" keep behaving as if the virus will simply go away, Talbott said. "Or, a vaccine takes longer than we expected, and we continue to see ebbs and flows that cause periodic shutdowns for the next 18 months."
Uncertainty reigns
Talbott said the way businesses react to the crisis depends on how heavily they depend on the student trade—and how much cash they have on hand.
"Some businesses cater more to the local population and have made adjustments to their business model to continue to survive as town dwellers go out of their way to send their dollars to small businesses," he said.
Or they simply hunker down. For instance, the famous student watering hole Kilroy's has chosen to remain closed for as long as the virus maintains a strong foothold among the student body.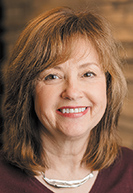 "Kilroy's has a war chest of cash and sees no long-term upside in inviting potentially infected students to their establishment," Talbott said.
Of course, not all shops can afford to lock their doors and wait for better days.
"During the spring semester, everybody pinned their hopes on fall," said Talisha Coppock, executive director of Downtown Bloomington Inc. "And with summer, everyone knew it would be slower. But now, not knowing what's going to happen from week to week makes it hard for a business to plan. That's the struggle right now."
A mix of city, federal and private programs helped most firms survive the first phase of the pandemic.
In addition to PPP loans, some firms tapped into food-and-beverage tax revenue that government leaders made available for business relief.
They also retooled their business plans to ramp up pickup and delivery services, offer gift cards and sell online. The Kelley School of Business weighed in to offer advice.
"We went through a stage where everybody needed cash," Coppock said. "We had a food-and-beverage tax in place, and those funds hadn't been committed, and so the city and county were able to act quickly to get some cash infusions into our businesses."
So far, about 17 downtown retail businesses have closed during the pandemic, but that's balanced by 14 that have opened—not much different than the churn downtown Bloomington typically experiences.
"We're holding on," Coppock said. "It's day by day, and they're very stressed about whether or not they're going to have to close again. Now they're looking forward to the Christmas season and what happens then."
'We rely on numbers'
West Lafayette businesses are weathering similar challenges. Just recently, the school newspaper, the Purdue Exponent, ran a long tribute to the Neon Cactus, a 28-year-old watering hole that succumbed to the pandemic.
Its building had maximum capacity of 1,299 and needs the kind of large crowds that have not been permitted indoors since spring.
"We're a big nightclub," co-owner Sheila Cochran told the Exponent. "We rely on numbers."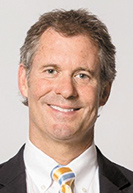 Despite that marquee loss, the businesses ringing Purdue University actually might have a better shot at survival than those in Bloomington. That's because West Lafayette businesses have a lot more "locals" to fall back on.
Bloomington has a population of 85,000, including 34,000 students. West Lafayette and adjacent Lafayette boast a population of 175,000, including 40,000 students.
That helps explain why West Lafayette Mayor John Dennis is fairly sanguine.
"It's not as bad as we have seen in some other college communities that had a really negative economic impact," he said.
"When you look at some of the more college-oriented businesses such as bookstores and clothing stores and bars, they are seeing some changes because of the restrictions they have. They've seen a downturn in their revenue, but not to the point where they're shutting their doors."
Economic firepower
Bloomington and West Lafayette entered the pandemic from positions of strength. And they continue to outperform most of the state.
For instance, Monroe County's July unemployment rate was 6.8% and Tippecanoe County's was 7.2%—both significantly below the state's 7.9% rate.
Delaware County, home to Muncie and Ball State University, was at 8.2%, a reflection of that county's struggles adapting to the loss of major manufacturing employers.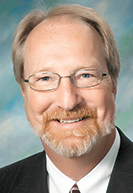 Yet leaders in all three counties say that, even as they rely on diversified economies, the student populations remain a key economic driver.
In Muncie, about 22,000 of the 70,000 residents are students.
"I think that, by and large, many of our retailers and small businesses that aren't food- and drink-related have adapted fairly well," said Jay Julian, CEO of the Muncie-Delaware County Chamber of Commerce.
"But I don't want to paint too rosy of a picture. It's obviously been a difficult time, and the advent of students back on campus is certainly helpful."
That reliance, however, also is cause for worry, college-town community leaders acknowledge.
"Things could really go downhill if the virus proliferates and we're not in a position to accommodate students anymore," Dennis said. "That, if it was extended, could really hurt. Because we are very dependent on this economic engine that's called Purdue."
For small-business owners, contemplating such worst-case scenarios at this point is good only for losing sleep. Many are keeping their focus on getting through each day—and hoping for better times.
"The morale is kind of down, but it is what it is," said Sharp, the owner of Bloomington's No Fry Zone. "We just have to put on our big girl panties and suck it up."•
Please enable JavaScript to view this content.