A cold and rainy start to the first NCAA Men's Basketball Tournament games in West Lafayette since 1980 wasn't enough to dampen the spirits of fans and area business owners.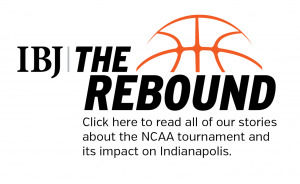 Emily Weisenberger, Visit Lafayette-West Lafayette's sports marketing manager, told IBJ on Thursday that her organization decided to take a "wait-and-see" approach to figuring out the NCAA Tournament's actual financial impacts on the two sister cities.
Strict measures designed to prevent the spread of COVID-19 meant not only that the first two games at Purdue University's Mackey Arena were limited to 1,350 attendees (about 9% capacity), but that a huge swath of people involved in the tournament would be prohibited from going out and patronizing local establishments.
"With a lot of athletes staying in Indianapolis, we're probably not going to see the impact we'd like because they'll be spending the night in Indy and the hotels there," Weisenberger said.
She said any potential boon would largely be limited to restaurants, bars, gas stations and hotels. As mitigated as that boost may turn out to be, Weisenberger said the tournament really is the biggest event the cities have seen since the pandemic started.
Story continues below photo gallery.
The roughly 8,000 tickets sold for the tournament's six games in West Lafayette are comparable to the sort of crowds the city's mid-sized festivals and small-to-medium sized sports tournaments draw, like the ongoing bowling tournaments in Lafayette.
There were no block parties or major events Weisenberger knew of, although the visitors' center did hand out 6,000 March Madness-branded masks prior to the games to add excitement.
"Maybe you can't go to the game, but you put the mask on and wear it to work, to class or wherever you go, and that puts March Madness in peoples' heads," she said.
Jared Allen, manager of Sgt. Preston's of the North, said he posted advertisements in businesses across Lafayette and West Lafayette to let visitors know about his restaurant and bar's NCAA-themed activities.
Though Sgt. Preston's hosted a bracket challenge on social media for a chance to win a gift basket worth $250, the pandemic prevented the restaurant from offering a shuttle to the stadium as it has for Big Ten Conference men's basketball games in the past, and Thursday's rain rendered its large outdoor seating area useless.
Despite seeing some new faces and a lunch rush, Allen wasn't sure what to expect or what sort of business he might be missing.
"We've never seen something like this before, so it's hard to tell what we're looking at," he said.
Bob and June Blanton drove 700 miles from Kansas to West Lafayette to watch their alma mater, Wichita State University, lose to Drake University, 53-52.
The Blantons said they've had such a long history of traveling with the team—they followed Wichita to the Final Four game in 2013—that they weren't going to miss out just because there was reduced attendance this year.
Having each gotten the second dose of their Moderna COVID-19 vaccinations the day prior, they chose to stay at a friend's house in Indianapolis and grab a quick pre-game dinner at Sgt. Preston's.
"We prefer the way it's traditionally done, but it is what it is," Bob Blanton said. "This is the most fun athletic program there is in the country."
Mindi Walker, an assistant athletic director at Newton High School, traveled from Iowa with her cousin and their children to watch former Newton students Connor Gholson and Garrett Stutz play for Drake, which won its first NCAA tourney game since 1971.
Walker and her family ate at AJ's Burgers Beef & Beer before the game and were planning to stay overnight at a hotel in West Lafayette before going to Indianapolis to attend two more games on Friday.
"With COVID, everything has been so limited," Walker said. "We were excited, with the limited number of fans, that we were able to get tickets."
Gary Epstein, from Des Moines, Iowa, said he came to support Drake and would stay at least a couple of nights if his Bulldogs advanced to play in Indianapolis. Their victory later that night means they'll play Saturday afternoon at Bankers Life Fieldhouse.
"I like the idea of having it centrally located in one area," Epstein said, noting that it would be harder to do with full crowds.
Brady Baus said he flew in from Wichita to see Thursday's game, and he'd likely make a return trip if Wichita State won.
"I personally feel beyond safe here," Baus said from inside the stadium. "I think we're overly conscious, but it's good peace of mind for those who maybe have weakened immune systems that really need it."
Baus said there are some advantages to the reduced occupancy in that there are no lines for the concession stands or bathrooms. The drawback, he said, is that the atmosphere is missing the energy of a typical tournament game.
Please enable JavaScript to view this content.