Cebronica Luft is founder of 317 Events and co-founder/partner of The Pavilion at Pan Am Plaza. She and her partners at The Pavilion have recently opened a coffee shop nearby, at 201 N. Capitol Ave., called Pulse Coffee and have taken over operations of the bar at the AMP at 16 Tech, renaming it "The Center Mix".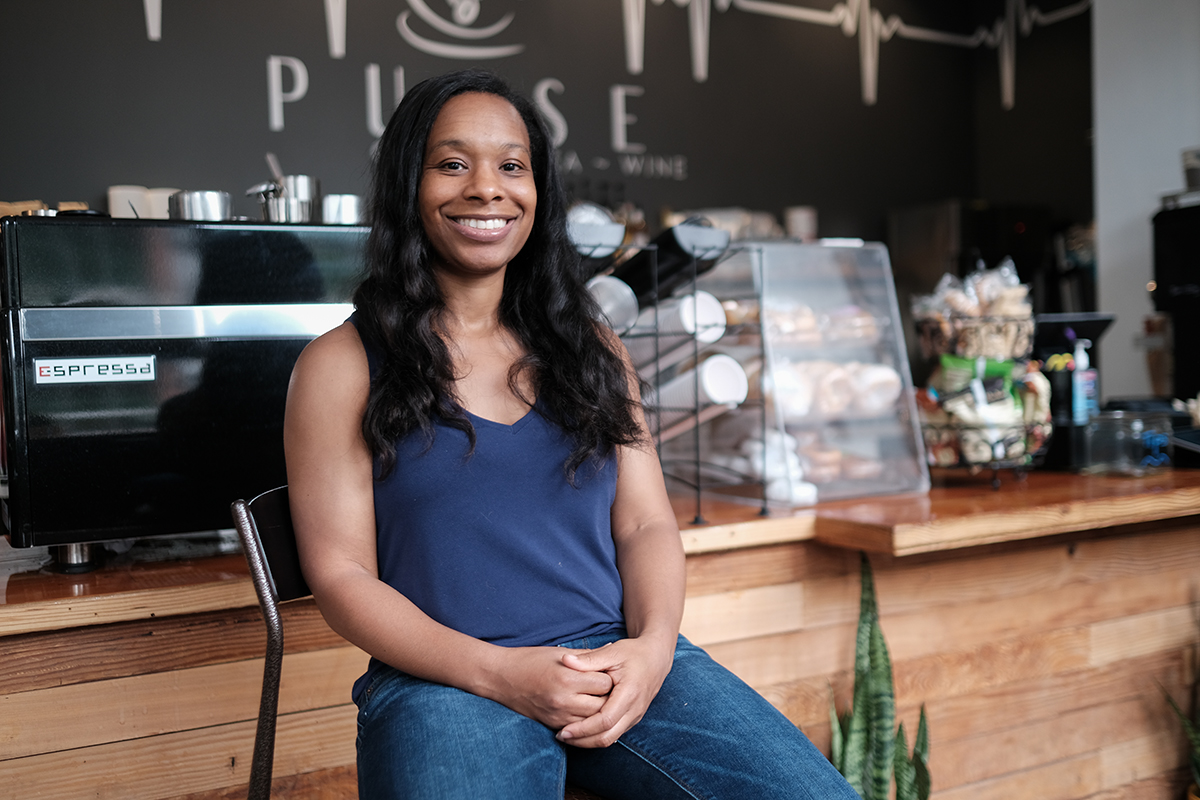 You recently opened a coffee shop near the convention center. Tell us about it.
It's called Pulse Coffee. So, there was a coffee shop there previously for seven years [Bee's Coffee Roasters]. They were affected by the pandemic and ended up shutting down around 2020. The building has been void of a coffee shop for two years now. So we were approached by building ownership and management about [whether] we had an interest in converting the shop back into a cafe.
Why did you and your partners decide to open a coffee shop there?
One thing I like doing is filling voids in the city. And there was definitely a void with Bee's Coffee Roasters gone. So, you know, there [aren't] any coffee shops within really close walking distance to the convention center. So that was exciting to take it on. It's been going great.
What's something on the menu customers must try?
"We have coffee, we have tea, we have wine that's going to be starting soon. Right now, the vanilla iced lattes have been our hottest seller, and the lavender iced latte—that's been a big hit as well.
How is the hunt for a new space for The Pavilion going?
We're aggressively seeking a new venue, whether that's finding land and building a new development or redeveloping an existing building. We have the resources; we have enough equipment to run three venues, honestly, at this point. So, our priority is to find a new space. Without The Pavilion, we are pretty much taking our show on the road; we partner with different venues and event creators to help them with production, beverage service and things of that sort.
You've also recently taken over operations of the bar at the AMP at 16 Tech. How's that going?
It's been good. We renamed the bar The Center Mix, and we staff it every day. … We also service and cater all the large events that come through there.
Why was that something The Pavilion wanted to take over?
"We really like the vision that [16 Tech Community Corp. CEO and President] Emily Krueger and Bob Coy [former president and CEO] have for the 16 Tech District. When we were approached with the opportunity to manage the bar and beverage service at the AMP and district-wide, we were excited to partner. We see a lot of opportunity to grow with the district by bringing what we are great at, including some amazing music, family and food festivals, along with A1 production and great service levels for high volume events."
Does The Pavilion have any big event planned we should know about?
The NBA 2K League is operating out of The Pavilion and will run all the way to the end of August. So, there's four more in-person events taking place … . I definitely encourage folks to come out and see this esports experience live.•
Please enable JavaScript to view this content.