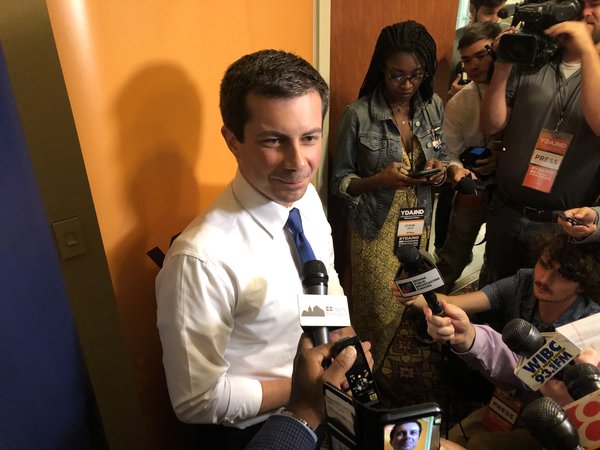 A poll released Saturday night shows South Bend Mayor Pete Buttigieg has a clear lead in Iowa that is outside the survey's margin of error, the latest evidence of his surging campaign in the first state to vote in next year's presidential primary.
Buttigieg was leading the crowded Democratic field with 25%, in the new CNN/Des Moines Register/Mediacom poll of likely Iowa caucus goers.
Three candidates were clustered in a battle for second place: Sen. Elizabeth Warren at 16%, former Vice President Joe Biden and Sen. Bernie Sanders at 15%.
The poll—a snapshot in time—has a margin of error of plus or minus 4.4 percentage points.
Buttigieg, speaking to reporters in Long Beach, California, called the results "extremely encouraging, obviously."
"We have felt a lot of momentum on the ground … building relationships, getting our message out," said the 37-year-old mayor. "There's a long way to go. I recognize the work we have to do."
The poll is the second to put Buttigieg in front, less than three months before voting begins. Last week, a Monmouth University Poll found Buttigieg had 22% of the vote, with Biden at 19%, Warren at 18% and Sanders at 13%. But those results were within the poll's margin of error of plus or minus 4.6 percentage points.
Still, Buttigieg's result in the latest Monmouth survey is 14 points higher than his numbers in the university's previous poll in August. He gained support in nearly every demographic group.
And Buttigieg's result in the CNN/DMR poll is 16 points higher than CNN's survey in September.
Buttigieg has been one of the surprises of the Democratic presidential primary, rising from an unknown to a top candidate who has raised more money than almost all of his rivals.
He has invested significantly in Iowa, where he has built one of the biggest ground operations.
According to CNN, Buttigieg "does slightly better among those with incomes more than $100,000 (32%) and with self-described moderates (32%). His standing with union households (17%) and those who call themselves very liberal (12%) is weaker than his overall average."
Buttigieg is a Harvard graduate, Rhodes scholar and military veteran who is gay and married to his husband. He's won over voters who say that he's intelligent and that they appreciate his calm demeanor, his oratory skills and his message of generational change.
The Associated Press contributed to this report.
Please enable JavaScript to view this content.