How can political debates be better?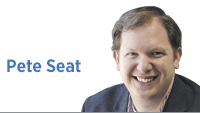 Do debates really need improvement? Do we need to upend the entire tradition because of one bad night in which an incumbent president and a former vice president made train wrecks look like orderly police-escorted processions?
To be sure, we typically don't see the same fireworks on the state level that we see on the national. But nevertheless, let me play along with the premise and offer some ideas.
My first suggestion is one of semantics. Stop calling these events debates. A debate supposes there is an objective measurement for determining a winner. In a political debate, however, what's that standard? Victory is seen, by viewers, through a partisan lens. And from the perspective of media, style is overweighed compared to substance. Where is the incentive for candidates to stick to the script (i.e. their agenda) when post-debate coverage focuses exclusively on gaffes and zingers?
Next, structure these forums like an Elton John/Billy Joel concert and give each candidate 30 solo minutes on stage to answer questions, followed by bringing them together for an additional 30 minutes of structured back-and-forth. In this case, I would also recommend the candidates close out the night with a "Piano Man" duet.
To ensure structural integrity, we could make the candidates contractually obligated in some form to adhere to time limits and other regulations that specify exactly how the debate will be managed. Each team already signs an agreement with the debate commission, but it's an unenforceable piece of paper. Lawyer up!
We could air debates exclusively on public broadcasting to strip economics out of the equation. Debates in the modern era are not so much a public service, but a cash-grabbing ratings bonanza. How long did each candidate hunker down in preparation? Who's playing the role of a candidate's opponent and who's in the room for those dress rehearsals? Who cares?!
We could also tap a retired journalist to moderate, someone with the training and experience who is hopefully devoid of ambition. But that's tricky because they tend to become more openly partisan in retirement. And in the case of the Indiana Debate Commission, we could stop inviting academics to moderate debates.
We could go to a virtual format. Everything else is virtual right now, so why not make the debates virtual? Doing so would give the moderator full control over microphones and ensure that candidates are unable to unmute themselves unless it is their time to speak.
We could also toss aside the nitpicky stuff and ask, what's the point? What are we trying to accomplish by giving candidates a block of prime-time television? Is it to learn about them and their plans for the country? Is the goal entertainment value? Ask some of my friends on social media and that answer is an emphatic yes. I've never heard of more popcorn being popped in my life.
Or here's a crazy idea: If we want better debates, maybe we should nominate better candidates.•
__________
Seat is a former White House spokesman for President George W. Bush and campaign spokesman for former Director of National Intelligence and U.S. Sen. Dan Coats. He is a vice president with Bose Public Affairs Group Send comments to ibjedit@ibj.com.

Click here for more Forefront columns.
Please enable JavaScript to view this content.