With physician burnout on the rise and patient volumes climbing, a small Indianapolis enterprise with a long name is pushing to meet the demand.
OPYS Physician Services LLC, a 10-year-old company, provides doctors to hospitals, mostly in rural areas, to staff their emergency rooms and other critical areas.
Many rural hospitals are searching high and low like never before for doctors, as the triple threat of COVID-19, the flu and RSV has flooded hospitals with patients this fall. And the situation isn't likely to improve anytime soon. The nation is facing a growing shortage of tens of thousands of physicians over the next decade—as many as 139,000 by 2033, according to the Association of American Medical Colleges.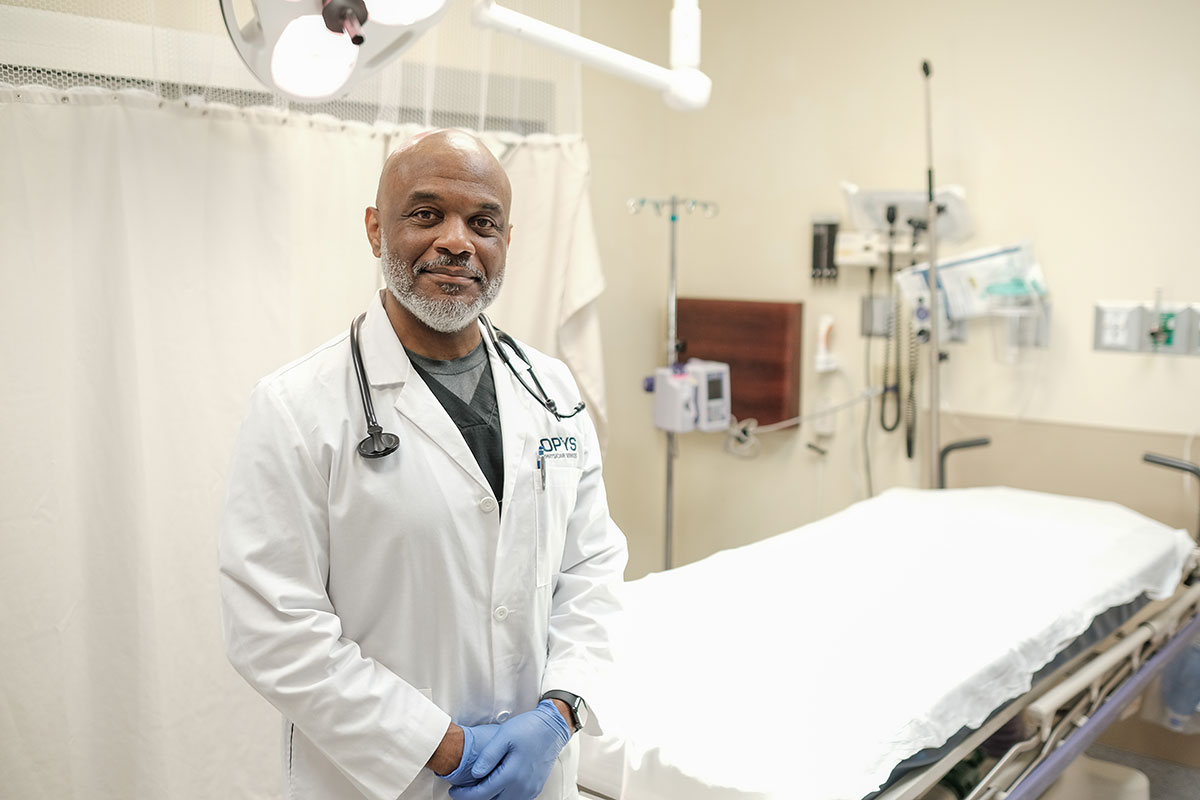 More physicians are reaching retirement age, and others, burned out by the pandemic, are choosing to retire early.
That means physicians are at a premium, and business is booming for companies that can help ease the pinch. The phone is ringing at all hours at OPYS (short for Our Physicians, Your Success), as hospitals seek a few extra doctors to staff shifts.
"Physicians are just getting tired," said CEO Dr. Andre Creese, an emergency physician who founded the company in 2012. "They're looking at options to reduce the amount of work they perform or retire altogether. Demand is rising for services like ours. And we've been able to meet the need."
The private company, with just 17 employees and 75 physicians under contract, posted revenue of $12 million last year, up 21% from a year earlier. It now has clients in Indiana, Illinois, Kentucky, California, Washington, Mississippi and North Dakota, and expects to expand soon in New York, Oregon and Wisconsin.
Even so, it is a relatively small player in the physician staffing and outsourcing industry, which is dominated by huge companies such as Envision Healthcare based in Nashville, Tennessee (25,000 doctors and nurses), and TeamHealth based in Knoxville, Tennessee (15,000 doctors and nurses).

Going small
What OPYS does is recruit physicians and provide them to small hospitals, some of which have just one or two doctors on duty at a time.
"We just enjoy serving our niche," Creese said. "And our niche is our smaller rural hospitals, because they have the greatest need."
OPYS does not have any hospital clients in central Indiana. Its closest client is Woodlawn Hospital in Rochester, a city of about 6,300 people, about 100 miles north of Indianapolis.
The 25-bed hospital with an emergency room often has just one physician on duty at a time and would often have to hire one or two temporary doctors, at a high rate, to fill all the shifts.
So instead, Woodlawn has used OPYS physicians to cover its shifts, which it says saves it about $100,000 a year over going out and hiring doctors itself.
"So, using a company like OPYS makes it easier on me," said Alan Fisher, president of Woodlawn Hospital. "I know I'm going to have my right staffing. The doctors will always be here, and I won't have to worry about that."
A big challenge for physician recruiting is that Woodlawn is in a remote area, surrounded by farms and small towns. The nearest cities are Fort Wayne (60 miles east) and South Bend (53 miles north).
Even if the hospital wanted to hire doctors, it would need to find creative ways to woo them to a rural community—or even get them to commute from a nearby city. The reason is that many doctors (and their families) prefer to live in larger cities, with more options for shopping, education and culture.
Fisher joked that his hospital is "only 47 minutes away from civilization," compared to a hospital he previously worked at in Washington state, which was more than two hours from the nearest large city, Spokane—a trip that included driving over mountain passes.
It's just one more challenge for rural hospitals, which often serve populations that are older, less healthy and less affluent than those of their urban counterparts. They rely heavily on Medicare and Medicaid for payment, which reimburse at lower rates than private insurance.
"We've got major recruiting issues across all physician lines," said Rob McLin, CEO of Good Samaritan Hospital, a 160-bed hospital in Vincennes about 130 miles southwest of Indianapolis. "The biggest challenge for us are the sub-specialties, so areas like [gastrointestinal] and urology and neurology—any of the 'ologies' are incredibly difficult to recruit because we're not big enough."
Brad Smith, CEO of Rush Memorial Hospital, a 25-bed hospital in Rushville, about 50 miles southeast of Indianapolis, agreed that recruiting physicians is always challenging for rural hospitals.
"You've got to find those providers that like to live in a small town," he said.
Navigating the shortage
Adding to the pressure is the looming shortage of physicians in Indiana and around the nation, as doctors retire and patient visits continue to climb because of the aging U.S. population.
Data published in 2020 by the Association of American Medical Colleges estimated that the United States could see a shortage of up to 139,000 physicians by 2033, affecting both primary and specialty care.
"The COVID-19 pandemic has highlighted many of the deepest disparities in health and access to health care services and exposed vulnerabilities in the health care system," Dr. David J. Skorton, the group's CEO, said in written remarks at the time.
OPYS, meanwhile, is bulking up, trying to build its physician corps and land more clients. It has recently added several top administrators to help with the task, including Don Kelso, who retired in 2020 as executive director of the Indiana Rural Health Association, a trade group that advocates for the health care of rural populations.
But it's not an easy task, he acknowledged, with hospitals in almost every market aggressively recruiting doctors and offering large compensation packages.
"It started out being more acute in the rural setting, and it still is," said Kelso, who is OPYS' chief operating officer. "But it has now graduated up to even the urban and suburban areas having difficulty. And they have better ability to attract physicians. They may be near a medical school and have residency programs, maybe better places to live for families."
OPYS said it has been able to expand its bench through a combination of professional networks, flexible working conditions and competitive pay.
The company tries to attract physicians by pointing out that doctors at rural hospitals often get 15 to 20 patients a shift, compared with 30 to 40 in a large, urban practice. That allows them more time to spend with each patient, rather than rushing from exam room to exam room.
Creese, has been working in health care his entire career, starting as an emergency medical technician. After seven years of ambulance work in California, he wanted to learn more, so he enrolled in nursing school.
But he left that program after just a few weeks and switched his sights to pre-med and medical school.
He earned a bachelor's in psychology from San Diego State University and his medical degree from the University of California at Davis, followed by a residency in emergency medicine at Highland Hospital, a large, Level 1 trauma center in Oakland, California.
Since 1998, he has practiced as an emergency physician, in a range of facilities—from rural, critical-access hospitals in the Midwest to large, for-profit hospitals on the East Coast.
Along the way, he said, he could see that rural hospitals were often trying—with a small staff and few resources—to help patients with a lot of health care needs.
"They do the very best they can, but they just don't have the support, the financing, the revenue of the larger centers, where there is a saturation of qualified physicians," Creese said. "So in the rural areas, we have to figure out ways to be able to provide that same standard of care, oftentimes without the same amount of support."
Blazing his own trail
So after working in hospitals and for consulting groups, Creese decided to strike out on his own. He made some phone calls to rural hospitals and made his first connection with Community Hospital of Bremen, a 24-bed critical-access hospital about 20 miles southwest of South Bend.
"I literally just called and said, 'Do you guys need any help? Do you need any physicians that are board-certified?'" Creese recalled. "And at that time, about 10 years ago, they did have that need. And it started with one doctor and started growing and growing."
Officials at Community Hospital of Bremen, owned by Beacon Health System in South Bend, did not respond to IBJ's request for an interview.
OPYS has picked up client hospitals in small towns across the country, as well as physicians to staff their emergency rooms and clinics. It specializes in contracting with small to midsize hospitals and trauma centers, a sector often overlooked by larger physical staffing and outsourcing firms.
One of its physicians, Dr. Robert Rookstool, works in Anacortes, Washington, a working waterfront city of about 17,000 people about 80 miles north of Seattle. He said he prefers working in small communities, where the need is often greater.
"I've always been a small-town guy," he said. "I grew up in a small town, and I've worked in ERs in small towns. This was a perfect fit."•
Please enable JavaScript to view this content.