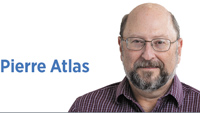 Two years ago this month, President Donald Trump met with Russian President Vladimir Putin in Helsinki.
Sharing the stage with Russia's brutal dictator at a live press conference, Trump openly took Russia's side: He kowtowed to Putin, attacked America's free press as "the enemy of the people," publicly denigrated our intelligence agencies by saying he accepted Putin's word about not interfering in the U.S. elections over their professional assessments, and even suggested a moral equivalence between America and the Russian dictatorship.
John Roberts, Fox News' senior White House correspondent, described the immediate, bipartisan condemnation of Trump's remarks thusly: "There's a growing consensus that the president threw the United States under the bus." When the history of the Trump presidency is written, Helsinki will go down as a moment when the president abandoned American values and U.S. national security interests to the benefit of Russia.
Helsinki will also constitute but one example of Trump's long-standing pattern of shockingly pro-Russian behavior. According to recent reports, Putin has been offering bounties to the Taliban to kill American troops in Afghanistan. It is yet unclear how Trump responded to this critical information or whether he even paid attention to his intelligence briefings. What is clear: As of this writing, he has not denounced Russia's actions or even called for an investigation.
Instead, Trump's most recent actions have actually rewarded Putin and supported Russia's geopolitical goals. He has invited Russia to rejoin the G-7, remains silent as Russia increases its military incursions into U.S. airspace, and has announced plans to withdraw thousands of troops from Germany in a tangible move to reduce American support for NATO. The North Atlantic Treaty Organization was founded in 1949 as a military alliance to hold off Soviet aggression and to keep Europe free and democratic. Any move to undermine NATO today directly benefits an increasingly belligerent Russia.
From the earliest days of his campaign in 2015, Trump has been unrestrained in his hostility toward NATO and his support for Putin. His infamous 2016 declaration, "Russia, if you're listening" invited Russia to commit a cyberattack to undermine the opposition party in a democratic election.
The July 2018 Helsinki summit had been immediately preceded by Trump's attendance at the NATO conference in Brussels. Whereas Trump was sympathetic—even sycophantic—toward Putin in Helsinki, in Brussels he publicly insulted and belittled our Western allies and suggested the U.S. might reduce its decades-long commitment to collective security. Against the advice of the Pentagon, in December 2018, Trump withdrew U.S. forces from Syria and abandoned the Syrian Kurds to Russia's Syrian ally, Bashar al-Assad, and to autocratic Turkey, which is increasingly falling into Russia's orbit.
Immediately after Trump's shameful performance in Helsinki, then-Director of National Intelligence (and former Republican Senator) Dan Coats publicly corrected the factual record on Russia's nefarious actions against this country. "We have been clear in our assessments of Russian meddling in the 2016 election and their ongoing, pervasive efforts to undermine our democracy," Coats said, "and we will continue to provide unvarnished and objective intelligence in support of our national security." In short, Coats did the opposite of his boss: He defended the integrity of our intelligence community and sided with the United States over Russia.
There is very little that is "normal" about the Trump presidency. But Trump's strange and unexplained fidelity toward Putin and Putin's global agenda places him in a category of one: Trump is America's first pro-Russia president.•
__________
Atlas is a professor of political science and was the founding director of The Richard G. Lugar Franciscan Center for Global Studies at Marian University. Send comments to ibjedit@ibj.com.

Click here for more Forefront columns.
Please enable JavaScript to view this content.