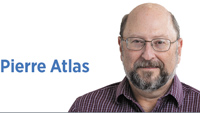 Numerous candidates at all levels of government, from school boards to federal office, want to regulate school curriculum to constrict what kids can learn about the past. Meanwhile, a Zionsville school board candidate has upended the past by sympathetically minimizing the intent of Nazis during World War II. In this hyper-partisan era, even education has become politicized. History is on the ballot in 2022.
Last month, I spent my fall break visiting one of my favorite destinations: Santa Fe, New Mexico. Among its many treasures are its museums, including the New Mexico History Museum. As I toured that museum's exhibits, which range from New Mexico's Indigenous history to the Spanish and American conquests to the 21st century, one display in particular caught my eye: its statement about "Manifest Destiny."
When I was a kid in Texas and California, Manifest Destiny was taught as a positive attribute of American nation-building. But that wasn't even half the story.
The Santa Fe museum's interpretive panel first provides the historical source of the term, quoting John L. O'Sullivan, who said in an 1845 newspaper article that the United States had received from providence a "manifest destiny" to spread across the whole continent.
The panel then offers the museum's interpretive explanation: "Manifest destiny was an idea that the people of the United States would inevitably settle the continent from the Atlantic Ocean to the Pacific. This concept encompassed the belief that white Anglo-Saxons were a special race and rightfully the superiors of other peoples. Their expansion would also spread the 'blessings' of Protestant faiths and democracy. Fulfilling this destiny was all-important—and it could be accomplished by force, if necessary."
As a political scientist who has studied and written about American history, including the government's Indian policies in the American West, I can confirm that the museum's interpretation is an important and factually accurate corrective to earlier, celebratory pronouncements about Manifest Destiny.
The museum's statement appears at the entry to its exhibit on the Mexican-American War. This was a war launched by the United States for the purpose of territorial expansion, leading to the capture from Mexico of what is today New Mexico, Arizona, California, Nevada, Utah and parts of Colorado and Wyoming. It was a war of aggression that Henry David Thoreau denounced in his 1848 seminal essay, "On the Duty of Civil Disobedience."
Historian Jon Meacham, discussing his new book about Abraham Lincoln and slavery, recently remarked that, "History is not a fairy tale. It does not begin with 'Once upon a time,' and it doesn't end with 'Happily ever after.'"
The United States was founded as a republic, with slavery. Its expansion across the continent came at the expense of Indigenous peoples and Indigenous lands. White supremacy was embedded in colonial America and written into the Constitution, and it influenced local and national policy and even foreign policy for much of this country's history.
While America offers much to be proud of, the purpose of teaching history is not to make people feel good, nor to mythologize the past. History should be taught honestly with all its nuances—not to make people feel guilty, but to own up to and explain what really happened. Our present is not fully comprehensible without an accurate accounting of the past. Of course, like any other subject, history should be taught in an age-appropriate manner.
We need to acknowledge and understand our country's history—including its darkest chapters. Such is the duty of public education in a mature democracy.•
__________
Atlas, a political scientist, is a senior lecturer at the Paul H. O'Neill School of Public and Environmental Affairs at IUPUI. His opinions do not necessarily reflect those of Indiana University. Send comments to ibjedit@ibj.com.

Click here for more Forefront columns.
Please enable JavaScript to view this content.