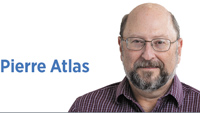 As I write this, Ukraine is surrounded on three sides by Russian military forces ready at any moment to launch a war of aggression. Russia has mobilized 100,000 combat troops, warplanes and warships on Ukraine's eastern border, along puppet-state Belarus' border with Ukraine, in Russian-occupied Crimea and in the Black Sea.
Why is this happening?
Ukraine was an unwilling part of the Czarist and then Soviet empires and has been an independent state since the collapse of the Soviet Union in 1991. Today, it is a Western-oriented democracy aspiring to join the European Union and NATO, which Russian President Vladimir Putin vehemently opposes. The eastern part of Ukraine contains many native Russian speakers, and Crimea was critical to Soviet access to the Black Sea. Putin has publicly declared that Russia and Ukraine "are one people" and that Ukraine has no right to sovereign independence.
The Russian leader's approach to Ukraine suggests a parallel with Hitler's claiming and then annexing the ethnically German Sudetenland section of Czechoslovakia in 1938. Putin is not Hitler, however. He does not seek global domination and is not driven by a genocidal ideology.
But Putin has often said that, in his view, the collapse of the Soviet Union was the greatest catastrophe in world history. Putin is not a communist—he values his personal wealth too much for that. But the former KGB colonel, who has been in control of Russia in one form or another since 1999, does want to reconstitute the geopolitical power and territorial reach of the Soviet empire in Europe and reestablish its prestige and influence worldwide.
Under Putin's direction, Russia waged brutal wars against the breakaway region of Chechnya two decades ago, attacked and invaded Georgia in 2008, attacked eastern Ukraine and illegally annexed Crimea in 2014, and became a combatant in Syria's civil war, helping to keep the bloodthirsty dictator Bashar al-Asad in power.
In 1994, Russia, Britain and the United States signed the Budapest Memorandum on Security Assurances, pledging to respect and guarantee Ukraine's (as well as Belarus' and Kazakhstan's) sovereignty, independence and territorial integrity and to never use or threaten force against them. In exchange for these guarantees, Ukraine and the two other newly independent countries agreed to fully dismantle the nuclear arsenals they had inherited from the Soviet Union.
Ukraine possessed the world's third-largest nuclear arsenal when it voluntarily surrendered its most powerful deterrence. Putin's 2014 invasion of eastern Ukraine and illegal annexation of Crimea brazenly violated Russia's promises to the world. Ironically, had Ukraine kept its nukes, it is unlikely that Putin would have invaded then, nor would he be threating Ukraine with another invasion today.
The United States and other NATO countries are taking steps to deter a Russian attack on Ukraine, using diplomacy and the threat of severe economic sanctions. While it is possible that Putin has mobilized his military simply to intimidate Ukraine or to force NATO into making concessions on its military deployments in central Europe, the Russian buildup is too large to suggest that this is all a bluff.
Zbigniew Brzezinski, the Polish-born political scientist and former national security advisor to President Jimmy Carter (and the late father of Mika Brzezinski, co-host of MSNBC's "Morning Joe"), famously observed that, "Without Ukraine, Russia ceases to be an empire, but with Ukraine suborned and then subordinated, Russia automatically becomes an empire."
We hope this current crisis will deescalate. But the bottom line is that Putin wants Ukraine for Russia—regardless of what the Ukrainians themselves want.•
__________
Atlas, a political scientist, is a senior lecturer at the Paul H. O'Neill School of Public and Environmental Affairs at IUPUI. Send comments to ibjedit@ibj.com.

Click here for more Forefront columns.
Please enable JavaScript to view this content.