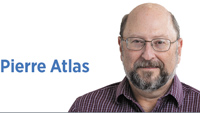 Approximately 150 million Americans voted on or before Nov. 3. More than 77 million voted for Joe Biden, and 72 million voted for Donald Trump.
As of this writing, it looks like Biden will win Arizona and Georgia, as well as Nevada and Pennsylvania, giving him a total of 306 electoral votes (the same number that Trump received in 2016). Regardless of whether he reaches 306, it was clear a few days after the election that Biden had passed the requisite 270 to become the next president of the United States.
Trump's embarrassing, toddler-like rejection of the clear reality of his electoral defeat, his false and unsubstantiated charges of "fraud," his refusal to cooperate in the statutorily mandated presidential transition process, and his purging of the top echelons of America's national security establishment is unprecedented in the history of the United States. Worse, it endangers the legitimacy and stability of our democratic system and the continuity of government (which could be a gift to our enemies).
The fact that most elected leaders of the Republican Party chose to aid and abet Trump in his anti-democratic delusions (even as the overwhelming majority of Americans, including millions of Trump voters, acknowledged Biden's win) will be a permanent stain on their records of public service and on the Republican Party as a whole. They need to go to YouTube and watch the concession speeches of previous losers—including one-term presidents Jimmy Carter and George H. W. Bush—to remind themselves of how true leaders behave with grace and dignity in defeat. And they need to review the seamless transitions from Carter to Reagan and from Bush to Clinton to see how those defeated leaders, without hesitation, put their country and their solemn duties as president above their own egos, no matter how bruised.
Unlike Trump after the 2016 elections, President Biden will enter office on Jan. 20, 2021, with both a decisive Electoral College victory and the majority of popular votes. We won't know which party will control the Senate until the two runoff elections in Georgia on Jan. 5. And although the Democrats retained control of the House of Representatives, they lost a few seats. The majority of Americans signaled they want Biden to replace Trump, but they did not give Biden or the Democratic Party a mandate for sweeping or radical changes in policy.
Even if the Democrats win both Georgia runoffs, they will have a razor thin majority in the Senate. Unlike Franklin Roosevelt or Lyndon Johnson, Biden will not be in a position to pass a 21st century version of the New Deal or the Great Society. There will be some policy corrections and changes, but progressives will not get all that they want.
Biden will be leading a country more deeply divided culturally and politically than at any time since the Civil War. People voted for Trump for many reasons. The white supremacists at the core of Trumpism are a lost cause, but I believe that most of the 72 million Trump voters love their country more than they do the outgoing president. America needs a leader who has the decency, humility, and desire to heal the nation and bring people together. Biden, moderate in temperament and empathetic in character, is uniquely qualified to reach across the chasm, and that is one reason why he received the largest number of votes in American history.
For the sake of our country, Republican leaders need to give him a chance.•
__________
Atlas is a professor of political science and was the founding director of The Richard G. Lugar Franciscan Center for Global Studies at Marian University. Send comments to ibjedit@ibj.com.

Click here for more Forefront columns.
Please enable JavaScript to view this content.