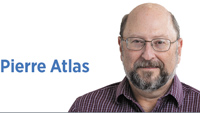 LOS ANGELES—I am spending my spring break in the City of Angels with my daughter, who moved here after graduating from Indiana University last May. I grew up in Southern California and experienced a few earthquakes in my time. Being in California for the political earthquake of Super Tuesday on March 3 was especially poignant.
Before the Feb. 29 South Carolina primary, Joe Biden's candidacy had been widely written off. He had performed poorly in Iowa, New Hampshire and Nevada, and the "moderate lane" of the nomination race was crowded, with Pete Buttigieg and Amy Klobuchar outperforming Biden, and Mike Bloomberg and his multimillion-dollar ad buys waiting in the wings for Super Tuesday.
Back then, it looked like Bernie Sanders would arrive at the Democratic National Convention with a plurality of the delegates in a divided, multi-person race, and he was already accusing the "party establishment" of plotting to stop him from launching his "revolution."
By late February, it looked like the general election would be between President Trump and a self-declared socialist with a record of praising communist dictatorships. Bernie promised to turn out youth and first-time voters in record numbers, but the experts were skeptical. Republicans were savoring the prospect of Bernie as the nominee, and many Democrats were overcome with dread.
Then, suddenly, the earth began to shake. In the debate before the critical South Carolina contest, Elizabeth Warren eviscerated Bloomberg (who wasn't even on the ballot). The former New York mayor no longer looked like a billion-dollar steamroller or the "Biden alternative," nor did he even seem like presidential material. Biden received a moving endorsement from the revered South Carolinian, James Clyburn, the highest-ranking African American member of Congress.
The former vice president was expected to win South Carolina, thanks to support from black voters, but no one anticipated by how much. It was a blowout. Immediately after Biden's victory, the two other moderate Democrats, Buttigieg and Klobuchar, quickly "took one for the team" by suspending their campaigns and endorsing Biden.
South Carolina was the tremor that presaged the Super Tuesday earthquake of Joe Biden's historic political turnaround. Biden has won at least nine of the 14 Super Tuesday states, including several where he did not campaign or even spend money. Sanders will win California, but it might be closer than he expected. Biden's victories were significant. He unexpectedly won Massachusetts and Minnesota. In North Carolina, he got 63% of the black vote. And—incredibly—he won Texas.
The next day, Bloomberg withdrew from the race and endorsed Biden. Bloomberg's well-funded, high-tech campaign infrastructure will now help Biden.
CNN's Van Jones captured the magnitude of Biden's political comeback: "In a 72-hour period, we've seen Joe Biden go from a joke to a juggernaut. I've never seen anything like it."
If Biden is to win the nomination and, especially, if he is to beat Trump, he will need to step up his game. Never a strong candidate in his previous presidential runs, he will have to perform smartly and coherently as he has never done before.
As for Bernie, he could still win the nomination. But now this will be a two-person race, and Sanders has yet to win more than a plurality in any contest. Bernie seems to denounce anyone and everyone who does not support him as being part of "The Establishment." In the coming weeks and months, we might discover that The Establishment turns out to be the bulk of the Democratic voters.•
__________
Atlas is a professor of political science and director of The Richard G. Lugar Franciscan Center for Global Studies at Marian University. Send comments to ibjedit@ibj.com.

Click here for more Forefront columns.
Please enable JavaScript to view this content.