How should Republicans react to Election Day in Indianapolis?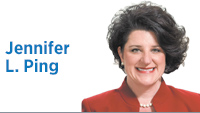 Why did Democrats win big on Election Day in Marion County? Many local Republicans are asking themselves this question, and there are four potential answers.
◗ First, the top of the ticket lacked coattails. Coattail theory suggests that the person at the top of the ballot performs well enough to help win votes for candidates of the same party down the ballot. Mayor Joe Hogsett had enjoyed high support in every poll released throughout the campaign cycle and appears to have outperformed the Democratic baseline vote. Therefore, Merritt must have underperformed the Republican baseline.
◗ Did voters link local Republicans to national politics? Regardless of who is in power, what happens in Washington, D.C., can easily spill into local politics. The national news focused every evening on the division in Washington, D.C., pending presidential impeachment hearings, and intraparty squabbles. So, maybe voters just did not want to support Republicans.
◗ Democrats were supported in this local election by the setup of the voting machines. The relatively new machines were, at best, complicated for voters with the numerous steps it took to cast a ballot. The voter must check in, show approved photo identification, sign an iPad, and receive a printed receipt with the voter's home precinct noted, and a blank ballot. The voter then takes the receipt to another poll worker standing by a large computer monitor and hands the receipt to the poll worker to enter the voter's home precinct information.
The first screen asks if the voter would like to vote straight party, meaning the voter casts all votes for either the Democratic or Republican candidates eligible in his or her home precinct. Numerous reports of poll workers telling voters they must select a party at this stage created voter confusion. Yes, in the May primary, voters were required to select a party—it's a primary. But in a general election, while straight-party voting is an option, each voter has the right to select candidates contest by contest. This concern is worth looking into.
Last, 2019 saw a 7.03% increase (which equals 8,091 votes) in straight Democratic Party votes over 2015 and a 6.91% decrease (which equals 6,062 votes) in straight Republican Party votes. This year also saw a 9.5% increase in votes for Hogsett over 2015.
The concern about confused voters or poll workers lacking the proper training should be addressed by the Marion County Election Board for 2020. Between a lack of coattails, national politics affecting local elections, and a confusing voting process, Democrats outperformed Republicans and won.
The Republican Party of Marion County must rebuild to be competitive in 2020 and beyond by giving voters a reason to identify with Republican candidates who match the sensibilities of the districts they represent.•
__________
Ping is executive director of public affairs at Krieg DeVault and former chairwoman of the Marion County Republican Party. Send comments to ibjedit@ibj.com.

Click here for more Forefront columns.
Please enable JavaScript to view this content.