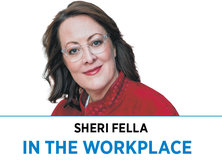 I had a day of development in Chicago this past month. The development happened, but not in the way I had planned, and in ways much harder and deeper than I anticipated.
A dear friend once told me, "Sheri, you and I love learning, but we darn sure don't like being taught." That is a true statement. Often, the universe forces me to learn in ways I wouldn't choose but in the end am always grateful for.
The development I had planned was focused on coaching competencies with a mentor who continues to broaden my mastery in the area. I was disappointed to miss that opportunity and even more disappointed to be forced to learn my unplanned lesson in connection to integrity.
Integrity is a powerful combination for only nine letters. To have integrity is to have honesty—not sometimes, but consistently. To have it as a practice, something that is in the forefront of your intention and actions daily, maybe even hourly, depending on the situation.
Since last year, I have found myself exploring all facets of my integrity practice due to the actions of another. I have been doing my best to be clear and honest about my boundaries, my values, my expectations and communicating my disappointment and disapproval when those expectations have been ignored or violated.
To claim you have integrity is easy. To say it is your value or to put it on a poster for your company or to even name your company after it, that is easy. But to practice it, to hold yourself accountable to that standard and model it consistently, that's hard.
The hard part for me isn't the being honest. Telling the truth in hard spaces isn't always easy, but being honest gives me ease in those spaces. Not being honest has always felt harder to me. Not being transparent. Not being forthright. Holding back the truth because I didn't have the courage to stand in it. Those things are way harder to carry after the moment than having integrity in the moment.
What is hard about the practice of integrity for me is following through on commitments to myself to take action when someone violates my standard of integrity—especially if it is someone I once trusted. Holding them to account is hard. Not taking on their defensiveness or their story is hard. Having the courage to stand in your honesty and also demand they face that same truth—now that is hard, but not as hard as enabling more dishonest behavior.
When I am faced with this kind of situation, I often catch myself creating a story about why I should just let it go and not take action. But letting go also means letting go of my own integrity. Ignoring the patterns that are right in front of me and not facing them means I have to own the fact that I don't value integrity enough to take action. And when the pattern becomes clear, what helps me take action is the support and guidance of others.
I have lots of areas of strength that I can lean on—integrity is one of them. And I have lots of areas that are not strong enough for me to lean on. That is when I ask others to step in. Sometimes it is a trusted friend or colleague who can offer an open heart. Other times, it is a retained resource who can navigate a space unemotionally with an objective ear that helps me see the path ahead more clearly.
What part of your integrity practice do you find hard? Are there people or projects that challenge your consistency? What resources do you have around you to help you navigate through the hard spaces in order to bolster your strengths?
My week in Chicago ended with a 50th birthday party of one of my dearest friends—a friend who has taught me time and time again what integrity in action looks like. I got development in an unplanned way that week, but it was no mistake that it ended celebrating one of my greatest teachers. Being taught is hard, and oh so valuable.•
__________
Fella is the CEO of Bloombase, a certified executive coach and Dare to Lead facilitator. She can be reached at Sheri@ThisIsBloombase.com.
Please enable JavaScript to view this content.