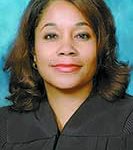 Judge Tanya Walton Pratt has been named the new chief judge of the U.S. District Court for the Southern District of Indiana, the court announced Monday, making history as the first person of color to lead the court.
Pratt on Saturday took leadership of the district court, where she began serving in 2010. She is the 10th chief judge in the court's history.
Pratt succeeds Judge Jane E. Magnus-Stinson as chief. Chief judges are assigned based on seniority and other factors, pursuant to U.S. law. Magnus-Stinson, who was appointed to the Southern District of Indiana Court in 2010, has led the Southern District Court in that role since November 2016.
Chief Judge Pratt was appointed as a district judge in June 2010, becoming the first African American federal judge in Indiana history. She is a 1984 graduate of Howard University School of Law and a 1981 graduate of Spelman College.
Pratt is active in the Indianapolis and Marion County Bar Associations, where she is a past vice president and a member of the board of directors, respectively. She is also active in the Indiana State Bar Association.
She has also served on the American Inn of Court, Indianapolis (Master) and the Judicial Conference of the United States Committee on Codes of Conduct. She currently serves on the Federal Judges Association board of directors and the 7th Circuit's Pattern Civil Jury Instructions Committee.
Prior to her appointment as a federal district judge, Pratt served as a judge in the Marion Superior Court, Probate Division. She was elected Marion Superior Court judge in November 1996, and she served as presiding judge of the Superior Court, Criminal Division, from 1997 to 2008. She also served as master commissioner for the Marion Superior Court from 1993 to 1996.
Before her election as a Marion Superior Court Judge, Pratt was in private practice as a partner with the law firm of Walton & Pratt, focusing on family law, bankruptcy and probate law, and also serving as a contract county public defender.
During Magnus-Stinson's tenure, the Southern District faced many challenges, including the deaths of Senior District Judge Larry J. McKinney and Magistrate Judge Denise K. LaRue. Additionally, the court saw District Judge William T. Lawrence assume senior status and the retirement of long-time clerk Laura A. Briggs. Magnus Stinson also led the court during a government shutdown due to COVID-19, sequestration threats and attacks on the Indianapolis federal courthouse during the civil unrest of May 2020.
In "moments of celebration" under Magnus-Stinson, the court welcomed judges James Sweeney and J.P. Hanlon, magistrate judges Doris L. Pryor and Mario Garcia, and clerk Roger A.G. Sharpe.
Please enable JavaScript to view this content.