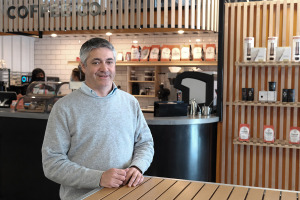 Restaurateur and chef Craig Baker is leading operations at the AMP, the artisan marketplace at 16 Tech Innovation District. He's helped open 31 restaurants and says his passion is concept design and execution. The AMP, which is in the old service garage of the Indianapolis Water Co., is expected to open next month.
What will the AMP be like?
The AMP is kind of like our community center for 16 Tech—I affectionately call it the living room. Basically, it's a true incubator. So, being the innovation district, and [since] trying to be innovative with food is difficult … I took the approach of entrepreneurial-type ventures and helping people in the community or Indianapolis at large segue a lot of times into new businesses that are either not tried-and-true or ones that are working off the cottage law out of their homes.
So, our rent rates are extremely low; they're also all inclusive. … So, we have 24 offerings in the building. Everything from a bakery, a fish market, meat market, all the way to a small chocolatier.
What makes it stand out from other food halls and markets?
It's basically a little bit different from some of the other venues in town that are similar in [the] respect that we also include entertainment. We do have a stage that we can house everything from, you know, music to tech-company launches, company announcements, to even watch parties for sporting events. It really gives us the ability to spread our wings and be an activity center for the community in the neighborhood.
Can you tell us some of the vendors?
Circle City Sweets was our first tenant that moved in. … We have Prox salads and Tinker Coffee. So, Tinker's right up the street on [East] 16th Street. This is their first retail operation outside of their wholesale stuff. We have Frankie's Pizza … Pumpkin Pies Sweet Treats. … Boba & Everything is also a new venture that's coming on board and then Waterway Fish Market. … Melon Kitchen will be opening this summer—it's a ghost kitchen that's designed as a mentorship program for minority restaurateurs—and then Black Orchid Barber Shop will be opening up in June.
When will the market be open?
So, the first three that I mentioned … they're completely operational. They're open, mainly business hours—so, say, 7 a.m. and they're done by 3. [Frankie's is] doing curbside delivery. Currently, we're also for the month of May hosting Sip & Share under the pop up [St'artup] 317 program through the [Indy] Chamber. So, they're here currently and their hours are really Wednesday through Sunday, 4-8. … We're phasing in as we get health inspections for the rest and we'll slow-roll to an open. June 3 will be our first day.
The AMP's design includes shipping containers. Tell us more about that.
I went to about 30 to 40 food halls all around the country. And the one thing that I found that was interesting is, once you put a roof over a space, people seem to really take ownership and it gives them a kind of personal tie to the space; it's a little bit different. The containers give us the flexibility to really give people the ability to design and brand their space as it's inclusive to itself.•
Please enable JavaScript to view this content.