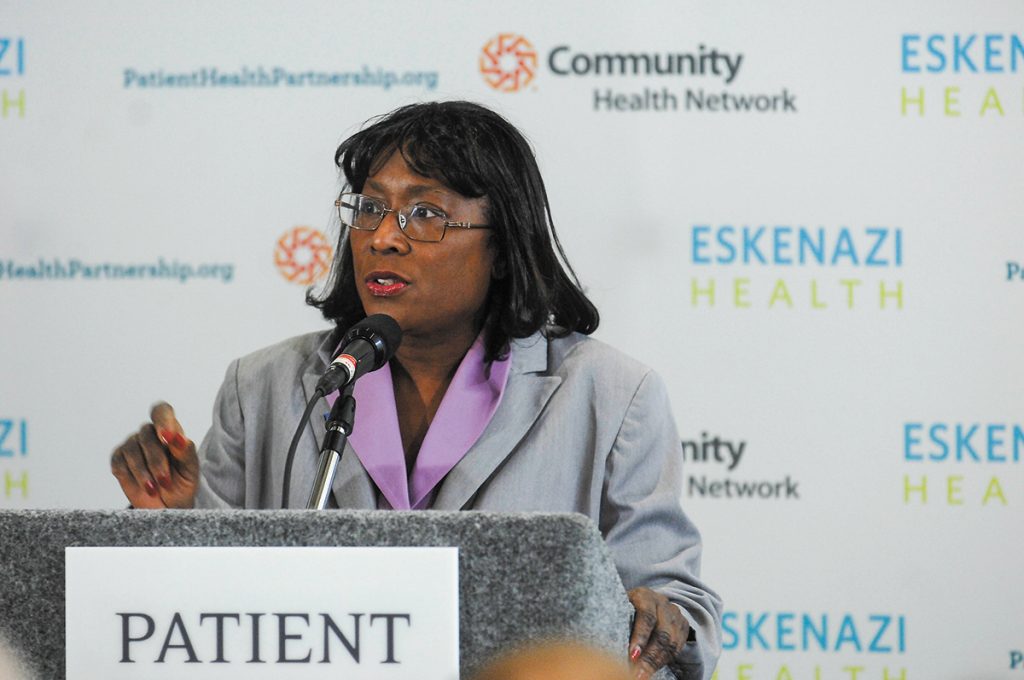 The COVID-19 pandemic is not the first public health crisis Marion County Public Health Department Director Dr. Virginia Caine has had to navigate. Caine has overseen the department since 1994, battling H1N1, HIV and Black infant mortality, among other challenges.
But the coronavirus may be the most daunting yet, because of its direct impact on employment and social concerns, like access to food, housing and transportation.
"This COVID-19 is unlike almost any other challenge that we have addressed," Caine said.
IBJ talked with Caine about her frustrations over the past few months, how testing and contact-tracing efforts are going and whether she thinks the Indianapolis 500 should run with fans in the stands next month.
Caine's responses have been edited for clarity and length.
What's been your biggest frustration or biggest challenge in responding to this public health crisis?
How do you communicate and get the message [out] about what needs to be done in order to make our community and our environment safe? I think that's been a major challenge for us. I think the second challenge that was very frustrating was not having enough personal protective equipment. And the third-greatest issue for us was not having the availability to do the necessary testing in order to curtail outbreaks. Those kinds of things really hamper your responsive effort.
The fourth thing was, we have to be very concerned about our vulnerable population—our folks who are homeless, individuals who are incarcerated. … As a health department, I got into the homeless business, which was unexpected.
And we got in the business of doing drive-thru testing, which we had not done before and didn't have the level of expertise, but we quickly learned how to get that to happen in order to provide more testing.
But we are in a great community. … It's been tremendous and I've enjoyed working in a community in a type of environment that people reach out and provide help.
I want to go back to not having enough PPE and testing available in the beginning. Do you feel like there is enough PPE available now and are we doing enough testing?
Right now, we have over 21 sites in Marion County that are providing testing. We can always improve on our testing, hands down, even with 21 sites. I would love for us to get to the point where we're doing what's called "point of care testing."
What do I mean by that? I can do a test on you and I get results in 30 minutes. It makes us way more efficient. I don't have to sit there and wait for days to get my results. … That's the piece where I think we're lacking right now. There are some tests on the market waiting to be approved by the FDA. I think Roche Diagnostics is waiting to hear some good news, and we want them to hear some good news.
With the rising number of positive cases that we've seen over the past couple weeks, does that indicate that we're reopening too quickly?
We have started to see a slight increase in our cases in Marion County, but looking at it from an average, two weeks ago, we were averaging about 57 cases per day and we've gone now to 65 cases per day, so we've gone up a little bit. When you have the Fourth of July and we opened up some more businesses, we thought we'd see a slight increase of cases.
But when we look at what we consider our positivity rate … when we were averaging over 300 cases a day—and that occurred in the last week of April and the first week of May—our positivity rate was as high as 45%. We have come down substantially. I believe our positivity rate as of July 12 was at about 7.4%.
Now, another indicator we look at, too, is our hospitalization rates—have we seen an increase in hospitalization? Well, we have plateaued. We have plenty of space in our intensive care units, our hospital beds. We feel really good about that. As we have seen our cases increase a little bit, we've seen some of our emergency room visits increase, but never more than five cases in a day from a seven-day average. But our deaths have dropped dramatically. Last week, we had a number of days that had no deaths related at all.
We are seeing a different trend in who's impacted by COVID-19 cases. We're now seeing a younger generation. For those individuals who are 20 to 50 years old, is now where we're seeing the majority of our cases, compared to at the start of this epidemic, when it was primarily a senior.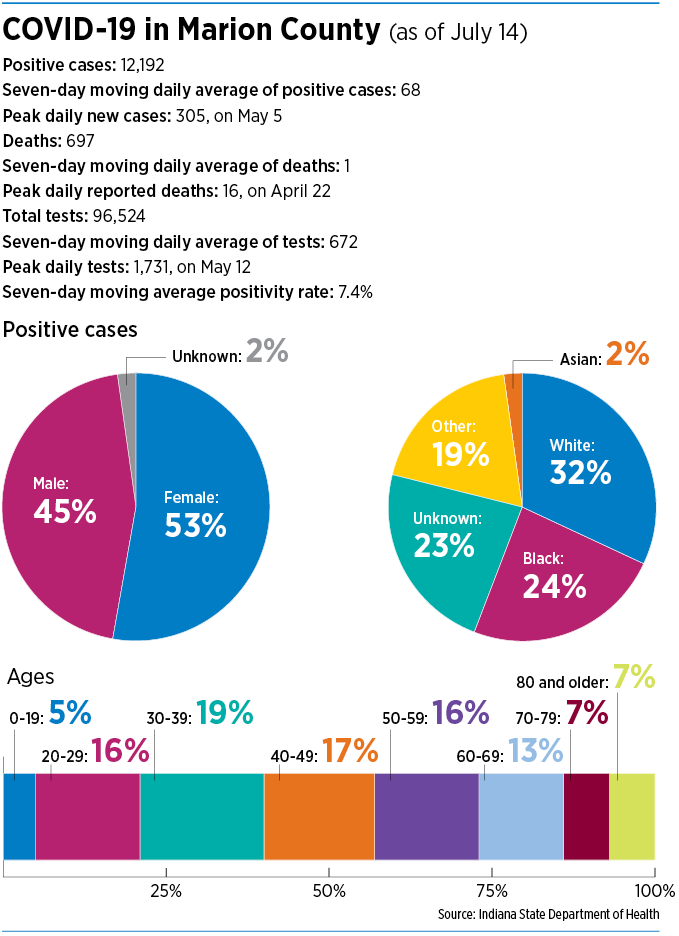 Why do you think that is?
A lot of our younger generation—you know, college students, people in their 20s in their 30s—they first heard the message, "Well, it's only happening in our seniors." So, they have this fierceness perception: "Well, it's not happening to me, so I'm not going to be worried about that." Now we have to change our message to say, "No, it is now occurring in a younger population. I need you to do the social distancing, and I need you to wear that mask. Please, please, please do your personal hygiene by doing frequent hand washing and be very careful." But some of our citizens believe that they are invincible, so they have less concern related to that.
When it comes to reopening but also maintaining social distancing, it almost seems like there are two different messages that people are hearing—go out and support restaurants and retailers now that they're open—but at the same time, don't be in a crowd with people and social-distance and wear a mask—so what you would tell someone trying to balancing those messages?
It's actually not two different messages. Even when you're going to the restaurant … those restaurant tables have to be 6 feet apart. You're not going back to the old regime of how we interacted in our restaurants. We also are no higher than a 75% capacity in those restaurants. And for the bars, we're going to monitor that very carefully. Right now, it's at 50% capacity, but we have to be very concerned about whether people are following our mandate about wearing masks, unless they're eating or drinking, but we need to have the social distancing.
One of the big events that's on the horizon is the Indy 500 in August. So, what are your thoughts on that right now—is it going to be safe to have that run with fans in the stands, even if it's at 50% capacity?
I can honestly say I don't have the answer today. It is too early for us to make that decision. We're going to have to make it, unfortunately, closer to the event, and we're going to need to see at least two more weeks of data in order to say it is safe for us to have that event in August.
We have reviewed their plans on a regular basis. I know not only our local community, with the mayor's office and our health department and others, but I know that the governor's folks are looking at this very carefully.
We really have to monitor our numbers, and we have to do a national surveillance, too, because we have to be conscious of who may be coming outside the state into our community. There are a lot of factors that we're going to have to look at very carefully. Hopefully, I may have an answer for you in maybe two weeks or so.
One of the decisions that you and Indianapolis Mayor Joe Hogsett made recently was to mandate mask-wearing. It's been in effect for several days now, so have you noticed a difference?
Definitely, we've seen an upswing in the number of people who are wearing masks, but of course I have also seen individuals who have not worn masks. We have to be a little bit cautious that, when we see someone not wearing a mask, they may have a legitimate medical reasoning for why they're not wearing a mask. But we don't want to see what I think they saw in Michigan and Florida, where you're seeing large numbers of individuals not doing social distancing and not wearing masks. That's how you get an outbreak, or a second wave of cases, if we continue to let that happen.
Do you think we're headed toward a second wave?
I think whether we hit a second wave or not depends on the residents of Marion County.
[Government officials] can't do it alone. We can make the best recommendations. But it depends on whether the individuals in Indianapolis want to go back to … shelter in place. If they don't want to go backward, then please listen very carefully. Please follow our recommendations, help encourage your family members, your colleagues, any other people that you might have influence on and take us very, very seriously.
But I've been so impressed so far with the community in Indianapolis. It just seems like people have stepped up and gone to that next level. I think that's why we've been so successful so far with our numbers, but we've got to be tough. You've got to hang on. You've got to be passionate. And, hey, we could be the most successful story in this country, based on how we respond as a community, so please, help us out, do the right thing.
One of the things that helps contain the spread of the virus is the contact tracing. How do you think contact tracing has been so far?
We've been doing a fairly decent job with contact tracing, but we definitely need to up our game related to that. We have calculated that we need at least 300 contact tracers minimum in our community.
Right now, I know that the State Department of Health has about 500 contact tracers. I think that, when you look at us from the Marion County Health Department, we have about 75, and we're hoping to bump that up really, really quickly. And we know that, out of the 500 contact tracers, probably at least 200 of them are being devoted to Marion County.
We've been doing contact tracing since the epidemic started. But when you're having 300 cases per day … I didn't have the manpower in order to respond and do contact tracing for over 300 a day. But as we are going down to, like, 65 cases a day, we have that capability now, and we're hoping that we'll get the numbers down even lower. And our goal is to be able to reduce our average number of cases below 25 or 20.
Do you think that's possible to hit that level?
Oh, we're hoping so.•
Please enable JavaScript to view this content.