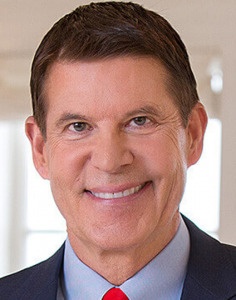 Keith Krach, former U.S. under secretary of state for economic growth, energy and the environment, and current chairman of the Institute for Tech Diplomacy at Purdue University, has been nominated for the 2022 Nobel Peace Prize, the institute announced Thursday.
Krach is a former chair of the Purdue board of trustees and former chairman and CEO of San Francisco-based DocuSign Inc.
Purdue said Krach is known for his "Trust Principle" doctrine in developing the Clean Network Alliance of Democracies to defend against technological authoritarianism, protect economic security, preserve democracy in Taiwan, and protect human rights.
"A single vision is one more than most people will ever produce," said Mitch Daniels, president of Purdue and former governor of Indiana, in written remarks. "Keith Krach is working on the most recent of a long string of them. And unlike so many visionaries, he never fails to make his new conceptions real, and powerfully successful."
During the pandemic, Krach and his team deployed the "Trust Principle" doctrine to protect the global 5G infrastructure. The university said Krach's efforts created a useable model for overcoming authoritarian economic threats.
Krach's "Trust Principle" was the basis of efforts to strengthen economic ties between Taiwan and the U.S. and its allies, according to Purdue.
His Taiwan initiatives included the Lee Economic Prosperity Partnership, the Science and Technology Cooperation Pact, and the $12 billion onshoring of Taiwan Semiconductor Manufacturing Co., which was the largest onshoring deal in U.S. history.
"Keith's career is a story of one giant leap after another, driven by his philosophy of "Transformation to the Power of Trust" in realm after realm—robotics, engineering, commerce, education, philanthropy, diplomacy and even the way people sign," Daniels said.
Please enable JavaScript to view this content.