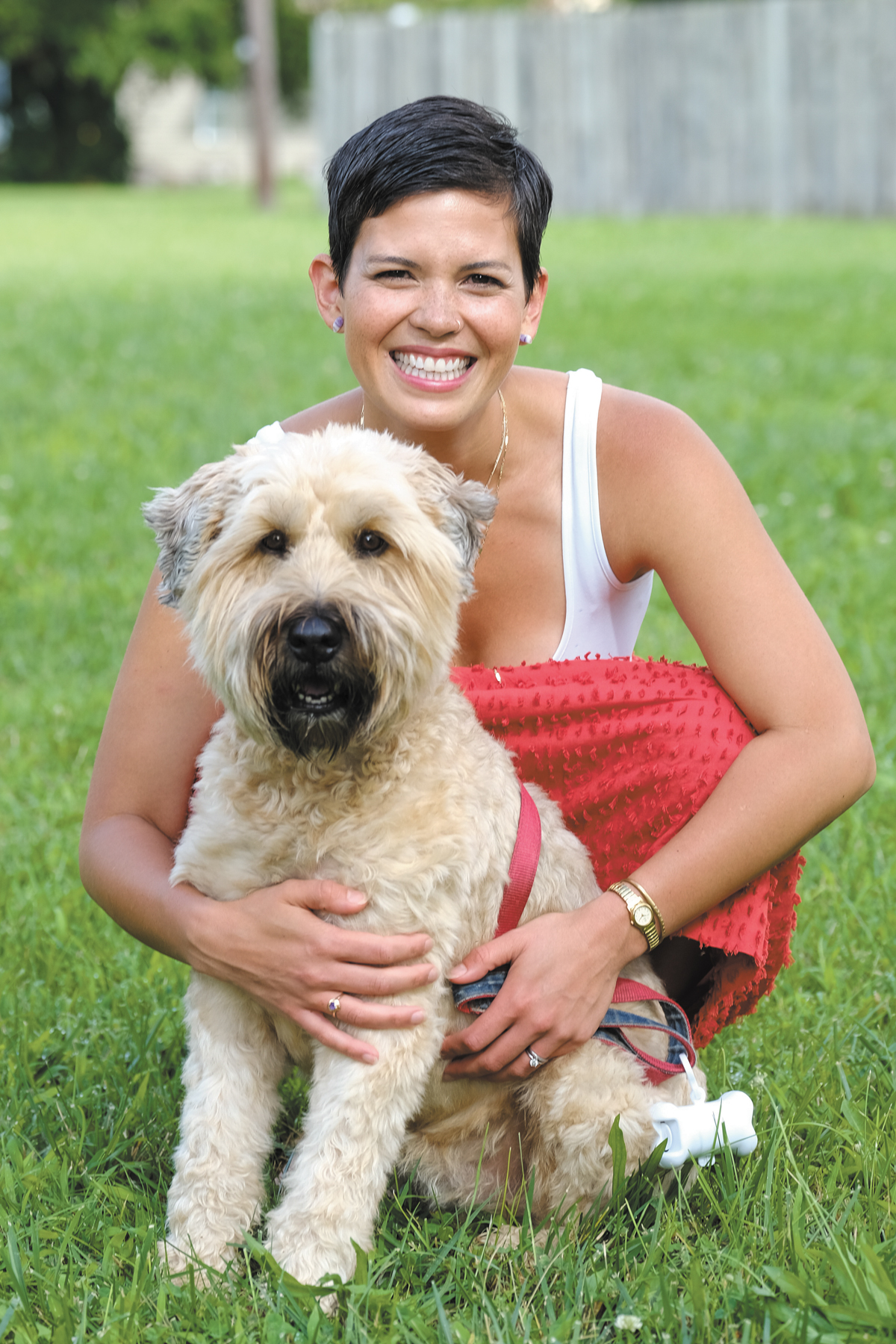 When Erica Ballard returned to Indianapolis after a decade on the East Coast, she began working with members of the community to create the first dog park downtown. IBJ talked to her about the effort and how it came together.
Why bring a dog park to downtown Indianapolis?
The selfish [reason] is, I wanted my dog, Max, to have a dog park. He has a lot of energy and I wanted a place for him to get all that out. But [most] major cities have dog parks. It's a nice amenity to have; it provides a sense of community.
Indianapolis wants to be a city where the talent stays and where more can be drawn in. But if we're going to do that, we need to create a downtown that looks like the city we say we are.
What can you tell me about the partnership working on the dog park?
So, [former Bates Hendricks Neighborhood Association president] Laura Giffel is a magical unicorn. I met with so many people in the city, trying to find a piece of land that could work for this project. And she told me, "I'll keep my eye out for you. If I hear anything, I will call you." She is the only person who called me back with land, of, like, the hundreds that I met in the city.
We are partnering with Immanuel United Church of Christ [on Prospect Street] on this, taking over the lot next to the church building. It's been a great partnership with them and they're leasing us the land for free to build a dog park.
You and your board are in the fundraising stage, right?
Yes. Dog parks are expensive, apparently, and the money we're raising will go to fencing—it's near a highway and busy streets—as well as canine grass so that the grass won't be ruined by dog urine or its smell. We're putting in both a small-dog run and a large-dog run, so the money will help pay for that component, as well as benches, toys, key fobs [for members] and all the things we'd need to landscape and maintain the park.
So far, we've raised about $29,000. We're doing this through a matching grant program with the [Indiana Community Housing and Development Authority]. For the first three years, we're hoping to raise about $67,000 (including the matching grant) for the park's first iteration, but our ultimate goal is to turf the entire dog park, which costs an additional $100,000.
Our goal is to open it this year, mid-October. It sounds like a fast-tracked project, but we've been working on it for three years.
How much is it to be a park member?
It's $20 a year, through an application process; we want to make sure the animals have the right shots and vaccinations. In the beginning, we're hoping for about 200 to 250 people who will utilize the space.
What "real world" impact do you expect this will have on downtown residents?
This dog park was put together by two young women and a church. To create the city that we know Indianapolis to be, yes, you want to have some movers and shakers to move things forward. But things like this shouldn't take [this long]. And I think it's important that we evaluate as a city, what it is that we really want to create and how involved we want to get in creating that space.
I think it'll be something that enables people to stay [living] downtown longer. If you can keep people here longer by giving them great amenities, then you keep more dollars in the city of Indianapolis. And I think this dog park will actually increase property values in the neighborhood because it's an amenity people want to live next to.•
Please enable JavaScript to view this content.