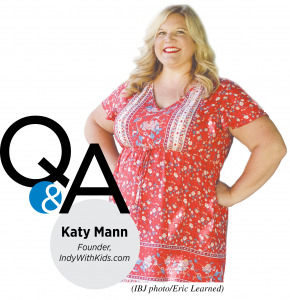 In the late 2000s, Katy Mann tried her hand at being a "mommy blogger," a hot form of online expression at the time. There was just one problem.
"I didn't have kids, and so I had a website that no one read," she said.
But she did have experience planning activities as a youth director for First Baptist Church. Before that, she worked for Monster.com selling job-listing advertisements and access to resumes. When she began having children, she wrapped those experiences together to make IndyWithKids.com, which specializes in listing and promoting events, classes, venues and activities in central Indiana for families.
"It's like the culmination of everything that I've done, including running a neighborhood newsletter when I was a kid," she said.
Mann founded the site in 2010 and has recruited dozens of contributors. In 2019, the website had 2.5 million page views. Thanks to some clever pandemic pivots, it more than doubled its page views in 2020 to 6 million.
What was your 'Uh, oh' moment in March 2020?
I remember sitting in our breakfast nook after publishing a story about all the schools closing. My insides were shaking, because it felt like, "What does this mean for everything? How long is this gonna be?"
I saw the writing on the wall. If there are no attractions or venues, then we don't exist. So I decided that, if there are kids like my preschooler who aren't going to be doing virtual learning, wouldn't it be cool to do some sort of virtual play date?
We hit the ground running on that first Monday with our first play date. It was through an art center on the west side. The owner read a book to the kids and then did a craft project surrounding it. And then we started lining up play dates. We had Indy Eleven teaching kids soccer moves. We had the Indiana Soybean Alliance. We did a lot of Farmer Fridays, where a farmer would take us inside the barn. My favorite was a farmer who read a "Llama Llama" book about what the llama was going to eat—foods like lasagna or whatever that was mentioned. And then she tried to feed them to her actual llamas.
What did you do as it became obvious the pandemic wasn't going away?
We had the foresight to help people plan how to do things during COVID. Last summer, we got our team on a call and said, "Look, people are not going to do trick-or-treat the same way that they did trick-or-treat last year. So, we started writing Halloween content and putting it out in July. When you looked up "Socially distanced trick or treat, how to," you found us. We taught people how to do birthday parties virtually. We taught them how to do a birthday parade. We did some news broadcasts in New York and LA—virtually of course. We planned all the COVID date nights you could ever imagine. They were universally loved, and not just locally.
Since young kids still can't be vaccinated, are you trying to focus on outside activities?
Our audience's interests have shifted because of COVID. Even though a lot of places have opened back up and people can return to some of these indoor things that they love, we're seeing that they really got that hiking bug or enjoyed visiting all those parks or swimming in all these lakes. This will be something that we continue to focus heavily on.•
Please enable JavaScript to view this content.