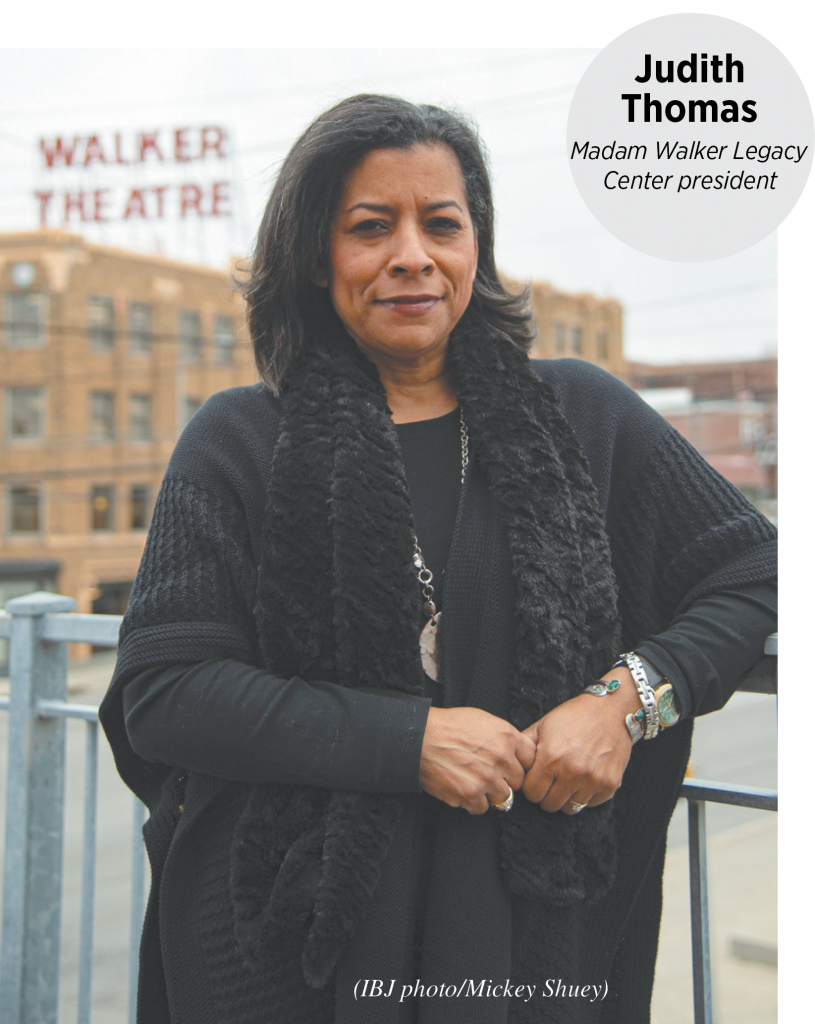 A lifelong Hoosier, Judith Thomas, 52, was hired to lead the Madam Walker Legacy Center (formerly known as Walker Theatre) in November 2018, after several years working at Visit Indy.
During her previous job, she always highlighted the 92-year-old theater—which opened in 1927, eight years after Walker died—as part of her site visits with prospective event groups.
What drew you to want to oversee the Legacy Center and its programming?
I've attended events at the Walker for as long as I can remember. [This job] was just a great opportunity to bring together a lot of the things that I've done in the past, from conventions and meetings to sales to promotions and helping people make connections.
I also have a love for the arts, African American culture and history—so it's really a combination of everything I love. It was a move that just made sense.
How do you hope to help younger generations build a relationship with CJ Walker's story?
What's really exciting is keeping that history at the top of mind. Knowing there was an Indiana woman over a hundred years ago that was the daughter of slaves and she was able to become a millionaire—one of the first female millionaires—period—in this country, no less. That's what the American dream is all about.
She really set an incredible standard from business and philanthropic standpoints, as well as through activism and fighting for the rights of others. She is a role model for all and it's an honor for me to be able to lead something that was her dream and to keep it going.
What are your favorite memories from the venue?
Well, in the 1980s, my father actually had the security contract there after retiring from the police force in Gary. My mother became chairman of the board in the late 1990s. So, I've had a relationship with that building for many years.
I have a lot of good memories there—I can't pick just one. Attending all those events that were held there, like the [United Negro College Fund] telethons and Jazz Fest.
The Legacy Center has been closed for renovations for more than a year. What are you most looking forward to when it officially reopens in June?
We're excited to bring some energy back to Indiana Avenue and the Madam Walker Legacy Center when it reopens.
Certainly, you'll see major renovations and updates to audio and visual equipment in the theater and the ballroom. But these changes aren't just about the theater or the ballroom or the offices, but the center as a whole.
It will be all about our programming. When we do anything in the arts or philanthropy or business or for young people, it will be all carrying that legacy CJ Walker built, by pulling together partners in the city and in the country to help educate and empower everyone.
What's next for you?
I was at Visit Indy for 15 years before coming to the Legacy Center and it was a wonderful job. But I needed a new challenge. I'm 52 now—the same age Madam was when she died.
So, when I took the role in 2018, I felt like this was going to be my last job. I wanted to end my career here. We'll see what happens.•
Please enable JavaScript to view this content.