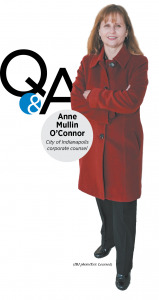 Mayor Joe Hogsett has promoted Anne Mullin O'Connor—a longtime public servant in local and state government—to be the city's corporate counsel, essentially his administration's top attorney.
O'Connor has been with the Hogsett administration since he became mayor in 2016, but it's not the first time she's worked for him.
You're the new corporation counsel for the city. Tell us what that means.
I'm appointed by the mayor to oversee, essentially, the legal department. But also, the corporation counsel helps the mayor on various functions such as executive orders and legal policy and working with draft ordinances for the council, so it's pretty comprehensive. Our staff handles everything from day-to-day counseling and contracts through litigation.
You were Indiana's first public-access counselor (appointed in 1998). What was that like and why was that a position you took?
Well, that is way back in history. … So, it was an interesting time in Indiana's history. Actually, seven newspapers got together and did a survey of public agencies around the state—cities, counties, towns—and just went in and asked for simple public records. And the denial rate was incredible.
[The stories] came out in early January and [Gov. Frank O'Bannon and the Legislature] said, "We've got to do something." And ultimately, legislation was passed the next session. But the governor didn't wait for legislation. He said, "I'm going to create an ombudsperson."
And as it turned out, a good chunk of people I was helping, it was mainly—almost 85%—a half-and-half split between public officials and citizens. When [the position] was first created, a lot of people thought the media would be the highest user, but they were not.
That was a fantastic opportunity that just doesn't come up very often. There were some interesting stories, things that happened in the news that I knew about from a different angle.
What other gigs in law have you held?
Well, I am what you call a true public-sector attorney. I've worked at the Attorney General's Office under a couple [of] different attorneys general. Three, actually, and not all continuous. I was the general counsel at the Indianapolis Airport Authority. … And my first job as an attorney was in the [Office of] Secretary of State Joseph H. Hogsett, right out of law school.
You're one of the only women to serve in this role with the city. Does that feel important or significant to you?
From my perspective, individuals bring their own take on an office, and I've been fortunate with my two predecessors under the Hogsett administration to work with people who happen to be men but who were great leaders. So, I'm hoping to carry out a lot of what they did, and maybe put my own mark on it.
If you weren't an attorney, what's a job you think you would enjoy?
This probably comes from my time as public-access counselor, because … you do a fair amount of public speaking as an attorney but not 75 presentations in one year, which I did [as public-access counselor]. But it made me think that I could probably be a teacher. Probably not high school or elementary, but I think I would enjoy teaching in a college setting.•
Please enable JavaScript to view this content.