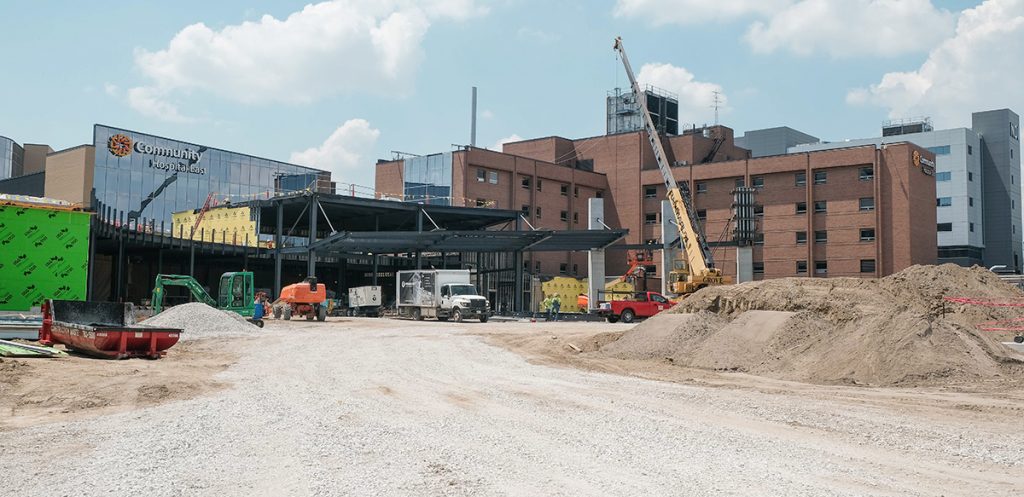 Unlike so many other human endeavors, the multiyear, $175 million effort to remake the Community Hospital East campus, at the corner of East 16th Street and North Ritter Avenue, hasn't been stymied by COVID-19. At least not so far.
"From a construction standpoint, I don't really believe that the pandemic hit the construction site," said Keith Smith, lead facilities project manager for Community Hospital East, part of Indianapolis-based Community Health Network. "Mainly because 100% of what we're doing right now is outside."
That's great news for the project, which already had enough complexity on its plate. Since 2016, almost the entire floor plan of the sprawling campus has been rewired, renovated or (in most cases) replaced. All while the facility continued seeing patients.
The four-year rebuild has occurred in two phases. Demolition of two major buildings (containing, among other things, administrative offices, the pharmacy department and outpatient services) were first. By 2019, they had been replaced with a patient tower, built on the old structures' footprint. Then another building (which housed the old emergency department and intensive care unit) was removed to make way for a new main entry that ties the entire complex together. If all goes as planned, that portion of the work should debut this November, marking the conclusion of the rebuild.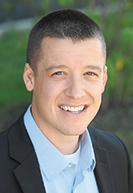 "Tearing down outdated infrastructure that had served us well for the last 60 years allowed us to replace that building with a brand-new hospital designed to usher in a brand-new future for our team and those we serve," said Sean Kennedy, Community Hospital East's vice president of operations.
Smith figures that, when the project wraps up, 75% of the820,000-square-footcampus will be new construction. That's quite a face-lift for a facility whose oldest portions dated only to 1956, when the hospital opened. And many sections were much younger.
"We have a professional building that's not that old," Kennedy said. "And we retained a building that opened its doors in 1960. Everything else was demolished and rebuilt."
Logistical feat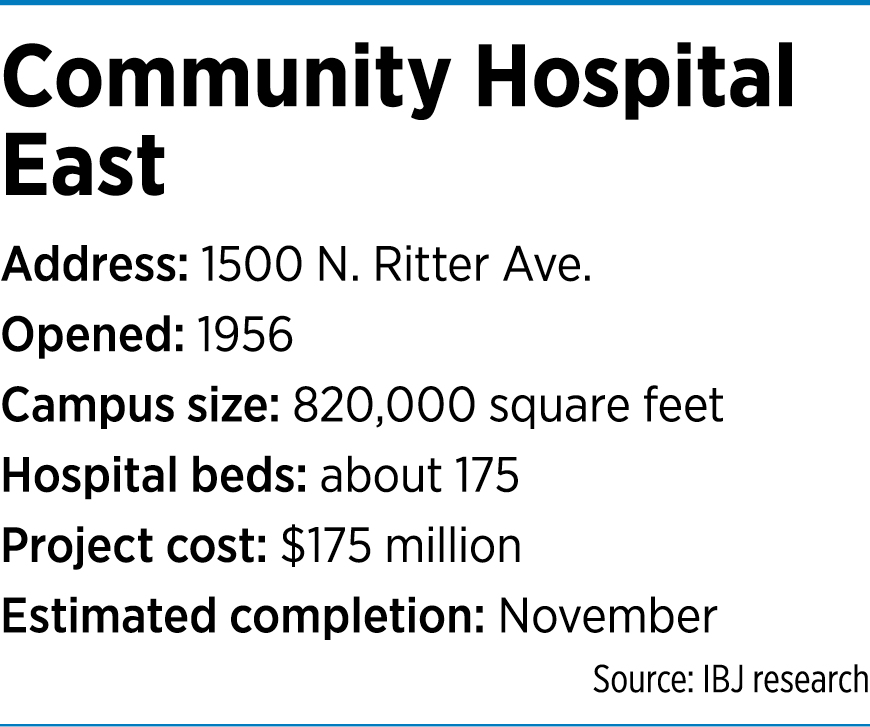 Needless to say, it's not every day that pretty much an entire health care campus is replaced piecemeal.
"It's not very common and it's a different level of difficulty and challenge," said Kevin Schmidt, project manager for the chief contractor, Pepper Construction.
Particularly since the multistoried basements of some of the buildings had to be preserved, even as their above-ground portions met the wrecking ball. Securing those areas from damage took a lot of care.
"Before the demolitions of Building 1 and Building 2, we had to take a great deal of time to waterproof the floor of the area that would stay," Smith said. "The basement had a lot of important infrastructure in it, such as piping and the main electric rooms. That was a challenge, but we didn't have any mishaps or shutdowns during the process."
Interestingly, after all this work, the hospital's bed count of approximately 175 remains largely unchanged. Adding capacity wasn't the point of the project. The point was to fine-tune the services offered—and to acknowledge that, these days, lengthy stays have been replaced, whenever possible, by brief hospitalizations or outpatient procedures.
Community East's management also wanted to make sure patients were seen more quickly. To this end, the emergency department bed count doubled, to 60. There are also now six ambulance bays, instead of two. A clutch of "critical decision rooms" is available for patients visiting the hospital for less than a day for monitoring or evaluation. And the maternity unit offers 21 private rooms (two of which feature tubs for water labor) and another two for intensive care.
The new lobby, part of the very last piece of construction, will be double the size of the old one and will include plenty of decorative niceties, such as an electric fireplace. But most important, it will rationalize the system of connecting hallways between the various satellite structures.
Quest to modernize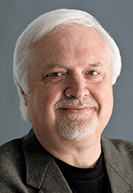 Community Health is not alone among hospital systems needing to upgrade facilities that date back more than a half century.
Indiana University Health late this year is expected to roll out a massive overhaul of its Methodist Hospital, the oldest parts of which date to 1908. The project was estimated to cost more than $1 billion when it was announced five years ago.
Timothy J. Frank, senior principal and president of Artekna, an Indianapolis architecture firm primarily focused on health care, said many of Indiana's county hospitals were constructed under the Hill-Burton Care Act of 1946—an era far, far removed from the realities of medicine today.
"In 1946, health care knowledge doubled every 50 years," he said. "In health care 2020, knowledge doubles every 73 days. Hospitals designed in 1946, or even in 1981, struggle to find relevant uses in 2020."
The delicate task of accomplishing a redo while patients are still served adds another layer of complexity.
"As designers, we have to consider that the existing clinical operations must remain during the duration of the renovation," he said. "Often, this means multiple phases to accomplish the construction versus building a new space. This can be very disruptive to existing operations."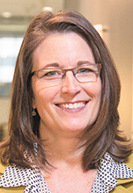 Picking the proper approach is usually a lengthy, convoluted process.
"It is not about the age of the building as much as its capacity to support operations, physical and infrastructure requirements," said Jenelle Smagala, president of Synthesis, an Indianapolis architectural design firm specializing in health care.
"For instance, many technological advances now permit outpatient surgical procedures and the patient to convalesce at home that, in years past, required major surgery and a lengthy stay in the hospital."
Uncertain future
When finished, Community Hospital East will bear no resemblance to the facilities that debuted on the site in 1956. But who's to say that in another half century or so, advances in technology won't force another teardown?
Certainly not Ed Abel, director of health care services for the accounting and consulting firm Blue & Co.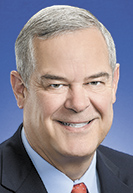 "Thirty-five years ago, when I left Methodist Hospital for Blue, a general rule of thumb was that 80% of services were for inpatients and 20% were outpatient," Abel said. "Today, 35 years later, it's flipped, and 80% or more of acute care hospital services are outpatient and 20% inpatient."
Such drastic changes sometimes mean existing buildings aren't conducive to reuse and are better demolished than renovated.
Community Health Network officials learned that firsthand with the Community East project. In July 2014, they said the campus would undergo $175 million in renovations. But the next spring, they changed course.
"At Community Hospital East, we realized building a new hospital for the future was, in the end, a better avenue than renovating antiquated buildings meant for a different time in our history," Community CEO Bryan Mills said that May.
Abel said many hospital systems veer away from updating decades-old facilities.
"To retrofit a building originally built 35 years ago or more is a mega-task," he said. "It is far easier to level a building and start anew."
When hospital systems opt to build new these days, they often amass more real estate than they could ever fathom using—a move driven by systems' increasingly running out of room.
"Community Indianapolis became a poster child for this when they started their first alternative campus near Castleton in the early 1980s. Initially, most experts said they had way more space than they could ever use. Today, they feel differently," Abel said.
"When hospitals get landlocked [surrounded by development], they get faced with big space issues when trying to renovate to current construction standards."
For his part, Smith prefers to say that Community Hospital East "right-sized" its 29-acre campus.
"We've really reoriented and fine-tuned our approach," he said. "But we've also been able to offer so much more through our new facility and the state-of-the-art technology we have in place."
"It's difficult to forecast what may happen in the future, but we do feel confident in our design that it will serve us for several years down the road," Kennedy said. "Technology changes often, but I think we have the right infrastructure in place to adjust and adapt to the evolving needs of our consumers."
Only time will tell.•
Please enable JavaScript to view this content.