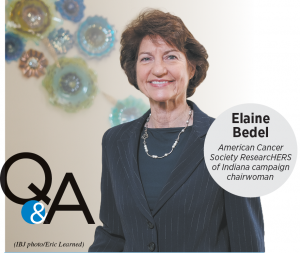 Elaine Bedel, CEO of the Indiana Destination Development Corp., is helping raise money for a women-focused cancer research initiative. The campaign, which will run through June, is in its second year.
What is the ResearcHERS campaign?
This initiative is part of a national campaign that first began last year as a pilot program for the American Cancer Society, with the idea of raising funds for cancer research that would be available exclusively to female research scientists and doctors. History has shown that there's been a little bit of a gap between research and grants for women, so this was meant to help level that field some and give female scientists and doctors an opportunity to have [more accessible] funding.
It's meant to be one of those hard-push, short-term fundraising efforts to quickly raise money each year for women in the arena of cancer research.
Why is this a cause you felt compelled to get involved in?
Cancer impacts all of us. We all have had family members or close friends or associates that have suffered from cancer and hopefully many of them have recovered, but sometimes it isn't the case. I think there's a need for women to be engaged in that type of research; we need diverse ideas, diverse minds and diverse ways of approaching a problem. And I think women can bring that to the research, as well as men, a different approach.
I think we'll be faster at solving these issues if we can all come together. But the thing that really drives me with this campaign is, not only are we trying to help raise money for cancers that tend to frequent in women, we're also helping women to continue their research by raising funds that will go fully to women.
How many projects are being funded?
The American Cancer Society has already funded five women-led research projects in Indiana, valued at $2.7 million. And there are two more women grantees in Indiana that were recently awarded grants totaling $822,000. I think it's great that we have such a great environment for the women researchers here and [at the universities].
What is your strategy in raising money for this cause?
I've worked closely with [Co-Chair] Heather Willey, a partner at Barnes & Thornburg, to recruit women to serve as ambassadors to drive contributions to the campaign. We're working with the people that we know and contacts we have in our network—asking people to step up and be part of this.
But COVID-19 has had an impact because, obviously, my role got a little more intense with [the IDDC], as I know Heather's did with the law firm. It did cause things to kind of come to a stop.
How is this year's fundraising going?
So far, we have more than 770 women who have volunteered and agreed to serve as ambassadors, raising $97,860 [as of May 28].
We've been hurt just like a lot of other fundraising organizations and not-for-profits because people either redirected their normal giving to something that was more urgent—be it health care or personal protective equipment—or they found themselves in a situation where they didn't have the discretionary dollars to make that kind of give. So, it is impacting our ability to aggressively fundraise for the initiative.
Do men have a role to play in this campaign?
We've focused on this really being a concerted effort to really not only raise dollars for cancer research, but to specifically help women who do cancer research. That doesn't mean that men can't contribute—we certainly welcome that. Our effort is really focused on women being the ambassadors in this effort.•
Please enable JavaScript to view this content.