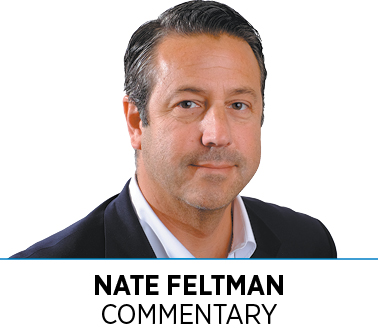 November is a special month given two important American holidays set aside to give thanks. Last week, we celebrated Veterans Day; next week, Thanksgiving. I find myself extra thankful for the men and women who have served our country and, in many cases, paid the ultimate sacrifice to ensure America continues to be the land of the free.
Our city honors and celebrates our veterans like few others. We have the designation of devoting more acreage than any other city in America to honoring those who have given their lives in our defense. We rank second only to our nation's capital in the number of war memorials. And our city center features the Soldiers and Sailors Monument, honoring those who gave their lives in our Civil War and earlier conflicts.
Many well-known Hoosier veterans continued their service by leading our city, state and nation. President Benjamin Harrison, Gov. Edgar Whitcomb, Sen. Richard Lugar, Gov. Joe Kernan and Mayor Greg Ballard served in our military before their public lives.
Today's Indiana public servants with military service history include Gov. Eric Holcomb, Sen. Todd Young and congressmen Jim Baird, Jim Banks, Larry Buschon and Greg Pence. For many veterans, the desire to serve continues well after their stint in our armed forces. Not only does the military protect our liberty, but it is often the training ground for great leadership.
Veterans make incredible contributions in the world of business as well. Many turn to entrepreneurship after their service. Fred Smith, founder of FedEx, served in the U.S. Marine Corps. Sam Walton, co-founder of Walmart, served in the U.S. Army. And our own Bill Cook, inventor of medical devices and founder of Cook Group in Bloomington, served in the U.S. Army as a surgical technician.
One small-business owner having a large impact in Indiana is Robert Vane, founder of communications firm Veteran Strategies. Vane enlisted in the U.S. Army in 1987 and served as a public affairs specialist and broadcast journalist. After his military service, he used communications skills honed in the Army to assist Ballard in the successful transfer of our city's water and wastewater utilities to Citizens Energy Group, serving as the mayor's deputy chief of staff and communications director. Since founding Veteran Strategies, Vane has been involved in many high-profile city projects, including last year's $272 million Indianapolis Public Schools referendum and the city's new jail and Community Justice Campus.
One of Vane's latest contributions is his "Leaders and Legends" podcast featuring interviews with prominent Hoosiers. Guests have included Gov. Holcomb, former Gov. Mitch Daniels, Rep. Susan Brooks, Indiana Pacers executive Jim Morris, former Marion County Prosecutor Terry Curry, and former longtime Democratic state Sen. Louis Mahern. Vane's podcast is refreshing in that it is intentionally bipartisan and focused on civil and civic leadership in our city and state.
One of Vane's most special guests was Medal of Honor recipient Sammy Davis, whose story of bravery and sacrifice in battle in Vietnam is awe-inspiring. As a result of Davis' selflessness and bravery, President Lyndon Johnson awarded him the Medal of Honor. You can see the actual footage of the presentation in the movie "Forrest Gump" (Tom Hanks' face was superimposed over Davis' in the film).
We all should be proud to live in a city that pays special tribute to our veterans. As we prepare to give thanks, remember to include the brave men and women who have ensured that our nation has remained free and the best hope of the free world.•
__________
Feltman, an attorney and former secretary of commerce, is a shareholder in IBJ Corp. To comment, send email to nfeltman@ibj.com.
Please enable JavaScript to view this content.