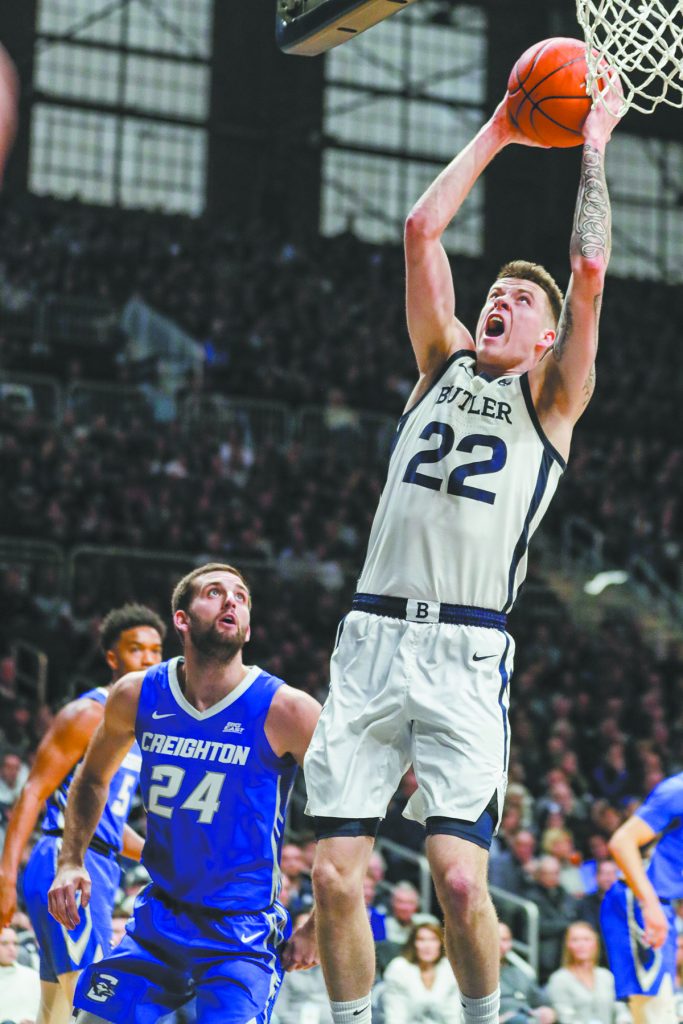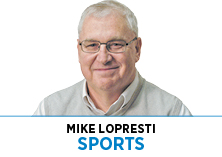 The tattoo is a wondrously complex work of art, showing a man and a little boy on an outdoor basketball court. The boy is wearing No. 22, a little guy in an oversized jersey and long pants. The man is imparting wisdom, pointing toward the backboard, and the heavens beyond.
You can't see it when Sean McDermott takes the court to play basketball for Butler, but you know where it is. Watch him just before the game, when he taps the left side of his abdomen. That's it. And then he points to the sky. Grandpa is somewhere watching. He's certain of it.
Alan Darner was a renowned high school basketball coach in Indiana, and two-time state champion at Pike. He retired to Florida as a fit and active family man. Last Sept. 21, at the age of 72, he played tennis with his wife and texted with his grandson Sean back in Indiana.
"He was asking about coming up to practice. I expected to see him in the next couple of weeks," McDermott was saying after a recent game at Hinkle Fieldhouse.
"And the next day, he was gone."
It was an abdominal aortic aneurysm, one of those things that can strike without warning and give no time to respond—even for a man who liked to run around the tennis court in the Florida heat. Sean was in his house near campus when the phone rang that Sunday. He answered to a sobbing Kim McDermott.
"I've heard my mom cry three times in my life," he said, "so I knew something was wrong."
The McDermott family once more had to weather a storm. Sean had battled a near-fatal infection in his Pendleton High School years that robbed him of much of his teenage vigor, before it was finally solved. Kim has fought, and beaten, cancer. Now this sudden tragedy. It's all been a lot for a kid just turning 23.
"That might have been the toughest," he said of losing his grandfather. "Getting news from your mom that she has cancer is really tough, but she fought it, she beat it, she's still here. My grandpa meant so much to me. To lose him out of nowhere might have been the toughest day."
With each difficult curve in the road, McDermott has always felt the need to express what was in his heart. But what's a guy to do, if he doesn't find it easy to tell the world openly how he feels?
He gets a tattoo. That's why "Kimstrong" is on McDermott's left forearm, and elsewhere there are crosses and a Biblical verse and other various designs. And now, a grandfather and grandson together on a basketball court, sharing moments that have only become more precious.
Let the Butler senior try to explain.
"I'm not a real outgoing person. But I like to express myself in my own way, and I think these tattoos express who I am. I'm faith based, with a lot of family ties.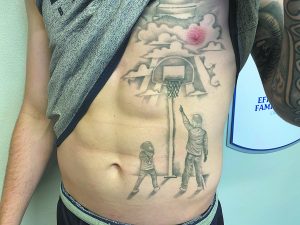 "My grandpa was the second most influential man in my life. I just wanted to do something to commemorate his life and our connection, and the idea just kind of came to me. We'd go on vacation to Florida, we'd be outside working out for three hours. We did a lot of work outside in Florida and those were some of my favorite times."
Mike and Kim McDermott have watched this tattoo proliferation as parents, understanding what was going on with their son.
Mike: "I'm not a big fan of ink, but I'm not opposed to it anymore. When you look and see what it actually is, and what meaning it has to him, I'm fine with it. It's emotional every time I see him touch it. The kid's got a good heart. That's his way of being with grandpa."
Kim: "There's a lot of thought that goes into them. When he did the one for me and him, there was a six-month talk."
Sean didn't tell his parents about his plans to honor his grandfather. He had the tattoo done, then snapped a picture and texted it to his mother. "I was actually with my mother when he sent it. It was very emotional," Kim said. "I guess I should say I wasn't surprised. They had a special bond."
Four months after Alan Darner's passing, his grandson is having a terrific final season, helping lead Butler's unexpected surge into the top 10 rankings. He has been a constant pest for opposing coaches from the 3-point line. After he scored 16 to help shred Florida, Gators coach Mike White mentioned, "A lot of guys think they're shooters. But he's a real shooter."
What a last lap. And there are so many people McDermott has to play for; life has already taught him that.
His father and mother, for instance. They make sure to be in Hinkle Fieldhouse before the end of every pre-game shooting session, so they can wave to their son as he heads for the locker room. Ask Kim to chat and she says she'll be glad to, but only after The Wave. Can't miss that, under any circumstances. "It's why I get here so early. I've seen enough warmups … but he did it the year I had cancer."
And there is the grandfather he honors with every pregame tap on his stomach.
"Sean was the last one other than [wife] Diane to talk to Alan," Mike said. "It really affected Sean and it does to this day. I watched him and his grandma cry at Christmastime when they hugged each other, just thinking about grandpa. This is a tough year for Sean. I know he wants to make his grandpa proud."
Yes he does—every practice, every game.
"He might have been more excited about my senior season than I was," Sean said. "I just wanted to go out and dedicate this season to him, knowing that he would have loved to be here. I know he's watching every game. Probably still screaming at the top of his lungs at me."
So, Sean McDermott's left arm is fully decorated. The chest and stomach, too. Nothing on the right arm, though.
"It's going to stay clean," he said, maybe hoping there are no more reasons for a tattoo any time soon.•
__________
Lopresti is a lifelong resident of Richmond and a graduate of Ball State University. He was a columnist for USA Today and Gannett newspapers for 31 years; he covered 34 Final Fours, 30 Super Bowls, 32 World Series and 16 Olympics. His column appears weekly. He can be reached at [email protected]
Please enable JavaScript to view this content.