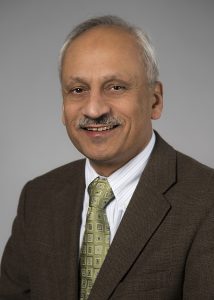 Dr. Anantha Shekhar, a nationally recognized health sciences researcher and entrepreneur, is leaving the Indiana University School of Medicine to become senior vice chancellor for health sciences and dean of the School of Medicine at the University of Pittsburgh, Pitt officials announced Tuesday.
His new job begins in June.
Shekhar has played a major role in boosting research funding at IU, where he has worked since 1989 in numerous leadership roles. His current positions include executive associate dean for research affairs, professor, associate vice president for university clinical affairs and research, executive vice president of academic affairs for clinical research at IU Health, and founding director of the Indiana Clinical and Translational Sciences Institute.
Shekhar will succeed Dr. Arthur Levine, who is taking a new research role at Pitt. Shekhar will oversee all six health sciences schools at Pitt, 6,000 faculty and staff, and about 5,000 students.
"This is a critical hire for the University of Pittsburgh," Pitt Chancellor Patrick Gallagher said in written remarks. "Anantha's capacity to envision solutions, galvanize partnerships and produce results is second to none, and his record of propelling both people and institutions to success is unparalleled. I could not be more excited to welcome Anantha into our community, and I am already looking forward to his arrival in June."
Shekhar has received continuous funding from the National Institutes of Health for basic, clinical and translational research since 1989 and has authored more than 200 articles in peer-reviewed publications.
He received the 2018 August M. Watanabe Life Sciences Champion of the Year Award from BioCrossroads. The award is presented annually to an individual or organization that has made or enabled unique achievements in the development of Indiana's life sciences and health care research, clinical, educational or economic advancement.
Pitt said Shekhar has grown the IU School of Medicine's NIH funding by 73% since 2015. He leads the Precision Health Initiative—a major strategic investment at IU with more than $140 million in clusters such as genomic medicine and big data sciences. The initiative has had an estimated economic impact of nearly $200 million in just four years and resulted in the hiring of more than 126 scientists, as well as the creation of four companies and recruitment of another to Indiana.
Shekhar has co-founded or leads five biotech companies, including Anagin, a startup that is developing treatments for post-traumatic stress disorder, traumatic brain injury, neuropathic pain, depression, Parkinson's disease and Alzheimer's disease.
He has formed two commercial incubators in the Indiana Clinical and Translational Sciences Institute—one for therapeutics and another for medical devices—that host more than 15 companies in various stages of commercialization.
"I am honored and inspired to be joining one of the most respected medical and research communities in the world," Shekhar said in written comments.
"Building on the University of Pittsburgh's exceptional record of health sciences education, innovation, clinical excellence and research preeminence is my top priority, and I look forward to advancing this goal in partnership with UPMC—for the greater good of society—in the months to come."
Shekhar, who was born in India, earned his medical degree from St. John's Medical College and PhD in neuroscience at IU.
Please enable JavaScript to view this content.