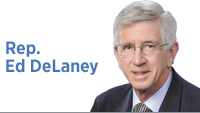 The Republican-controlled General Assembly is set to return in January. So what might it turn its attention to?
Of course, it could decide to make investments using the billions of dollars it controls. The General Assembly might lower tuition at our universities, thus limiting student debt and attracting Hoosier students to finish college here. It might try to leverage the flood of federal dollars to enhance the growth of solar and wind energy or to build modern passenger rail system connections with Louisville, Cincinnati and Chicago. It might even help to update local roads and build affordable housing. It could deal with our low state of public health.
Instead, the focus is not on building up but on tearing down our education institutions, from school boards to public K-12 schools and on to our universities. Let me detail this disinvestment plan.
It has apparently been determined that our public schools and universities have lost their "value proposition." I guess that means they aren't worth the effort from parents' point of view and require a wholesale reworking by the General Assembly. I will not waste much time on this but do want to remind everyone of what our Legislature has already done in reforming testing in our schools. We have careened from confused and useless tests to what amounts to no testing at all. We do not have a record of success in education reform.
So what is being suggested to rebuild the value proposition in Indiana public education? First, it's been suggested that we need to make school boards partisan—and there will be legislation drafted to this effect. The idea got a jump-start in Hamilton County with school board candidates getting Republican endorsements and partying with partisans.
There will probably be bills designed to make school board races openly partisan, allowing for dark money and political influence to flourish. The long-standing understanding that party leaders stay out of school board races will be swept aside.
The second prong of the rebuilding is the abandonment of our commitment to increase Hoosier attendance at colleges and universities. Former Indiana Commissioner for Higher Education Teresa Lubbers and multiple Republican and Democratic administrations struggled valiantly for years to increase college attendance. These efforts have been buffeted by the COVID crisis, and we face a looming decline in the college-age cohort.
So apparently, the decision is to surrender without saying it. This surrender will not make coming to Indiana a "value proposition" for investors. Nor will it keep families and their children here. The impact of this de-emphasis is likely to be severe for Ball State University and Indiana State University, as well as our private colleges.
The supermajority is also being asked to create a system of high school internships that are to be done at employers' locations during the school day. Of course, this cuts into academic preparation and would require enormous coordination efforts and at high cost. If state education dollars "follow the child," does that mean the state pays the employer?
Our underfunded and understaffed guidance counseling system will collapse. It would cost less and have more benefit if we added state resources to the existing counseling system. Employers could hire students when and where they want on their own as they have done for hundreds of years.
The thing I struggle with most is the underlying disdain for public education.
Indiana's "value proposition" is based on institutions we have built over some two centuries. Will we walk away from these just when we have the resources to build them up?•
__________
DeLaney, an Indianapolis attorney, is a Democrat representing the 86th District in the Indiana House of Representatives. Send comments to ibjedit@ibj.com.

Click here for more Forefront columns.
Please enable JavaScript to view this content.