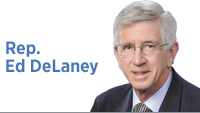 Management. David Ricks manages a lot of things as CEO of Eli Lilly and Co. One of the things he manages best is his anger or frustration with the shortcomings of his firm's home state. His controlled response to Hoosier realities was fully on display during his recent speech to The Economic Club of Indiana. The question of the moment is whether and how the political leaders of Indiana will manage their response.
Hicks relied on logic, tone and the weight of his office to explain why Lilly is expanding in Massachusetts, the Carolinas and Ireland but not so much here in Indiana. He paid the necessary respects to our "pro-business" approach. Then he summarized the limitations of that approach by saying: "But it's not just about lowering the corporate tax rate."
That says it all. Note his tone: not accusatorial but riveting. His point was that we are not developing people adequately. Lilly and all our businesses need ever more and better-prepared people, and we are falling short. We are not training and educating the people we have, nor are we welcoming to people we need to draw here. We are not training people from our rural areas or our inner cities. And we are not seen as welcoming to immigrants who come here to work.
Ricks' use of charts was as measured but sobering as his use of words. The numbers told the story. Too few of our students are proficient in math. Health metrics show a population weighted down by chronic conditions like diabetes, high blood pressure and the impact of smoking. He praised our ability to act on infant mortality. But he seems to be looking for a broad commitment to public health and not seeing one. He noted that we rank last in spending on public health.
He was too kind to say that this statistic points to a long-term lack of interest in the health of our people. Ricks did not point to which party has had unfettered control of our education and public health systems. He did not tell us how to use our huge fiscal surplus to address our shortcomings. He managed his anger.
Anger. If Mr. Ricks managed his anger, we cannot say that of the supermajority. It is always in need of someone to attack. The tactic is clear: Create an enemy; attack it. This is easier than talking about our shortcomings or investing the $5 billion to $7 billion surplus we have. That's right; we have it. We don't "enjoy it," let alone invest it. The target of the moment is transgender athletes in this state.
Meanwhile, the supermajority surfs along on waves of hate spread by its national party. It quietly follows Trump. It undercuts our president as he fights for Ukraine and our democratic values. It refuses to be honest and admit who is president today.
Management of anger. My party, the Democratic Party, needs to manage our anger. We have tried to explain the errors of the Republican reign of neglect. We propose investments in our schools and health care. All to no avail.
We need to take a new approach. We need to call people out when they seek to divide, not to lead. We must point out our missed opportunities. We must condemn their efforts to rule our private lives. We need to show how they use gerrymandering and hidden campaign funding to undercut democracy itself.
In short, the Democrats need to pound the table.•
__________
DeLaney, an Indianapolis attorney, is a Democrat representing the 86th District in the Indiana House of Representatives. Send comments to ibjedit@ibj.com.

Click here for more Forefront columns.
Please enable JavaScript to view this content.