What criteria should lawmakers consider when drawing the maps?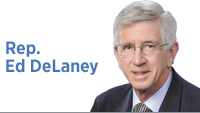 If you keep an eye on the General Assembly, you will likely conclude that Indiana will never produce a Charles Dickens, with his observations on the Parliament, or a great political reporter like Jack Colwell or Gordon Englehart.
These latter writers had something to follow. They could report on a change of guard or a stirring debate. Brian Bosma could be speaker, then minority leader, then speaker again. He could claim he learned something from being in the minority. I could join a slim majority and remain in a relevant minority. Now, we are rendered irrelevant. There were running battles at the microphone back then about civil rights, unions, pay for teachers and political corruption. Those days are over.
The redistricting apocalypse has three horsemen: 1. Computers that get ever more data on individual voters, permitting candidates to choose voters rather than the opposite. 2. Courts that will no longer even threaten to limit gerrymandering. 3. Consciences that have been sent into retirement.
The voters put up with the 2011 redistricting that gave 29% of the seats to Democrats who are 40% of the electorate on their worst day and a slim majority on the best. No one has revolted, so why not just do it again?
They shouldn't do it again because they have killed off competition for ideas, leadership and even honest government. Everything is decided in one secret caucus. The supermajority ignores Democrats' ideas, does not debate and votes as a bloc.
The vast majority of representatives in both parties have no serious opposition. The Republicans worry only about the primary election. As long as they appeal to their right flank, they get the votes in May and the large contributions in May and November. Wealthy donors get special favors like the $70 million student loan fund that was never debated.
Members of the majority go from simply supporting the industries they serve to favoring them over the interests of the public and local governments. Billions of taxpayer dollars get appropriated with little or no debate. Oh, for the good old days when a friend got a state job, and the press and public went wild!
All of the above should surprise no one. So, what do I suggest? It is simple. We need to analyze the districts drawn this year by one simple criterion: Are there enough competitive seats to permit real races in November (not just party fights in May)? Will the number of competitive seats allow the Democrats a chance to capture seats proportional to their support in the public?
The shape of the map means no more than the shape of a wine bottle. If the contents are less than a solid 55% for one side, weak candidates might lose, and party positions will matter.
The majority can protect its leaders. It should not protect its fanatics, its poor candidates and those whose votes are controlled by special interests. Take a chance on losing; Indiana will win.•
__________
DeLaney, an Indianapolis attorney, is a Democrat representing the 86th District in the Indiana House of Representatives. Send comments to ibjedit@ibj.com.

Click here for more Forefront columns.
Please enable JavaScript to view this content.