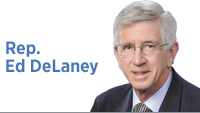 Hoosiers lose when the Republican supermajority is more concerned with maintaining power than supporting free and competitive elections.
A partisan redistricting process allows the Republican supermajority to systemically craft elections that are no longer competitive. Without the accountability created by competitive elections, legislators don't need to earn votes, engage in bipartisan debate or pass laws that advance the interests of all Hoosiers.
Partisan gerrymandering practices are a threat to democratic values to the degree they create a system where more radical, extreme candidates gain influence in the Legislature. That is happening in America, including Indiana.
I would like to share an updated version of some of the concerns I expressed on the House floor about the redistricting process and the dangers of gerrymandering.
We're supposed to be a representative Legislature. Instead, we've managed to become both lopsided and one-sided as a Legislature. Members from both parties have found themselves in districts where they maintain 70%-80% of the vote. These become districts where one party often doesn't bother to run a candidate, let alone a serious candidate with a chance of winning. But while our districts are lopsided, our chamber is one-sided. When you stack up enough lopsided districts designed by one party, the Legislature ends up with one party in charge of everything.
Indiana experienced a substantial shift in population, but we ended up with the same number of districts "allocated" to both parties. That seems very odd. The explanation: If districts shift toward being more competitive, legislators in the majority simply adjust the district lines to maintain their advantage.
Additionally, in the House, there was not a single discussion about the congressional maps. This was the greatest embarrassment in the whole process. The Republican-drawn maps managed to hand safe seats in Congress to four extreme partisans. These four people are attempting to distract Hoosiers with false narratives of a stolen election.
How can we be effectively represented by individuals who don't even recognize that Joe Biden is the president of the United States? Whom do they represent? What do they stand for? Did they welcome the rioters who stormed the halls of Congress? Why would Republicans not just ask them to retire?
Partisan gerrymandering allows our politics to be controlled by a minority of Hoosiers who have strong feelings and show up in one party's primary. These individuals are fed raw meat and anger over issues like guns, abortion or vaccine mandates while being led to ignore our schools and our poor public health.
This is not a truly representative system. This is artificially created, limitless power for a supermajority beholden to few. Power should have a purpose beyond the very exercise of power. Our state legislative and congressional delegations should reflect all of the people of this state. They do not. That is the price of self-interest in redistricting.
Given this latest round of gerrymandering, it is going to take at least 10 years for our General Assembly members and congressional delegation to have a chance of being truly representative again. It will take competitive districts, which these new maps don't provide.
People want a representative with effect, someone who has impact and can get something done. These maps deny us that chance and deprive most voters of their voice.
Indiana's redistricting process is long overdue for reforms that would make the process independent, transparent and equitable. Politicians have a choice: Empower voters and restore public faith in the democratic process or continue to elevate partisan politics over the public interest.•
__________
DeLaney, an Indianapolis attorney, is a Democrat representing the 86th District in the Indiana House of Representatives. Send comments to ibjedit@ibj.com.

Click here for more Forefront columns.
Please enable JavaScript to view this content.