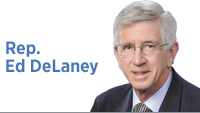 I have been an observer and/or participant in Indiana politics for just about 50 years. Let me tell you, looking backward is a lot more comfortable than looking forward.
A long time ago, we Democrats begrudgingly accepted that we were likely to come in second. But at least we ran on the same topics and won quite often. If we lost a hero like Birch Bayh, the Republicans gave us someone like Dick Lugar.
It was as if the two parties ran on parallel tracks but at different paces. Democrats favored teachers and working people, while the Republicans at least put up with them and did not go out of their way to hurt or ignore people. After all, it was Bob Orr who told us to focus on public education.
The two parties helped keep each other honest: If the license branches were rife with corruption, Democrats complained until Republicans reformed, however slowly. Everyone worked to make Indiana better, and we kept the social issues from driving us too far apart. It is hard to see a similar future.
Let's look at accountability, which was once thought to be a shared goal. The present administration has failed on multiple fronts. Thousands of Hoosiers suffered long delays to get unemployment checks funded by Washington. We have proved incapable of distributing hundreds of millions of federal dollars designed to prevent evictions of low-income tenants. We pay state employees so little that we can't staff our agencies. Of course, we shrank those agencies under the last three governors.
The present shortcomings are the product of long-term neglect. And more failures are occurring just now.
If we look at a list of 59 states and territories, we find that only eight rank lower than Indiana in the percentage of eligible people given at least one COVID vaccine shot. Is no one embarrassed or concerned? Has the governor fired anyone over this?
On a different front, I have heard for years how we are working to increase the percentage of people having post-high-school degrees or certifications. We have just learned that, over the past five years, enrollment of degree-seeking students at our public colleges has dropped over 10%. Does anyone care? Is anyone responsible?
Without accountability and political competition, there is no way to keep continuing neglect or ideological fanaticism in check. So, what can we look forward to in our Legislature? I expect more attacks on the traditional public schools that educate well over 90% of our youth.
It is suggested that we should elect school boards on a partisan basis! So, the issue will shift from teacher pay to what books should be on our shelves and to whether we can even discuss racism. You know who will be asked to endorse hundreds of partisans seeking school board seats.
There has even been a suggestion that we find a quick fix to our growing lack of qualified, licensed teachers. The state would get out of the licensure business and let each district issue licenses. How many unqualified teachers do we need in our schools?
The core problem is that one party no longer believes in institutions like public schools or functioning public agencies. It prefers to attack chimeras (a Greek word referring to moderate Democrats).
The Democratic Party is stuck with the complex tasks of building institutions and investing in our future That future is looking dim. Put simply, it is beginning to feel lonely out here. I miss the old GOP. Who would have thought?•
__________
DeLaney, an Indianapolis attorney, is a Democrat representing the 86th District in the Indiana House of Representatives. Send comments to ibjedit@ibj.com.

Click here for more Forefront columns.
Please enable JavaScript to view this content.