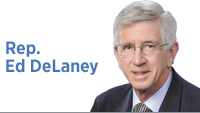 It seems to be the common wisdom that the General Assembly accomplished little this year. I guess that means an unlikely coalition made up of members of the Democratic minority, a few moderate Republicans, teachers and the Indiana Chamber of Commerce (!) shut down a lot of bad ideas.
Of course, not all bad ideas failed. Thus, we ended the established and civic-minded practice of requiring a permit to conceal a handgun. And those who fear the small number of transgender youth still hope to override the governor's veto of their insulting bill. But on the whole, one could live with the overall result.
Why don't I hear cries of joy? It is because of the lack of bold moves, like creating scholarship programs or building massive bridges over the Ohio River. It is because of an utter failure of analysis and imagination, which infects both the Governor's Office and the leaders of the Republican supermajority.
Let's start with the lack of imagination. Few, if any, new ideas made it through the Legislature. A measure designed to welcome refugees to rural Indiana couldn't get a hearing. The concept of lowering college tuition to benefit all Hoosiers, and thus lower student debt, was rejected. The idea of giving the governor enough funds and discretion to compete in seeking new corporate investment in Indiana was rejected. Instead, we rescrambled the goulash of existing tax incentives. We constricted future revenue with yet another very modest and contingent income tax cut.
There was little effort at the Capitol to benefit from increased federal funds. Thus, we decided not to study how Pete Buttigieg as secretary of transportation is to spend hundreds of millions of dollars on Hoosier passenger rail. Similarly, there was too little discussion of how to use COVID funds designed to backfill the learning gap that increased during the pandemic.
So, what is the problem? It is twofold.
First, there is the mindset issue. Too many Republican legislators think it is still 2006. That was Indiana's "low point" in their view. They see the state as having been taxed to death during 16 years with Democratic governors. (Only Republicans recall how we managed to be bankrupt when we never were). So, they re-fight the old game that suggests tax cuts solve all problems. Just this week, former Gov. Mitch Daniels raised this bloody shirt yet again. He took to The Washington Post editorial page to lambast a reporter for not understanding that "every act of taxation imposes a diminution of freedom."
This notion precludes joint action for the common good. It demeans civic responsibility. This mindset precludes action.
The second problem with our Legislature's vision is that it doesn't have any forward-looking view.
The supermajority can't see how Indiana could be better. After all, they made it. Admitting to and acting on shortcomings is embarrassing. Why look at the endless string of failed education reforms—whether testing or virtual charter schools held to no financial or educational standards?
We have chosen to cut off future revenue to the state. That means limited future investment in schools, universities, parks or local roads. If you don't recognize and cannot therefore explain your shortcomings, you have nowhere to go.
No one will get a trophy for this year's legislative session, and it will be hard to pay for even tiny trophies in the future.•
__________
DeLaney, an Indianapolis attorney, is a Democrat representing the 86th District in the Indiana House of Representatives. Send comments to ibjedit@ibj.com.

Click here for more Forefront columns.
Please enable JavaScript to view this content.