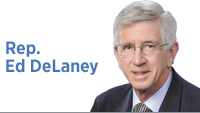 It is likely that this article will appear only after our Indiana Legislature has acted on the abortion question. I am writing after the Senate has passed its bill, but before the House has acted. Yet it is already clear that very few of our institutions will be left unscathed by this process.
The Legislature is off its usual schedule. There is rancor and division, especially in the Senate. Some proponents of religion have been indifferent to women who are confronted with difficult decisions about their health and their families. Our governor has left many of us in doubt as to his idea of leadership. Why the silence when there is division among us?
The leaders of both houses of our Legislature have put on a show that they are serious about the costs of maternity and early childhood. Yet, they have failed to make any serious proposals. Instead, they suggest feeble efforts designed to hide a massive surplus. Once again, some lobbyists will succeed in avoiding harm to the interests of their particular clients while ducking the wider issues.
Women found themselves with too few allies at the Capitol. The dominant political party was of no use—in the Senate, it split down the middle on critical issues.
There were some people who stood tall. They were mostly women. The Senate was expected to debate the abortion bill when it came up for a vote. But the author of the bill didn't make an opening or closing argument. Remarkable. But Sens. Billie Breaux, Shelli Yoder and Vaneta Becker spoke passionately and effectively. Breaux undercut the argument that women have abortions for trivial reasons. As she said, most women are driven to this resort because of "poverty or timing." Yoder pointed out that the bill lacked "any imitation of compassion" for women in crisis. Becker asked if we were even "meeting the medical needs of women." There were men who spoke out. But I am not here to praise my gender, especially since most of the votes against women came from a male-dominated caucus.
So who are the winners in this festival of failure? It was the young women who turned out in droves to demand that they be allowed to control their own lives. They came to the Statehouse in large numbers. They testified. They protested. They chanted creative messages. Their presence showed that they have faith in our system, that it could work for them. Were they right? Only time will tell. And that time will only allow for change if two things are met.
First, these young women must stay mobilized. Second, the system has to function better. We need fair electoral districts and a renewed and common purpose for our country. It is time for us to move beyond demanding that our side should get everything it wants at the cost of others. This fuels division and undercuts the democratic process. The demand that "my team" always win and gets its maximum demands underlies the strain facing our democracy. The desire to win overwhelms all other considerations.
It is hard not to notice a stunning contrast. In some 40 years, Title IX has created enormous progress for women in education and in sports. It has been a full century since women were permitted to vote. But they are woefully underrepresented in the halls of power. This must and will change, thanks to the young women of today.•
__________
DeLaney, an Indianapolis attorney, is a Democrat representing the 86th District in the Indiana House of Representatives. Send comments to ibjedit@ibj.com.

Click here for more Forefront columns.
Please enable JavaScript to view this content.