Is the federal government spending too much?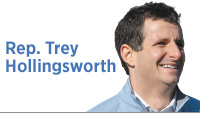 You don't have to be an accountant to see that the federal government isn't doing a good job of balancing the books. If you type "U.S. National Debt Clock" into Google, you can watch the dollar amounts skyrocket in real time—a sight certainly not for the faint of heart.
As I travel around Indiana's 9th Congressional District, I continually hear Hoosiers' concerns over our nation's growing debt and what it will mean for their children and grandchildren. I share in these concerns. As a businessman, a large part of my decision to run for Congress was rooted in wanting to get the federal government's spending under control. In the business world, I learned that you have to exercise fiscal discipline or face dire consequences, and, right now, the federal government lacks just that.
According to the U.S. Treasury, as of April 30, the federal government surpassed $28.2 trillion in debt. Standing alone, without context, the magnitude of that figure can be hard to fully grasp. But, broken down, that equates to roughly $85,332 for every person living in the United States, $219,342 for every household, and 7.7 times the annual federal revenue.
To put the magnitude in perspective, if you were to count $1 trillion, one dollar a second, every second of every day, it would take 31,688 years. And to put that into context, 35,000 years ago marks the sudden disappearance of Neanderthals from the Earth. The entire modern human species has been alive in the time it would take to count 3.5% of our government's total debt.
Beyond the federal government's struggle to balance its checkbook, it too often spends hard-earned taxpayer dollars on the wrong things. Especially with the debt as high as it is, we have to be mindful of the difference between spending money on consumption or transfers, which might benefit individuals in the short run, versus spending money on programs that create value in the long run, such as research, infrastructure, small-business support , or investment in education.
Like in business, there will always be overhead costs associated with running an operation. Certain costs are paid to "keep the lights on and the doors open,"", but others balloon the debt without growing the economy or producing more American prosperity. Servicing the debt this year alone will cost $328 billion, or nearly 8% of the federal budget. If we don't reduce the debt, we'll continue spending more and more on overhead costs like interest, which leaves less to invest in other areas that drive American productivity and prosperity. Any businessperson knows the difference between "investment" and "expenses."
More revenue won't solve the federal government's spending habits, just as symptom treatment doesn't cure the disease. We must reform Washington, revise the broken budgeting practices that allow politicians to duck hard votes, and require deficit reduction in law. Only then will fiscal responsibilitresponsibility—y – not mountains of debt—– be the gift we give our children.•
__________
Hollingsworth, a Republican from Jeffersonville, represents Indiana's 9th District in the U.S. House. Send comments on this column to ibjedit@ibj.com.

Click here for more Forefront columns.
Please enable JavaScript to view this content.