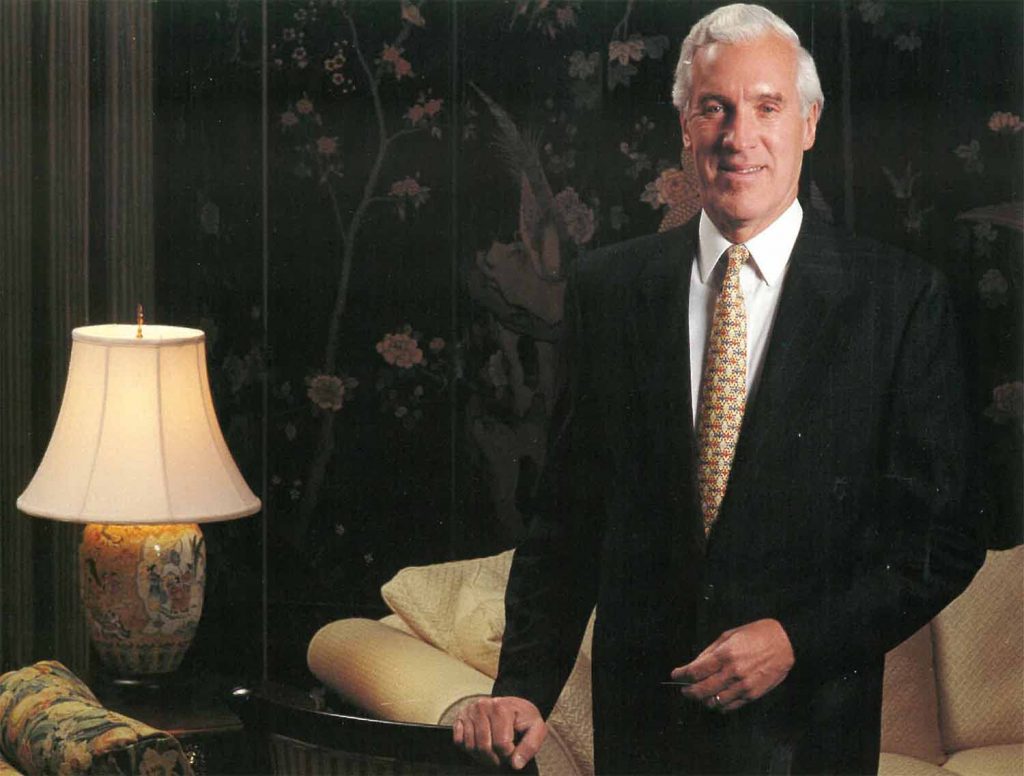 Richard D. Wood, who served as CEO of Indianapolis-based Eli Lilly and Co. for 18 years and presided over an era of explosive growth for the pharmaceutical giant, died on April 15. He was 93.
Under Wood's tenure from 1972 to 1991, Lilly grew into the nation's seventh-largest drugmaker, with more than $5 billion in annual sales. Profits increased sevenfold during his tenure, to more than $1 billion.
Lilly's breakthroughs during the Wood era included biosynthetic insulin and the category-smashing antidepressant Prozac.
"My most satisfying achievement is leaving the company in as good [a] shape as when I found it, which is pretty doggone good," Wood said upon his retirement as CEO at the age of 65.
He remained chairman until 1993, when his successor, Vaughn Bryson, resigned in a dispute with the board just 20 months into the job. Incoming CEO Randall Tobias assumed the chairman's title.
Born in Brazil, Indiana, Wood attended Shortridge High School in Indianapolis, received a bachelor's degree in engineering from Purdue University in 1948, and earned an MBA from the Wharton School of Finance and Commerce of the University of Pennsylvania in 1950.
His career at Lilly began in the finance and marketing departments, and he became manager of market research for Eli Lilly International Corp. in 1959.
He returned to the parent company in 1964 and served in several marketing and sales positions before becoming executive director of industrial relations in 1969 and vice president of that area in 1970. Later that year, he assumed the presidency of Lilly International.
He became president and CEO of Eli Lilly and Co. in 1972—just the second person to lead the company who wasn't a member of the founding Lilly family.
As Lilly was widely considered the city's most important corporate citizen, Wood was influential in matters of consequence to the city. That included the development of downtown's Circle Centre mall, which received financial support from Lilly and more than a dozen other local companies. Lilly also was instrumental in helping obtain bank financing for the project, which opened in 1995.
Wood was known for a top-down management style and championing an optimistic, confident tone. That's what good leaders do, Wood told IBJ in 2003.
Bryson was ousted in part because "he talked down the company to the employees, in terms of the future of the company," Wood said in the interview.
Bryson and his executive team said, "We have all these problems, and what are we going to do about them?" recalled Wood. "The management has to be the cheerleader for the troops."
Wood also was a leading local philanthropist and served on the boards of the Indianapolis Symphony Orchestra, Indianapolis Museum of Art and The Children's Museum of Indianapolis.
His wife, Billie Lou Wood, died on Dec. 20, 2013. She also had a robust career as a volunteer leader of not-for-profits and was active in creating development activities for the benefit of endowments, facilities and programs.
Groups she founded or assisted in founding include the Ovid Butler Society at Butler University, the Eagle Patrol at Boy Scouts Crossroads of America Council, the Carousel Society at the Children's Museum, and the Lynn Planned Giving Society for the ISO.
Please enable JavaScript to view this content.