There's a little bit of the familiar and lots of brand new at Riley Hospital for Children's $142 million maternity tower.
From the sparkling glass elevators in the atrium to the dozens of private rooms and medical suites upstairs, Riley is getting ready to make a big splash in central Indiana's highly competitive maternity-hospital market.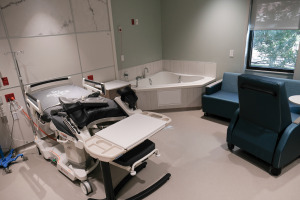 Under one roof, Riley will soon operate labor and delivery rooms, intensive-care-unit rooms, emergency and triage rooms, operating rooms, and infant-resuscitation rooms. It will also offer Level III and Level IV neonatal intensive-care units to handle the most acute and complex medical cases for sick newborns.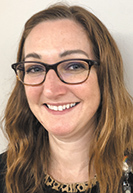 The five-story tower, which opens this fall, is designed to address Indiana's high infant mortality rate and keep all newborn services together.
"Here, moms and babies can all be in one place and receive the highest level of care together," said Melissa Hollar, a registered nurse and professional development specialist at Riley, as she pointed out the features of each floor during a recent tour.
That's a change from long-standing practice. Riley, part of the Indiana University Health system, has long offered newborn intensive care for sick infants, but is not a maternity hospital. Most maternity services are offered at the system's Methodist Hospital a couple of miles away, where more than 3,000 babies a year are born.
Methodist Hospital, however, is about to undergo its own huge transformation, expanding its campus on Capitol Avenue by eight blocks, or 44 acres, and adding a 12-story hospital with three patient towers.
As part of the expansion, Methodist will give up its maternity services. Maternity patients at Methodist will be transferred to Riley by ambulance when the maternity tower there opens, likely in late October or early November.
Riley officials say that keeping all maternity and newborn services under one roof is important for the health and peace of mind of all families. In the current setup, moms and babies sometimes can be separated if a delivery goes from routine to complex.
"So, if mom delivers at Methodist, but then her baby needs to have surgery, or is very ill and needs to come to Riley, she can't even see her baby for the first few days or hours of life," Hollar said. "We know that babies and moms do better when they're  together."
The renovated tower, with the latest medical features, is also a way for IU Health to capture more market share.
Major market, but static
Childbirth is the leading cause of hospital admissions in the United States—4 million hospitalizations a year, worth more than $50 billion in revenue. In Indiana, hospitals deliver more than 80,000 babies a year.
Almost every hospital in central Indiana offers maternity care, but the biggest, of course, dominate the market. Six hospitals in the region each delivered more than 2,000 babies in 2016, the last year in which the Indiana State Department of Health released consolidated figures.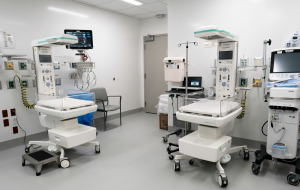 They were Community Hospital North (3,729 babies), Methodist (3,231), Ascension St. Vincent Indianapolis (2,995), IU Health North (2,532), Franciscan Health Indianapolis (2,312), and Eskenazi Health (2,293).
But the market is not growing, causing hospitals to work harder to fill their maternity beds. In 2019, there were 61.7 births per 1,000 women from the ages of 15 to 44. That's down from 64.9 births per 1,000 women in 2015.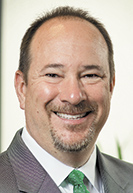 So, where hospitals are trying to differentiate themselves is by trying to improve the health of moms and babies. And Riley could market itself as a single destination for maternity care, from the most routine cases to the most complex, some experts said.
"You have that comfort level where, if you have a delivery that starts to get complicated, you've got the highest level of care available in the building," said David Blish, director of health care consulting at accounting and consulting firm Katz Sapper & Miller in Indianapolis.
He added: "That's somewhat of a change because, historically, Riley has always been a transfer destination [for serious cases]."
Others say IU Health, which has long enjoyed a good reputation for handling complex newborn cases, could even expand into more routine cases.
"I think they've done an outstanding job in terms of high-risk deliveries," said Ed Abel, retired director of health care practice at Indianapolis-based Blue & Co., an accounting and consultancy firm. "So this may be a better avenue for them going forward for your routine deliveries."
'A way to build allegiance'
For hospitals, maternity care builds relationships with young families that often last decades. Newborn delivery is the largest encounter an acute-care hospital will have with the community.
About 40% of women experience their first encounter with hospitals for reproductive services. In many households, women are the decision-makers in health care.
Childbirth is not inexpensive. The average cost of a vaginal birth, with no complications, in an Indiana hospital is $17,168, according to Hospital Pricing Specialists LLC, a research firm. A Caesarean section is likely to cost thousands more.
But hospital finance experts say that, for all that money, childbirth is not a cash cow. In fact, nearly one-third of all maternity patients at Methodist Hospital (32%) are on Medicaid, which typically reimburses hospitals far less than commercial insurance.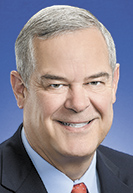 "I think some people would tell you that maternity care is a loss leader [for hospitals]," Abel said. "I don't know if I go quite to that stretch, because I don't think many hospitals lose money on it. But what it does is, it gets the mother in a position to decide where a family will receive its health care. And it's a way to build allegiance with the individual patient for other services that
do have better margins."
In recent years, health care systems across central Indiana have invested hundreds of millions of dollars in new facilities and services to compete for business and offer higher levels of care.
In the process, health officials hope to lower Indiana's infant mortality rate, which is one of the highest in the nation. About 6.5 out of every 1,000 babies born in Indiana do not live to see their first birthday. They die of injuries, birth defects, sudden death syndrome and maternal complications.
That makes Indiana the 14th-highest in the nation for infant mortality, although the rate has been declining in recent years. From 2013 to 2017, Indiana's average infant mortality rate was 7.3 per 1,000, compared to the national average of 5.9 over the same period.
The tour
At Riley's maternity tower, the goal seems to be not only to keep moms and babies together, but also to provide the most suitable care at every turn, for both routine and complex deliveries.
The process begins on the ground floor, an atrium that encloses the original entrance to Riley Hospital for Children when it opened in 1924. The interior edifice still looks intact and well-preserved, with a nod to history buffs and preservationists.
From there, the expectant mom will take an elevator ride to the second floor, where she is greeted by a triage nurse and secretary.
The nurse is trained to do a rapid assessment, checking the patient's vital signs and doing an ultrasound of the fetus if necessary.
If the patient is having complications that need immediate attention, the nurse will take her into the obstetrics emergency department down the hall. The emergency department is decked out with 10 private exam rooms, each with a bathroom.
The second floor also houses 13 labor and delivery rooms, 14 high-risk rooms for moms who are not in active labor but need to be hospitalized due to other serious symptoms, and two infant-resuscitation rooms. It also has intensive care units for moms who are the most critically ill.
In the center of the second floor are four operating rooms, where doctors can perform Caesarean sections, or for when the pregnancy is so complicated it will need surgery, such as where the placenta has invaded the uterine wall or the abdominal wall.
"In that case, it becomes a very complex surgery, very high-risk for mom and for baby in those moments," Hollar said. "And so we'll be able to see if she has complications from that, and be able to put her directly in the ICU across the hall."
If there are no complications after delivery, mom and baby will go to one of 38 private rooms on the fourth or fifth floors, typically for a 48-hour stay (72 hours for a Caesarean delivery). Mom and baby share a room, with the infant in a bassinet with clear sides that can be wheeled close to the mom's bed, and adjusted up or down, almost like a hospital bed table.
The rooms also contain infant warmers so mom can give the baby a bath without danger of a chill before or after.
If the delivery was complicated, the baby will likely go to the neonatal intensive care unit (or NICU) on the third floor, with 45 private rooms. Nearby, in Riley's Simon Family Tower, are another 60 newborn ICU beds.
The NICU in the maternity tower also contains an observation room for short-term monitoring.
"They're born and maybe they're having some difficulty with breathing or temperature management; they could come here and do sort of a short stay," Hollar said. "Once they're stabilized, they go back up to be with mom."•
Please enable JavaScript to view this content.