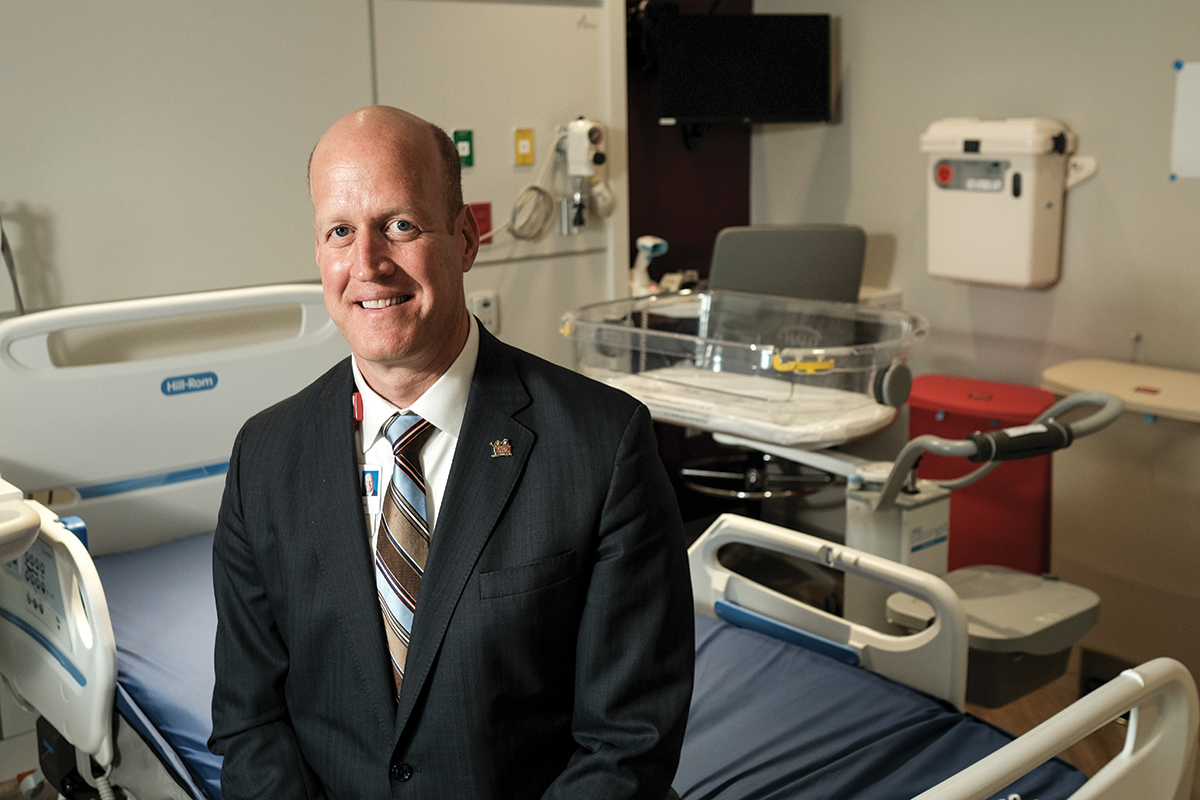 Gil Peri ducked his head as he passed though a doorway. The new president of Riley Children's Health is 6 feet, 8-1/2 inches tall, making him easily the tallest person in just about any room.
In high school, Peri and his twin brother, Guy, were known as the "twin towers" on the varsity basketball team in Cooper City, Florida. But Gil was the tallest even then, beating his brother by an inch.
On this day, Peri was taking a whirlwind tour of the new, $142 million maternity tower at the health care system's downtown anchor, Riley Hospital for Children. Every few minutes, he stopped to introduce himself to a Riley employee.
"Really, do I look taller than my picture?" he said with a laugh, as he paused to talk to a nurse. "I had people stop me yesterday and tell me they had no clue I was this tall."
A few minutes later, he posed for a photo with a group of nurses passing through for a training session.
"I'm sure I will see you on the units, and I'm excited to be part of the team," he said.
Peri, 48, a gregarious administrator with an easy laugh, started his job on June 28, after spending about four years as president and chief operating officer at Connecticut Children's Medical Center.
It's a step up, both in hospital size (Riley has 367 beds, compared with 187 at the Connecticut hospital) and in reputation (Riley regularly scores higher across more specialties in many national rankings).
Peri's mission is to keep Riley's reputation high by attracting top talent and finding ways to improve the patient experience. Riley provides a wide range of medical and surgical services, including burn care, cancer care, trauma care, organ transplants and newborn intensive care.
But just as important, Peri wants to continue building Riley into a statewide system, one that can offer care to children in any community in Indiana.
Spreading the Riley brand and services is a job that started about six years ago, as the system signed up hundreds of pediatricians, many of whom traveled around the state to help doctors in small clinics and community hospitals evaluate difficult cases.
The goal: Refer the serious cases to Riley Hospital for Children—nationally known for its highly trained doctors, nurses, therapists, researchers and administrators—while keeping the minor cases in the community hospitals and ambulatory centers. That would keep bills low for patients and save Riley's beds for more serious cases.
Since then, Riley has extended its brand to hospitals and clinics in Carmel, Bloomington, Fort Wayne and other cities.
The work was started by Dr. Jeff Sperring, who was Riley president until leaving in 2015 for Seattle Children's Hospital. Sperring's successor, Matthew Cook, continued the work before leaving in December for a job as president of Benioff Children's Hospitals at the University of California San Francisco.
Maternity focus
Now, Peri takes over as Riley not only continues its statewide expansion but also seeks to convert its flagship into one of the top maternity and newborn hospitals in the Midwest.
Currently, Riley offers newborn intensive care for sick infants but is not a maternity hospital. But that will change in September when Riley moves over patients and newborns from Methodist Hospital, the state's largest hospital, about two miles away. Both hospitals are owned by Indiana University Health, the state's largest hospital system.
The huge move of maternal services from Methodist to Riley is part of IU Health's effort to address the state's high infant mortality rate and keep all newborn services under one roof. Seven children out of every 1,000 born in Indiana do not live to see their first birthday. They die of injuries, birth defects, sudden infant death syndrome and maternal complications.
Methodist Hospital delivers more than 3,000 babies a year, making it the second-largest maternity hospital in the state, behind Community Hospital North.
But Riley is gearing up to take center stage in IU Health's maternity scene, and in the process, give plenty of competition to other area maternity hospitals.
Under one roof, Riley will soon operate labor and delivery rooms, intensive-care-unit rooms, emergency and triage rooms, operating rooms, and infant-resuscitation rooms. It will also offer Level III and Level IV neonatal intensive-care units to handle the most acute and complex medical cases for sick newborns.
"It's so important to have everything together and give families peace of mind," Peri said. "And, you know, hopefully they won't need all of these services, but if they do, they're in good shape. It's all right here."
Riley's success will lie, to a large extent, on how well Peri can keep it staffed with top specialists and researchers, who could make breakthroughs in diseases from hepatitis A to rare blood cancers.
"As children's diseases get more complicated, it's up to hospitals like Riley to have the best specialists on hand to treat children," said Ed Abel, director of health care practice at Indianapolis-based Blue & Co., an accounting and consulting firm. "That's what parents are counting on."
And if they can't get that care in Indianapolis, they might travel to Chicago, Cincinnati or New York for treatment.
A passion to help
Peri has spent his whole career in health care administration, although it almost didn't start that way.
As a college undergraduate at the University of South Florida, he majored in biology with a plan to become a physical therapist and athletic trainer.
He had spent much of his youth playing sports from volleyball to basketball. On his high school basketball team, he played small forward, a position considered the most versatile on the court for shooting and rebounding. Peri still speaks with pride about his jump shot. In college, he played on the practice team, and even today, he continues to play recreationally.
But he took a career assessment in college that showed he was passionate about helping others, not just in one-on-one settings but on a large scale.
"The counselor said I had a passion [for] impacting the masses, and I didn't even know what she was talking about," Peri said. "Then she explained to me this concept of health administration."
Taking the counselor's advice to heart, Peri continued at the University of South Florida, earning a master's in public health and an MBA.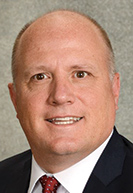 He has since worked at some of the country's largest children's hospitals, including Children's Hospital Colorado and Nationwide Children's Hospital in Columbus, Ohio.
Along the way, Peri has instituted a few personal touches, such as "Chocolate Friday," his practice of visiting various hospital units with a bag of sweets to keep the energy and smiles going.
In doing so, he has built a reputation as someone who is approachable and personable, not isolated in an office, say people who have worked closely with him.
"He's not a guy who sits in the C-suite and issues orders," said Dr. Ken Liechty, director of pediatric surgery at Children's Hospital Colorado. "He's down on the ground, working directly with people and motivating them, helping them get the best outcomes they possibly can. He is truly a 'people person.'"
Peri's boss at Connecticut Children's Medical Center in Hartford, CEO Jim Shmerling, said Peri has an unusual talent for remembering the names of nearly every employee in the hospital, along with news and tidbits about their families.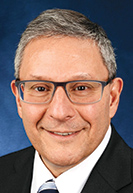 "He loves people," said Shmerling, who also was a top administrator at Riley Hospital in the late 1980s and early 1990s. "He is inquisitive. He's very personable."
During a going-away party for Peri in Connecticut a few weeks ago, a staff member walked up to Shmerling, who spends a little more time in his office than in the employee lunchroom, and said: "Now you're going to have to be a lot more like Gil."
But Peri is also known as a creative thinker. In Colorado, he built a reputation for helping doctors and others take an idea and turn it into an innovation, guiding ideas for treatments into reality, by building teams who could make an idea happen. He helped the hospital's Fetal Care Center to become one of the nation's best, Liechty said.
"It got started before he got here, but he really brought it to another level," he said.
And in Hartford, Peri helped develop a five-year strategy and guided the children's hospital through the first three years of that plan before coming to Indianapolis.
"Gil was a very talented executive and did great, great work in Connecticut," Shmerling said. "I think IU Health is going to be really pleased they were able to steal him away."•
Please enable JavaScript to view this content.