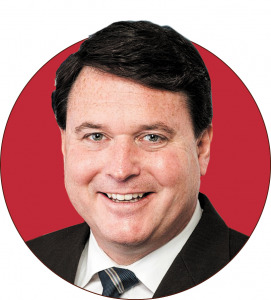 Republican Todd Rokita swears he didn't go looking for another elected office to run for. Instead, he says, the attorney general's race found him.
The former congressman and secretary of state entered the race in May just before the filing deadline because he believed the GOP incumbent, Curtis Hill, was no longer suitable for the office.
Hill has faced accusations of drunkenly groping a state lawmaker and three other women during a party, and earlier this year, the Indiana Supreme Court suspended Hill's law license for 30 days. Hill has denied wrongdoing and had sought his party's nomination for a second term. But Republicans selected Rokita at the party's convention this summer.
Now, Rokita faces Democrat Jonathan Weinzapfel in the November election. IBJ talked to Rokita about how he sees the office. The conversation has been edited for length.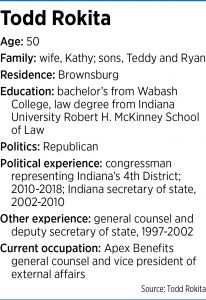 Tell me about how you would approach this office and what your top priority would be if you won the election.
My approach is going to be one of partnership with the general decisions of the office, certainly, but also the various industries that I would enforce regulations upon or be involved with through state agencies. And by partnership, I mean, look, every industry, every sector has bad apples. But most are good. And just like when I was secretary of state, I worked with the good apples, whether it be in the financial advisory firms, car dealers, mortgage brokers, you name it, to route the bad apples out of the industry.
One of the things that I'm going to care about most is being partners with our law enforcement. We see on TV every night the disrespect not only for individuals but for the rule of law. And the Attorney General's Office is the top legal official in the state of Indiana. In certain circumstances, a top law enforcement official needs to be a champion, and a cheerleader, for the rule of law. So that's going to be very important to me—working with our law enforcement officers as the embodiment of the rule of law.
Also, of course, we're going to be rooting out waste, fraud and corruption like I did when I was secretary of state. We're going to be combating federal overreach. We're even going to work to find ways to … hold China accountable for the economic damage they've caused. And you can do that as a state attorney general.
Do you see your approach being different than the one Republican Attorney General Curtis Hill has taken? And if so, how do you see it being different?
Well, I don't get drunk and grabby.
Beyond that, you're going to find me a very conservative attorney general on the same types of issues. I'm certainly going to carry out the daily duties of the job—that's being the attorney for the General Assembly and the laws it passes, being on some occasions the attorney for the Governor's Office and giving legal interpretations that are consistent with our Constitution and conservative principles. So there's going to be no gap in terms of that conservative approach and support for the Second Amendment, religious liberty, the original plain meaning of our constitutions.
Criminal justice reform is likely going to be a big topic in the legislative session, and Gov. Holcomb has talked about wanting to review some policies. You've said you're opposed to defunding the police, but are there any changes you think should be made in the criminal justice system?
The reason I appreciate your question is that it allows me to come back on the word reform. You can't reform something unless you've studied it. And this knee-jerk political reaction to reform, I think, really needs to be an evaluation.
We have a set of questions that need to be answered first to determine if and what kind of reforms are necessary. And so I think that evaluation is what is meant to be said rather than rushing through the "reforms" that may be the result of politics and situations that are on TV every night.
That's where I want to be as attorney general—helping the community and helping our policymakers and law enforcement make sure we understand if and what reforms need to be made after evaluating them. My understanding is that the state police, for one—they're doing really cutting-edge training routinely already.
And my understanding is that, while body cams are good and certainly act as a piece of evidence, there's also a tremendous cost with preserving that evidence and understanding that it's only still part of the total story.
Could you explain a little bit more about how you would go about holding China accountable for COVID-19?
The main point is, we ought to do it smartly, and it's going to be in conjunction with other states, some of whom have already moved. But there's a commercial exception, for example, to the [1976] foreign powers sovereignty act passed by Congress that allows for recovery of economic damages. That can be explored and, again, smartly acted on.
There's also quite possibly real estate holdings of the Chinese Communist Party, meaning their government, here in Indiana. To what extent can those or other assets be used to repay real, tangible economic damage that can be traced back to the China coronavirus? Those are examples of things that I am willing to look into that certainly have political and other ramifications.
One of the lawsuits that Indiana's currently involved in is the one challenging the Affordable Care Act. Your opponent has said that he would immediately remove Indiana from that lawsuit. You've talked about wanting to support health care protections for those with preexisting conditions. So, what would your approach be to that lawsuit? Would you remove the state from that case?
No, I wouldn't, and that's because it's already been found by a lower court to be unconstitutional. So this lawsuit is just a matter of whether or not the [U.S.] Supreme Court ultimately will uphold the unconstitutionality. Getting Indiana out of it doesn't necessarily affect the outcome.
Instead, what I would do is absolutely keep us in it because government-run health care is a terrible proposition. And we've seen the Affordable Care Act fail in the near decade that it's been enforced, with higher costs, reneging on the promises of being able to keep doctors that you like, and on and on and on.
I have also said I want to protect preexisting conditions. I want to have them funded by using what my friend Mitch Daniels created for the state of Indiana before the Affordable Care Act was even in place … and that is the Healthy Indiana Plan, which was very successful. That Healthy Indiana Plan will exist when the Affordable Care Act will be found unconstitutional, finally.
We often see state attorneys general suing the White House administration, especially when the two are from opposing parties. California, for example, has now sued the Trump administration 100 times. So, if former Vice President Joe Biden wins the election, what can Hoosiers expect from you in that regard?
It's hard to tell for sure, but just based on the philosophy of where Joe Biden thinks the place of government is in people's lives versus where I am … I might have a busy first term focusing on federal government overreach.
I've actually had direct experience with the Biden administration. In fact, I had a whole program in my [congressional] office called 'Red Tape Rollback' which documented regulations that I was able to be involved with overturning or suspending or slowing or filing a bill against. So that's why I say it might be a very busy term.
Also, depending on who else is attorney general around the nation … let's say we have a second Trump administration, well, they may band together to sue for additional regulations … and that multi-state suit might have a bad negative effect on jobs and the economy in Indiana. So that's something I would also have to watch out for. And I would be very aggressive against not only the federal government overreach and fighting against that, but the overreach from other states.
You have not always agreed with those in your party, so even if Indiana has a Republican-controlled Legislature and Governor's Office, you may see laws passed that you don't agree with. How are you going to approach situations like that?
I think understanding my duties matters a lot. I am going to be aggressive, and you're going to know my opinion. I think voters and taxpayers deserve to know my opinion. But at the end of the day, I'm going to do the job of the office and that is defending a law, whether I like it or not. There might be some discretion there, and that's my prerogative to exercise that when it's available.
Regardless of any personalities or anything else, I'm going to do my job. And I've had very good conversations with every legislator I've met on the campaign trail about your question. The ones I've talked to, at least, are excited. … They want accurate advice, whether the news be good, bad or ugly. They want an attorney who's not distracted by his own issues. They know that they've got a lot of serious work ahead. And so they're looking for a partner, and I'm going to be that partner.
Are there any other priorities that you would tackle as attorney general?
You have this whole debate over absentee ballot versus mail-in balloting versus liberals trying to roll back that photo ID requirement that [is in place] in 30 states. After this election, there's going to be a lot of focus and discussion and "reforms" on our election processes. And I think I'll be able to add, not only a solid perspective for this state, but perhaps nationally, to the discussion—whether it be in court or other venues as we move forward past the 2020 election.•
Please enable JavaScript to view this content.