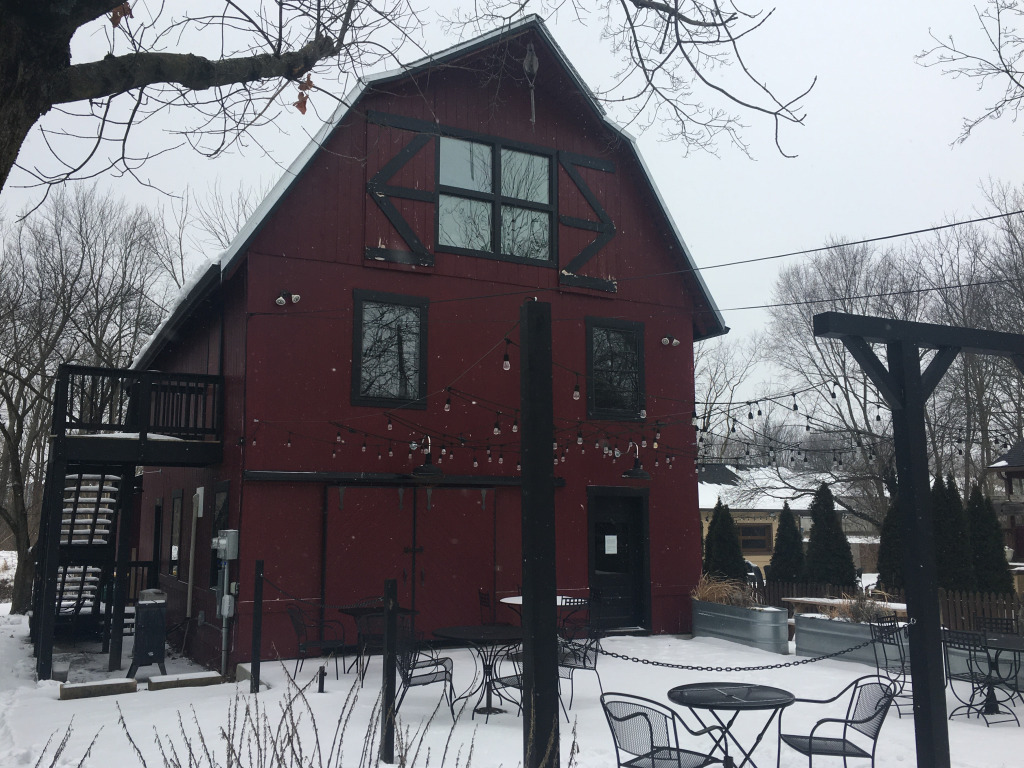 A familiar restauranteur later this year will open a field-to-table concept in the former Rail Epicurean Grill in Westfield.
Nyla Wolf and her husband, Scott, co-own six Wolfies Grill locations, the Broken Barrel restaurant and bourbon bar in Carmel and The Italian House in Westfield (located next door to the old Rail building). Now, they're preparing to open Nyla's at 211 Park St. along what's been dubbed Restaurant Row in Westfield.
Until October, the century-old barn was home to Rail Epicurean Grill, which closed its doors permanently when the pandemic became too much for it to overcome.
Though they've felt the pandemic's sting, the Wolfs jumped at the opportunity to buy the barn and turn it into their latest gastronomic venture, she said. Nyla's will offer steak, seafood, burgers and cocktails when it opens May 1.
"It's not going to be a Ruth's Chris, but it will be the same quality," she said. "It's going to have a fun and funky atmosphere; a place where people could come once, twice a week if they wanted to."
Wolf said she expects an average meal for two, with cocktails, to run around $50.
Currently, the Wolfs are applying for a building permit to renovate the barn to expand its total occupancy from about 45 diners to as many as 80 (The occupancy could be lower when the restaurant opens in May if pandemic restrictions are still in place).
"We're just going to open it up and make (it) a little bigger," she said. "Maybe add booths to make it cozy instead of just tables and chairs."
Wolf said the first floor will remain a dining area, but guests will be able to access the second-floor lounge by way of an outdoor staircase. She said the lounge will be opened up to look over the Monon Trail out back, and she's envisioning big windows upstairs so the restaurant can overlook the future Grand Junction Plaza to the east.
She also plans to tear down a fence separating Nyla's from The Italian House to create a combined patio and firepit area.
The Wolfs opened their first Wolfies Grill in Noblesville in 2004, followed by locations in Fishers in 2008, Carmel in 2012 and Westfield in 2015—the same year they opened The Italian House. From there, the Wolfs opened another Wolfies Grill in Geist in 2018 and most-recently opened another location in West Lafayette in March.
"Every day has been something different due to the pandemic, but we've just pushed in the areas we could," Wolf said. "I can't say it has been the best, but we've kept our head above water. We've kept everyone employed 100%, and we've not dropped anyone's pay."
The Wolfs' restaurants employ about 275 people in the winter and 425 in the summer. Nyla's plans to hire anywhere from 15 to 25 employees to get to full steam.
"We just keep expanding, and our people are just looking for more opportunities to grow with us and move into management," Wolf said. "We just have a lot of wonderful employees that want to move up, so we keep building to give them the opportunities. I'm the type of person where you can sit and die, or stand up and try."
Several other businesses recently opened, or are working toward an opening, North of 96th Street:
—Paradise Shaved Ice and Ice Cream Shop opened a third location on Feb. 8 at 7246 Fishers Crossing Drive, in the same commercial area as the 116th Street and Allisonville Road Kroger. The shop offers shaved ice combos, Dole Whip soft serve and hand-scooped ice cream in Fishers, Noblesville and Carrollton, Illinois.
—Dance Innovations plans to open in the former Erika's Place at 102 S. Union St. in Westfield. Erika's closed its Westfield location in late December and reopened Jan. 18 at 654 W. Logan St. in Noblesville. The new dance studio is offering online classes now and plans to open for in-person instruction in March.
—The former Sahm's Bar & Grill at 7870 E. 96th St. will reopen Feb. 10 as Hoss Bar & Grill, a pared-down restaurant from the same owners. The menu is slated to feature burgers, hot dogs, sandwiches, salads, a dinner menu, soft-serve ice cream, beer and cocktails.
—A building permit has been filed for Mary's Mountain Cookies to open in the Sophia Square building at 110 W. Main St., Suite 125 in Carmel. The Colorado-based company offering traditional, gourmet and ice cream-filled cookies lists 14 locations on its website, but the one in Carmel would be its first in Indiana.
Please enable JavaScript to view this content.