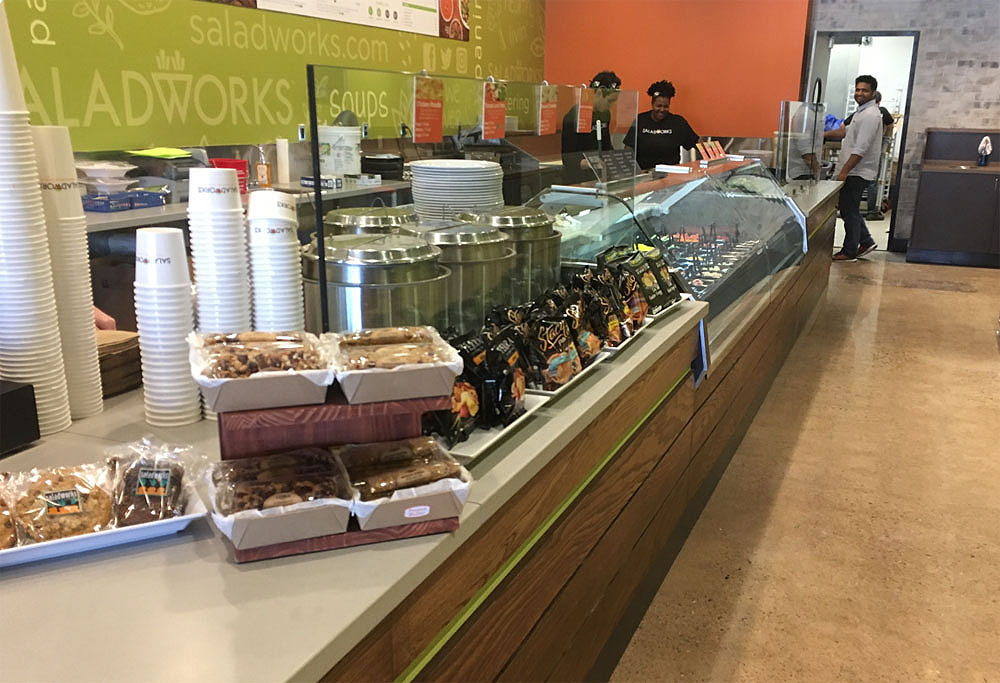 A fast-casual restaurant that offers customizable salads is preparing to open the first of what it hopes will be at least four Indianapolis-area franchises at the center of a new commercial development in Westfield.
Marketing materials for Monon Crossing list Saladworks, Chipotle Mexican Grill, Denny's and Angel Nails as tenants in a nearly 11,000-square-foot retail center at the southwest corner of Wheeler Road and State Road 32. The development, scheduled to open this spring at 827 E. SR 32, will also feature a Burger King in a 3,200-square-foot outlot building.
Founded in 1986, Conshohocken, Pennsylvania-based Saladworks first started franchising in 2001. Today, CEO Kelly Roddy said the chain has 104 locations in 19 states, as well as Dubai.
The restaurant's layout is similar to Chipotle's. Customers will be able to customize their salads by choosing from a variety of vegetables, fruits, proteins and dressings. Saladworks also offers a selection of sandwiches and wraps, with most items priced at about $9 to $13 each.
Once the 1,600-square-foot Westfield location opens in May, Roddy said he plans to open three more franchises in Carmel, Noblesville or Fishers.  Then, there's the potential for 20 new locations in central Indiana. Roddy said each store typically comes with 25 hires.
"That's what we believe the capacity for the market is, but the first attack is northern Indianapolis with those four," Roddy said. "When we enter a state, we'll typically add over the first three years anywhere from 3 to 6 units."
Roddy said the restaurant is trying something new by planning for beer and wine sales at its Westfield location in hopes that it might drive more dinner sales.
So, why pay so much attention to Indianapolis' northern communities?
Roddy said Saladworks uses real estate modeling software that evaluates markets where existing locations perform well and identifies untapped markets with similar demographics, traffic counts, household incomes and other metrics.
Also, for a restaurant focused on fresh ingredients, distribution is a top priority.
"All those things lined up really well for northern Indianapolis," Roddy said.
Though it will be getting a lot of love in the coming years, Indiana isn't Saladworks' sole focus. Roddy said the company has been on pace this year to open a new location once every five days, and there's plenty to do while searching for the perfect Indianapolis real estate.
"This year, we'll be adding probably another six or seven states with their first unit. We think we'll get—in the next 7 months—another 45 open," Roddy said.
Please enable JavaScript to view this content.