Anna Carrera and her new husband are big fans of the month of May in Indianapolis.
So when they got engaged last year, they knew that's when they'd wed. Each year going forward, they'd start their favorite month of the year celebrating their love.
The plans were set for May 2—the dress bought, the reception space booked.
But then COVID-19 began spreading across the country, including in Indiana. The Centers for Disease Control and Prevention began recommending smaller and smaller gatherings. Then city and state officials imposed stay-at-home orders that all but guaranteed delays or changes for brides and grooms with weddings in April and May.
Carrera and her then-fiance, Derick Fabert, had to rethink their plans—and they certainly weren't alone. Roughly 44,000 people marry each year in Indiana. In 2018, the last year for which state numbers are available, about 16% of those weddings took place in March and April, with another 22.5% in May and June.
It's big business. Industry group The Wedding Report estimates that Hoosier couples spend an average of $21,200 on their ceremonies and receptions. In central Indiana, it's nearly $29,000 per event.
And so the pandemic's crash into the U.S., just as wedding season was getting underway, has forced thousands of couples to make quick and often heart-wrenching decisions about how to proceed. And it's left an entire industry scrambling.
Carrera and Fabert realized in March they likely wouldn't be able to celebrate on May 2 the way they planned—with a ceremony in their church with 100 to 125 guests and then an even bigger party at Crowne Plaza downtown.
They decided their best option was to reschedule to Oct. 30, nearly six months after the original date. But with talk of a second wave of COVID-19 possible this fall, even that date might not be safe.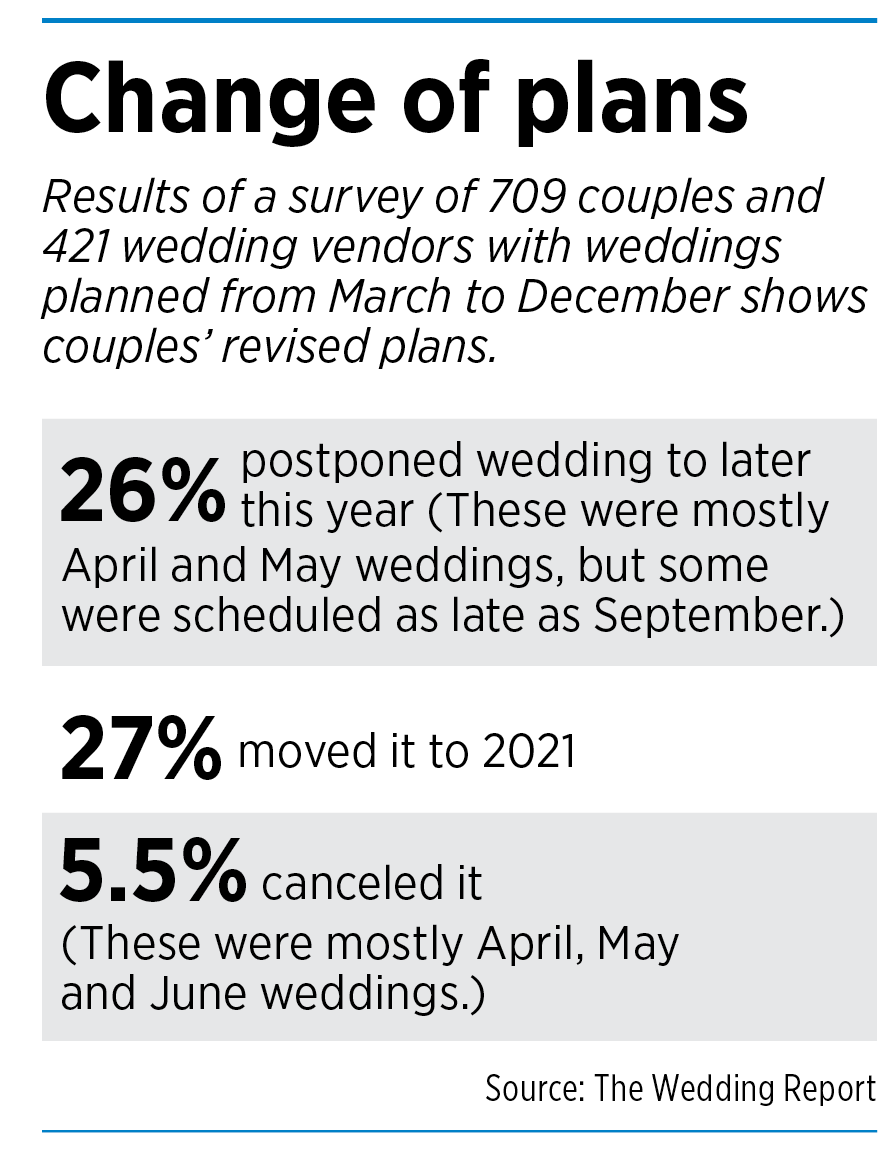 And while the couple thought they could wait to celebrate with friends, they didn't want to wait to marry.
So last weekend, they joined their small wedding party, their parents and a few siblings at their church and exchanged vows. Carrera in the wedding dress she'll wear again for a party in October. Fabert in a suit he already owned.
Friends and family who couldn't attend watched from across the country on Zoom. They celebrated with pizza and cookies.
"Everything has been so crazy with the pandemic, we're not just going to put everything on hold and hope it's better then," Carrera said. "We love each other and we wanted to get married so we did it."
Uncertainty still looms
Across the country, government restrictions are finally starting to ease.
In Indiana, the governor's roadmap for reopening the state allows for gatherings of 100 or fewer people starting May 24. On June 14, those gatherings can grow to up to 250 people. By July 4, gatherings of more than 250 people will be permitted.
But industry experts say it could take time for people—couples and their guests—to feel comfortable hosting and attending large-scale events.
As a result, weddings that do take place this summer and early fall might be smaller and more intimate than couples originally planned.
Still, experts say, the industry should rebound, with 2021 likely to be extra busy given the number of events canceled the past two months.
Jen Hanshew of Circle City Expos has worked in the local wedding industry for nearly two decades and said there's never been a disruption of this magnitude.
In Indiana, wedding season generally runs from April through November; social distancing guidelines hit at wedding professionals' busiest time.
"I can say weddings and funerals were pretty recession-proof," she told IBJ. "This is a whole new scenario because we couldn't have any events."
She said 2020 was expected to be extremely popular, with couples clinging to the idea of marrying on dates with numerical sequences (Oct. 10, 2020, for example). That means couples who had to postpone their big day have fewer available alternative dates.
A report last month by The Wedding Report found that the number of brides and grooms rescheduling to later in 2020 is about equal to those rescheduling for 2021.
Based on survey results from both the couples getting married from March to December and the companies catering to them, about 26% of couples postponed to a later 2020 date (most had originally planned to get married in April or May). Another 27% (including some with weddings planned as far out as December) picked a new date in 2021.
And 5.5% of couples (most of whom planned to marry in April, May or June) decided to cancel altogether. The rest are keeping their original date.
Allison Doughty and Jack Smith of Indianapolis planned to get married Aug. 22 at Indy Hostel in Broad Ripple. Now they're among the couples who have decided to postpone until 2021.
Doughty told IBJ the couple decided a few weeks ago to reschedule. Even if larger gatherings are permitted by August, the couple has many family members with health concerns and they didn't want to put them at risk, she said.
Plus, the wedding will take place outside, so squeezing it in before 2021 didn't seem possible, she said.
All her vendors made the process easy, she said. They were all understanding and didn't charge the couple extra money to change their plans. Now, they'll marry on Sept. 18, 2021.
"That was a huge relief," she said. "That was part of the reason we decided to just go with it."
Crowded schedule
Kaitlin Carriger, a wedding planner at Indianapolis-based It's Kee Events, said weddings have an average of 12 vendors, so it can be difficult to reschedule a date that works for all of them.
So far, the local wedding industry has come together to help one another out and make couples' day special, she said.
If a vendor—a photographer, for example—is already booked on a couple's rescheduled date, the photographer has tried to find a replacement of comparable price and quality, Carriger said.
"The wedding industry in Indianapolis has been amazing," she said. "Everyone has been trying to make the puzzle fit."
Some vendors, she said, are already booked into 2021, so if brides and grooms have their hearts set on a specific vendor, they might have to be willing to get married in 2021 or later, Carriger said.
In other cases, vendors are adding weddings on Fridays and Sundays—traditionally less popular than Saturday, she said.
Some couples are even considering a weekday, to squeeze in a 2020 wedding with their original vendors, Hanshew of Circle City Expos said.
Other couples who don't want to wait are going ahead with smaller weddings, she said. They might be willing to have just 100 guests if it means they can still begin their married lives this summer.
Couples who do reschedule are also competing for dates with newly engaged couples already booking for next year.
Popular venues schedule a year to 18 months in advance, so many are already booked for next summer and a few might be even next fall, Hanshew said.
Sarah Agee, owner of The Barn at Zionsville, said this time of year is usually incredibly busy for the venue, which only hosts weddings. In April, for example, almost every Saturday was booked. May was supposed to look the same. But so far, only two couples have completely canceled their events.
Agee said The Barn is mostly trying to reschedule 2020 weddings in 2020 to keep revenue flowing as planned.
With the governor's new guidance, Agee is hopeful The Barn has seen the last of rescheduling and that weddings planned for July will occur. But if they can't, she and her clients will continue to adapt to the changes.
"The good thing about weddings is that people still want to get married, even if they can't do that right now," she said.
In April, The Wedding Report CEO Shane McMurray predicted 27% to 32% of U.S. weddings will be lost in 2020. But he expected at least a 20% surge in 2021.
"A 30% loss in weddings will represent 662,000 weddings with a lost market value of $16.3 billion," he said in an email.
If spending levels were to remain the same as now, the net loss would be $3.7 billion over the two years, he estimated. But he warned that current spending levels will likely drop, deepening the net loss.
Locally, Hanshew said the industry will rebound long term.
"We made it through the recession in 2008. I do think we'll recover," she said. "I don't think it's going to happen over a night or even over a year. It's going to take time."•
Please enable JavaScript to view this content.