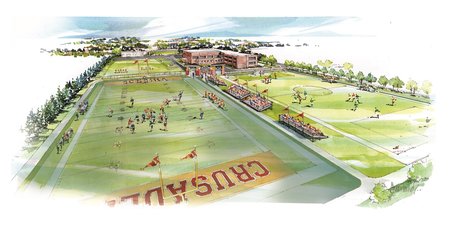 Scecina Memorial High School is launching its first capital campaign in its 66-year history, in the hopes of raising $6 million for facility upgrades and to start a new endowment.
The campaign—called Our Faith, Our Journey, Our Time—was publicly announced Thursday. The Archdiocese of Indianapolis Catholic school, which has 408 students and is located on the east side at 5000 Nowland Ave., already has collected or received pledges for $4.5 million, which has allowed it to start construction on a new weight room.
"The vision of this ambitious capital campaign will build upon the past decade of success and advance Scecina's reach and impact in young people's lives and in our east-side community," President Joe Therber said in written comments. "We believe now is our time to move forward with these projects."
In addition to the weight room, projects include a new chapel, a transformation of the school's main entrance and new athletic and student activity fields.
The school also hopes to start a new endowment and expand an existing one.
The existing facilities endowment, which has a fundraising goal of $360,000, would be expanded to help care for and ensure the safety of current and new facilities in perpetuity.
Scecina has set a $500,000 fundraising goal for the Academic Excellence Fund, which will help the school recruit and retain teachers by offering higher faculty salaries. It also will help the school launch or continue innovative academic programs and provide need-based tuition assistance.
Over the past decade, the school has renovated classrooms, the library, the guidance center, the gym, hallways, the rotunda and the cafeteria. It also added a multimedia collaboration room.
The school chose projects after reviewing facility needs, conducting a feasibility study and conducting listening sessions with students, alumni, parents and staff,
The Scecina Board of Directors and the Archdiocese of Indianapolis administration approved the projects.
Please enable JavaScript to view this content.